Andrew Yang Is Wrong About Shopping Malls and Amazon
Yang wants to bail out malls that are struggling to compete with online retailers, but Amazon is already putting some of those dead retail spaces to better use.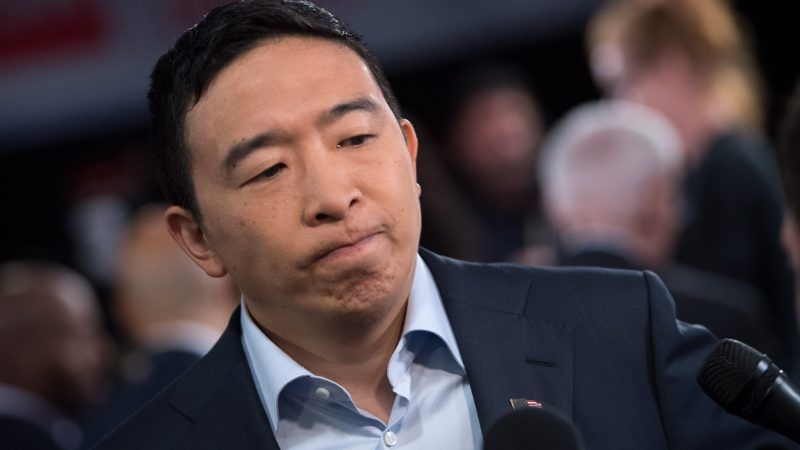 (KEVIN DIETSCH/UPI/Newscom)
At the second round of Democratic debates, entrepreneur Andrew Yang criticized Amazon, accusing the online retail giant of "closing 30 percent of American malls and stores." Yang has a plan to protect dying malls, proposing to direct $6 billion to prop up struggling shopping centers.
But one company is already repurposing many of those suburban behemoths: Amazon. 
In North Randall, Ohio, in 2017, Amazon bought an abandoned building that once had been the largest mall in the world, and repurposed it as a fulfillment center. The move brought 2,000 new jobs to the city, and it put the massive, decrepit building back to good use. As a local Ohio official told The Wall Street Journal, in a report about Amazon's moves to repurpose old malls around Ohio, turning the dead malls into distribution hubs helps lift local property tax revenue as well. Nationwide, there have been at least 23 former brick-and-mortar retail spaces repurposed for industrial uses since 2016, the Journal reports.
As Daniel Laboe notes in Yahoo Finance, "dead malls" are particularly well-suited to become distribution centers. They're usually located near highways, making it easy for Amazon to move products from them to the final customer's home. The new ownership also puts the infrastructure associated with these old malls, from roads to sewage systems to electrical lines, back to work, rather than letting it rot in waste.
Malls might have some nostalgic appeal, but their replacement is just another example of creative destruction at work. The introduction of Sears' mail-order catalogues challenged mom-and-pop businesses around the turn of the century, and the catalogues were subsequently challenged by big chain stores like Woolworth and A&P. Big box retailers in shopping malls were the villains to scrappy mom-and-pop businesses in the '80s, and now they're the ones looking for a bailout. 
The fact is, it doesn't make sense to try to push consumers back to an old shopping model. At this point, more people seem to prefer shopping online. Amazon's plan to repurpose dead shopping malls saves resources, broadens local tax bases, and creates jobs in distressed communities.
It's not without precedent, either. The fate of these old malls is reminiscent of the fate of Sears' old distribution centers, many of which have been transformed into offices and new retail locations. 
Yang needn't worry. Dying malls don't need saving, and the market can handle it.