Police, Vigilantes Battle Hong Kong Demonstrators
Iran seizes British tanker, White House and Congress approach a budget deal, Bernie Sanders cuts campaign workers' hours, and more...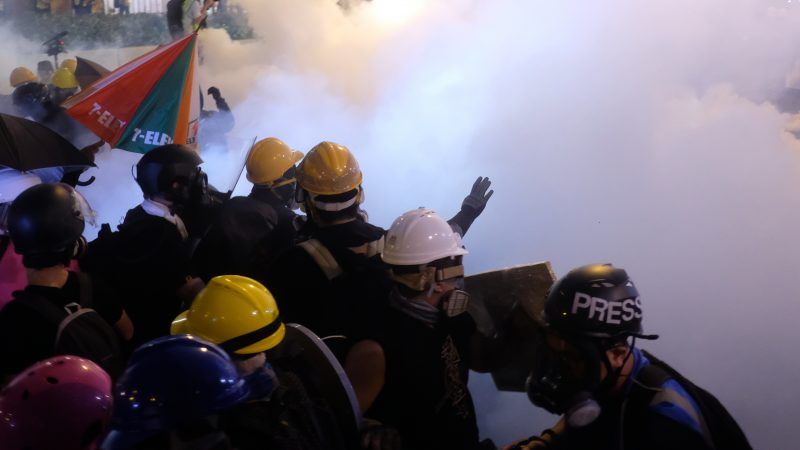 Violence broke out at the protests in Hong Kong yesterday, with police and club-wielding counterprotestors clashing with anti-government demonstrators.
Protesters filled the city's streets to oppose legislation that would allow people in Hong Kong charged with crimes by the Chinese government to be extradited to the mainland. The extradition bill had already been suspended following mass protests earlier in the month. On Sunday, somewhere between 138,000 and 430,000 demonstrators marched to demand the bill be officially killed and that police violence at earlier protests be investigated.
Several hundred of these protestors also defaced the front of the Chinese government's liaison office.
As night fell, Hong Kong police fired tear gas and rubber bullets at a smaller rump of remaining protestors who they accused of throwing bricks and petrol bombs at police.
Protesters in #HongKong have vowed to 'keep fighting' as widespread #demonstrations continue against #Chinese rule. Police in Hong Kong have fired tear gas to disperse pro-democracy #protesters - hours after a largely peaceful rally against a now-suspended extradition bill. pic.twitter.com/5IFuoPjOTm

— Jeremy Song (@tezuma75) July 22, 2019
While the Police's cordon line was sweeping eastward through Sheung Wan, some protestors threw such objects as bricks and petrol bombs at the Police. Despite repeated warnings by the Police, the violence did not abate. Therefore, the Police used tear gas at around 10 PM.

— Hong Kong Police Force (@hkpoliceforce) July 21, 2019
Meanwhile, white-shirted vigilantes at a subway station assaulted people returning from the marches. Seven people were hospitalized after the attack, according to the South China Morning Post.
Hundreds of masked assailants dressed in white have assaulted residents, protesters, journalists & a lawmaker in Yuen Long, hours after an anti-extradition law march ended. In full: https://t.co/9xSgQ38X8i #antiELAB #HongKong #china #NoToChinaExtradition @krislc @creery_J pic.twitter.com/uihMXHHqFQ

— Hong Kong Free Press (@HongKongFP) July 21, 2019
The day before, a pro-government rally was held in the city. Organizers say 300,000 people attended, while police put the number at 103,000.
This past month's protests over the extradition bill mark the largest protests since the city, a former British colony, was handed over to the Chinese government in 1997 under a "one country, two systems" arrangement. This setup is supposed to guarantee Hong Kong autonomy over its internal affairs, with a much greater degree of civil liberties than is enjoyed by mainland citizens.
The Chinese government has tried to strengthen its control over Hong Kong over the past few years. So far, Beijing has taken a "wait and see" approach to the protests, preferring that local authorities handle the situation.
That could change if the unrest continues. One political scientist warned The Wall Street Journal that the city is becoming "ungovernable."
The protests come as China is becoming a bigger domestic issue in U.S. politics, with the Trump administration fighting a slow-burning trade war with the country.
For more on the protests, listen to Reason's interview with Hong Kong pop star and activist Denise Ho.
---
FREE MINDS
Tensions are rising in the Middle East after Iran's seizure of a British-flagged tanker ship. Video shows Iranian commandos capturing the ship on Friday in the Strait of Hormuz.
Britain has denounced the seizure as a "hostile act" that is "totally and utterly unacceptable." Iran has defended its actions as a "reciprocal" response to the U.K.'s own seizure of an Iranian vessel off the coast of British-controlled Gibraltar earlier in the month.
Iran has released footage showing members of its forces seizing a British-flagged tanker at sea in the Strait of Hormuz https://t.co/V4SDuyGcuv pic.twitter.com/QU0vc1Foj3

— ITV News (@itvnews) July 20, 2019
Oil prices have increased following the latest incident.
Iran's seizure of the vessel comes during an intense stand-off between the Islamic Republic and the United States, which recently reimposed harsh sanctions on the country's oil sector as part of the Trump administration's "maximum pressure" campaign to get Iran to give up its nuclear program.
---
FREE MARKETS
Congress and the White House are getting closer to a budget deal that will probably see federal spending continue to grow.
Earlier in the year, President Donald Trump proposed a budget plan that called for cutting spending by $150 billion over a decade. The administration also provided Democrats with $500 billion of possible offsets, telling Pelosi to pick whatever cuts her party could vote for.
Pelosi rejected that idea out of hand. Instead, The Washington Post reports, a new deal is approaching finalization:
Instead of the $150 billion in new spending cuts recently demanded by White House acting budget director Russell Vought, the agreement would include a significantly lower amount of reductions. And those reductions aren't expected to represent actual spending cuts, in part because most would take place in future years and likely be reversed by Congress at a later date. A precise figure could not be learned.
Trump's final approval is still pending. If history is any guide, the president will acquiesce. The White House has consistently put forward budget plans that would cut domestic spending only to eventually sign off on agreements that increase federal outlays.
---
QUICK HITS
Sen. Bernie Sanders (I–Vt.) will cut his presidential campaign staffers' hours in order to pay them all an effective $15 minimum wage.
Democratic presidential candidate Andrew Yang wants to reform states' occupational licensing laws.
Americans are moving across state lines at multi-decade lows. This is bad for our labor market and for people who are seeking new opportunities. We should make it easier to move by reimbursing work-related moving expenses and easing licensing by state. https://t.co/fd11d700fN

— Andrew Yang (@AndrewYang) July 22, 2019