Defense Department Computer Network Among Top Sharers of Child Pornography
Plus: Florida legalizes vegetable gardens, Facebook bans anti-voting ads, and more...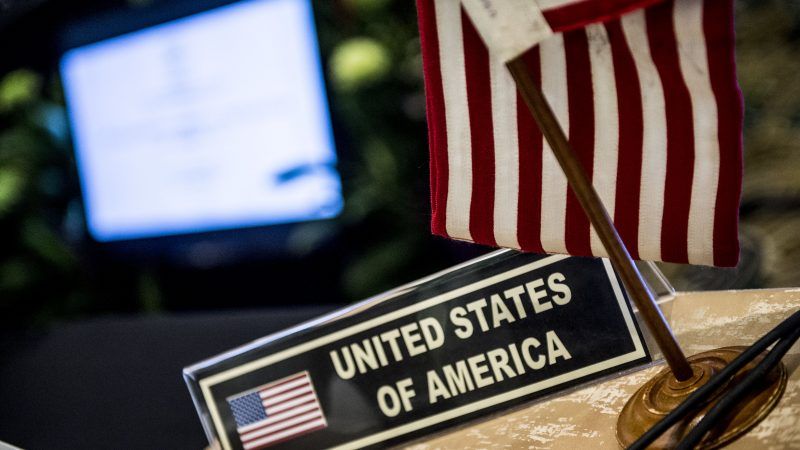 (Department of Defense/Sipa USA/Newscom)
Defense Department computers are among the top distributors of child pornography. An untold number of Department of Defense (DOD) employees and contractors have subscriptions to child pornography websites, and the problem is apparently so pervasive it requires new technical solutions to address it.
"Hundreds of DoD-affiliated individuals" were recently identified as suspects in child pornography cases, according to an investigation by the Defense Criminal Investigative Service.
So far, authorities have only looked into about 20 percent of these cases. But already, they've found "several" individuals "using their government devices to download or share said pornographic material."
Last year, an investigation by the National Criminal Justice Training Program found DOD computers were among the top networks nationwide for peer-to-peer sharing of pornographic images of minors. DOD's network ranked 19th out of 2,891 computer networks studied.
To prevent such widespread abuse going forward, the "End National Defense Network Abuse Act" would "crack down on this activity by upgrading the training and technical capacity of military criminal investigative organizations to confront the misuse of DoD computers, facilities, and equipment," according to a press release. It would also arrange for DOD authorities to work more closely with civilian law enforcement on these cases.
"The notion that the Department of Defense's network and Pentagon-issued computers may be used to view, create, or circulate such horrifying images is a shameful disgrace, and one we must fight head on," said Rep. Abigail Spanberger (D–Va.), who co-sponsored the bill with Rep. Mark Meadows (R–N.C.).
A companion bill in the senate has been introduced by Sens. Lisa Murkowski (R–Alaska) and Brian Schatz (D–Hawaii).
---
AROUND REASON
Let freedom ring: Reason's offering a special Fourth of July subscription rate of two years (that's 22 issues) for $17.76. Sign up here.
P.S. Roundup will be taking a holiday hiatus tomorrow and Friday. See you again on Monday, July 8.
---
FREE MINDS
What could go wrong? In order to protect the press, Democratic presidential candidate Eric Swalwell wants the federal government to decide who is and isn't a journalist.
Assault is already a crime, and I don't want the government deciding who is and isn't a reporter. https://t.co/qEjH8iaYjy

— CJ Ciaramella (@cjciaramella) July 2, 2019
It's already illegal to assault a journalist you grandstanding idiot https://t.co/qoKAzxkXfh

— Jen Monroe ???????? (@jenniferm_q) July 2, 2019
---
FREE MARKETS
Land of the Free? "After nearly six years of fighting…I will once again be able to legally plant vegetables in my front yard," said Hermine Ricketts after a lengthy battle in Florida. "I'm grateful to the legislature and the governor for standing up to protect my freedom to grow healthy food on my own property."
---
QUICK HITS
A take on Sen. Hawley's social media regulation from a former Google content moderator - @RSI's own @DaisySRivkin!! https://t.co/lJQJmpl6bS @WashTimes

— Shoshana Weissmann, Sloth Committee Chair ???? (@senatorshoshana) July 2, 2019
I may be reading too much into this image, but…
Gabbard's cool abstention from this sisterly farce here: priceless pic.twitter.com/wUTEkJhgSi

— Elizabeth Nolan Brown (@ENBrown) July 3, 2019