Maryland Legalizes Medical Marijuana Edibles, With Caveats
Regulators are gearing up for a long debate about the size, shape, and other specifications of edibles.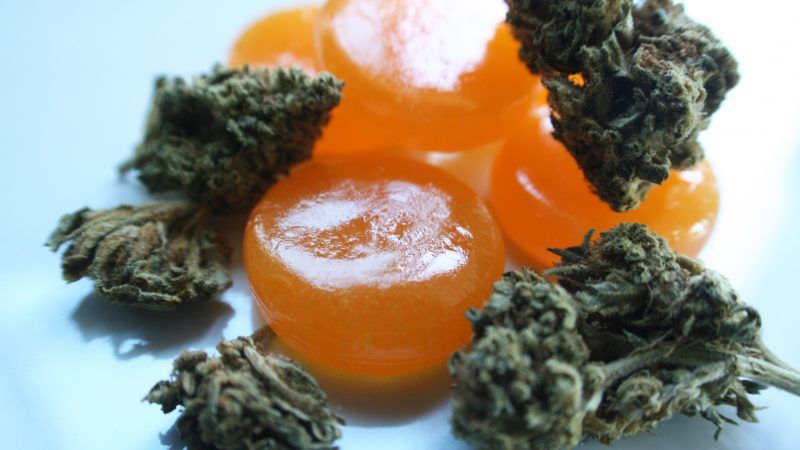 (© Darren4155/ Dreamstime.com)
In May, Maryland legalized edible forms of medical marijuana. But don't expect such products to be available in Maryland anytime soon. Regulators are gearing up for a long debate about exactly what shape these products can take, what they can look like, what packaging they can use, and how they can be marketed.

The new law "was careful not to classify such treats as 'food' for a reason," explains Doug Donovan at The Baltimore Sun. "Doing so would have required redundant oversight from the Maryland Medical Cannabis Commission and the Department of Health's food safety division. Instead, as in 30 other states, edible cannabis products are now a class of their own."
Maryland authorities say they want to make sure edibles are used for medicinal purposes only, rather than recreationally. 
Medical marijuana was made available for legal distribution in Maryland in 2017. In February the Maryland General Assembly created a work group with the purpose of studying the potential of legalizing marijuana for recreational uses.
The Baltimore Sun reports that, "The bipartisan group will make recommendations at the end of December that could be used to develop bills for the 2020 legislative session."
Opponents of extending medical marijuana legalization to include edibles argue that this will encourage recreational use and pave the way for full legalization.

"I don't want to deprive anyone of their medication, but let's treat this like medicine, not make little gummy bears out of it," Sen. Robert Cassilly (R-Harford County) told the Sun. "You're just flirting with legalization."
The Maryland Medical Cannabis Commission said it will likely take the rest of the year to develop rules for the "packaging, labeling, marketing, and appearance of edible cannabis products," with the goal being "to ensure the safety of minors."

In other states with legal marijuana, similar attempts to micromanage the edible market have been offered in the name of shielding youth from harm.
Last year, Washington state flirted with banning any edible that could be seen as appealing to children. The Seattle Stranger reported in October 2018 that regulators were considering a rule saying edible baked goods could not "contain any icing or sprinkles" and "chocolate cannot be sold in a shape that appeals to kids—it must be 'in the shape of a bar or ball.'"
The final version of the regulations, handed down by the Washington State Liquor and Cannabis Board in December, bans bright colors for edibles and their packaging. Products must use a "standard pantone color book that sets the list of colors and specified ranges within those colors," the board said.
"There will also be limits on the shapes, with exceptions for things like non-profit collaborations or naturally-occurring colors," KOMO Seattle reported in December.

In 2017, Colorado passed similar regulations with the defense of stopping edibles from "appealing to children" in the state. These regulations banned edible gummies in the shapes of animals, people, or fruit while adding regulations to how edibles must be packaged.
California also passed regulations in 2017 that limited the shape of edible cannabis products. The new rule states that "a cannabis product shall not be made in the shape of a person, animal, insect, or fruit" and put a 10 milligrams of THC cap on all edibles being sold.