Becoming the Libs to Own the Libertarians: Tucker Carlson Praises Elizabeth Warren
Plus: Ashton Kutcher serves up "sex trafficking"-enabled surveillance, NYC Mayor Bill de Blasio goes after soft serve, and more...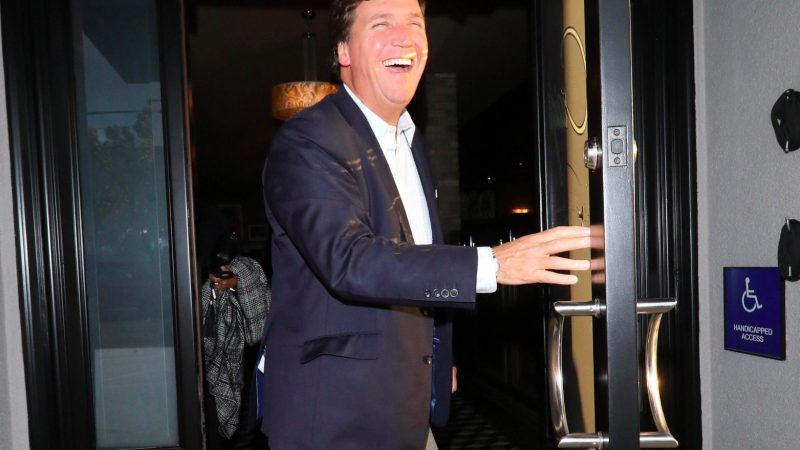 (gotpap/starmaxinc.com/Newscom)
Just when you think 2019 politics can't get any zanier… GOP huckster Tucker Carlson praised Democratic Sen. Elizabeth Warren's economic plans during the opening segment of his Fox News show last night.
After chiding Republican policymakers for not embracing "economic nationalism," Carlson quoted Warren sounding off on American companies for not being sufficiently patriotic.
Warren's comments were couched in language Republicans love: gratitude "for the opportunities America" provides, condemnation of those with "no loyalty or allegiance" to the country, lament of U.S. companies opening locations in Mexico and China. But they were also packed with evergreen left malcontent—casting blame on "free market principles" because the corporations that "control our economy" overvalue "the short-term interests of their shareholders,"
Carlson—an avid free-markets kind of guy until it was no longer what Fox producers and GOP leaders seemed to want—opined that Warren's pro-regulation rant was "just pure old-fashioned economics" and that many of her policy prescriptions "make obvious sense."
"She sounds like Donald Trump at his best," Carlson concluded.
The Washington Post heralds this as another sign of "the inchoate political realignment that has made it unclear to which party causes from free trade to privacy protection belong."
Carlson—who started the Daily Caller last decade with a lofty, libertarian-conservative fusionist agenda and went on to cheerlead the Tea Party movement—also used last night's opening monologue for a bizarre conspiracy theory mashup about limited government supporters. He complained that Washington is overrun with "libertarian zealot[s]" who are "controlled by the banks" and always "yammering on about entrepreneurship." Entrepreneurship—the horror!
The rest of Carlson's rant pretty much posited that America is waiting for someone who will do magical socialist things without calling them socialism, and that this could be Trump if conservatives and libertarians weren't playing with all the partial-birth abortions performed on transgender immigrant capitalists at our weed orgies, or something like that. You can read the full thing here (courtesy of the Washington Examiner's Joe Gabriel Simons).
Words no longer have meaning. "Libertarian" apparently no longer means what I thought it meant.

— David French (@DavidAFrench) June 6, 2019
Like many Republicans in the Trump era, Carlson has been trending away from limited-government rhetoric for a while, using his show to "yammer on" about why tariffs are good while still fearmongering about liberals and "socialists" (a category very broadly defined in the Fox world). But drape that "socialism" in a flag, and you just might win him over.
---
FREE MINDS
"Sex trafficking"-enabled surveillance. Read this great engadget takedown of Ashton's Kutcher's asinine "anti-trafficking" group, Thorn, which really just serves as a celebrity front for an online surveillance tool aimed at sex workers, used by law enforcement, and funded by the the likes of major tech companies and the Saudi-endowed McCain Institute.
In recent years, many tech companies have started taking the group seriously. "Silicon Valley's biggest companies have partnered with a single organization to fight sex trafficking—one that maintains a data collection pipeline, is partnered with Palantir, and helps law enforcement profile and track sex workers without their consent," writes Viola Blue.
Major websites like Facebook, Twitter, Snapchat and others are working with a nonprofit called Thorn ("digital defenders of children") and, perhaps predictably, its methods are dubious.

Thorn offers internet companies its content moderation tool "Safer," and for law enforcement, its separate data-mining and user-profiling tool "Spotlight." Both use data sources and AI to automate policing of sex content. Of Thorn's 31 nonprofit partners, 27 target adults and vow to abolish consensual sex work under the banner of saving children from sex trafficking.
More here.
---
FREE MARKETS
New Yorkers may see less ice cream this summer. New York City Mayor Bill de Blasio and his administration are bragging about "Operation Meltdown," in which brave city authorities targeted ice cream truck owners who had unpaid traffic tickets. The city insists, of course, that it was for the children.
"We all know from common experience that ice cream trucks are magnets for children," and "in order to protect this particularly vulnerable category of pedestrians, our traffic laws must be strictly enforced," said city lawyer Zachary W. Carter.
---
QUICK HITS
This is the real crisis of fusionism. Is the GOP really going to turn away people fleeing socialism? Really? https://t.co/OFHngppJJK

— Karl Smith ????????️ (@karlbykarlsmith) June 5, 2019
Instead of using "fetal heartbeat bills", as the laws are often called by anti-abortion campaigners, the Guardian will make "six-week abortion ban" the preferred term for the laws, unless quoting someone.