A 69-Year-Old Great-Grandmother Was Arrested at Disney World for Carrying CBD Oil
She uses it for her arthritis.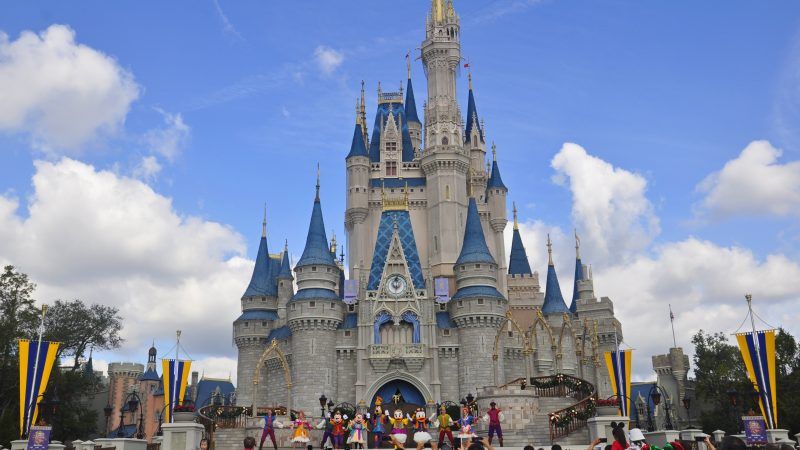 (Pressfoto | Dreamstime.com)
Disney World—where kiddie coasters, cartoon royalty, and overpriced food options abound—is colloquially known as "The Happiest Place on Earth."
Hester Burkhalter would likely disagree. The 69-year-old great-grandmother was arrested outside of Magic Kingdom and spent 12 hours in jail last month after security officials found CBD—short for cannabidiol—oil in her purse. The compound is derived from cannabis but does not contain the psychoactive component, THC, found in marijuana.
In other words, it can't get you high. But it supposedly can alleviate a plethora of medical conditions, including joint pain and anxiety.
"I have really bad arthritis in my legs, in my arms and in my shoulder," Burkhalter tells Orlando's local Fox affiliate. "I use [CBD oil] for the pain because it helps." She reportedly had a doctor's note in her purse when security officials flagged her, but law enforcement detained her regardless.
While the charges have been dropped, Burkhalter's attorney, Ben Crump, says he plans to sue Disney and the Orange County Sheriff's Office on her behalf, alleging "illegal detention, false arrest and a violation of her civil rights," WESH 2 reports.
Her misfortune sheds light on the murky legal territory surrounding CBD use, as regulations often conflict and as people increasingly flout local restrictions on the harmless substance. The Farm Bill—signed by President Trump in 2018—legalized hemp and CBD at the federal level. In Florida, it remains illegal without a prescription, although CBD-infused cocktails and shops selling the compound continue to pop up across the Sunshine State.
"Today in Orlando, we were able to go into the store and buy CBD," said Crump—who also represented Trayvon Martin's family—at a press conference last week. "It's all over Orlando. It's all over Florida."
CBD use remains a point of contention even in places that have legalized marijuana. In California—where cannabis use is permitted both medically and recreationally—public health officials seized $140,000 worth of CBD-infused drinks from Vybes beverages.
That same cognitive dissonance is alive and well in Florida. "A little drop of oil, with the CBD, is a felony," Jennifer Synnamon, a Florida attorney, told the local Fox affiliate. "Meanwhile, you can have up to 19.9 grams of leaf-marijuana, and it's a first-degree misdemeanor."
More here: