Twitter Gives Conflicting Reasons for Suspending User Who Tweeted Links to 3D Gun Plans After Sen. Bob Menendez Asked Them To
The senator asked for a private business to squash a citizen's communication, and they did it, though they don't say they did it for him.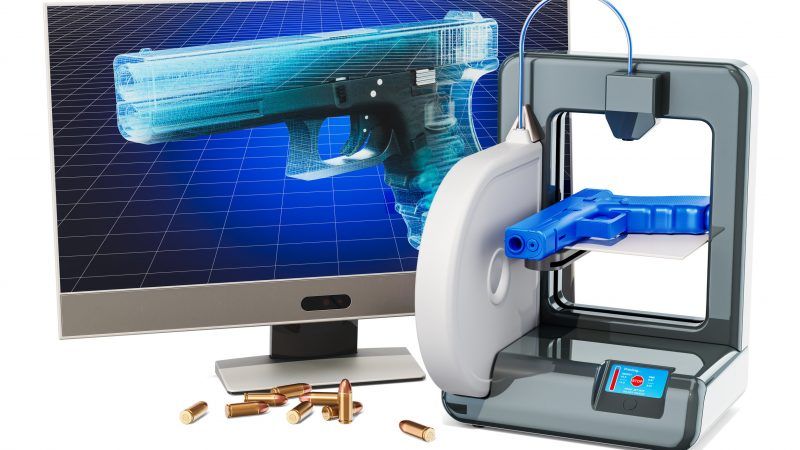 In March, Sen. Bob Menendez (D–N.J.) publicly called on Twitter to suspend the account of user @ivanthetroll12 because he sometimes used his tweets to link to software files that would help owners of certain devices to make weapons at home. Menendez's home state of New Jersey has banned the distribution of such software, though the constitutionality of that ban is being fought out in court.
In April, that user's account was indeed suspended. At the time, both Twitter and the senator's press office ignored requests from me for any comment or clarification on any communication between them regarding @ivanthetroll12's suspension that might shed light on whether Twitter acted in response to, or in collusion with, the senator in shutting down a citizen's access to its service.
The user behind that account has been using another account on Twitter since, @det_disp (Deterrence Dispensed). Today, Sean Campbell at The Trace reports that he obtained a copy of a communication from Twitter to Sen. Menendez in which the company claims that it has a longstanding policy of prohibiting "the promotion of weapons and weapons accessories globally," but that the reason they suspended @ivanthetroll12 was because he "is in violation of our policy of evading an account suspension."
While the man behind the account is admittedly doing that very thing now with his new account, he insists in an email today that the original account was the very first one he ever created, and Twitter indeed provides no proof that he violated any policy of evading an account suspension at the time they suspended @ivanthetroll12.
Their statement to Sen. Menendez about their policy regarding "promotion of weapons" is, as The Trace points out, about a "policy [that] only applies to 'Twitter's paid advertising products,' not general users."
This led the man behind the accounts to tweet today that "in that [Trace] article, you'll find that Twitter gave Menendez one reason (ban evasion) but gave Sean another (illegal content). Even Twitter can't get their story straight. THEY ARE MAKING UP REASONS TO BAN PEOPLE AS THEY GO ALONG."
The Trace's Campbell reported that a Twitter spokesperson told him the account was suspended, not for the reason the company told Sen. Menendez, but because "Accounts sharing 3D-printed gun designs are in violation of the Twitter Rules' unlawful use policy." The company has the stated rule that "You may not use our service for any unlawful purposes or in furtherance of illegal activities."
Whether the spreading of such files is, in fact, illegal anywhere but in New Jersey and California, which Campbell points out are the only states with laws prohibiting either the files specifically or the "distribution of guns and gun designs that lack serial numbers and are therefore untraceable by law enforcement," and whether those laws will eventually pass constitutional muster, remains to be seen.
Twitter's position in the cultural war over guns, though, seems clear enough. Despite this, The Trace did find that other accounts doing things similar to what @ivanthetroll12 did have at least so far avoided suspension.