Movie Review: John Wick: Chapter 3—Parabellum
Keanu Reeves kills, again.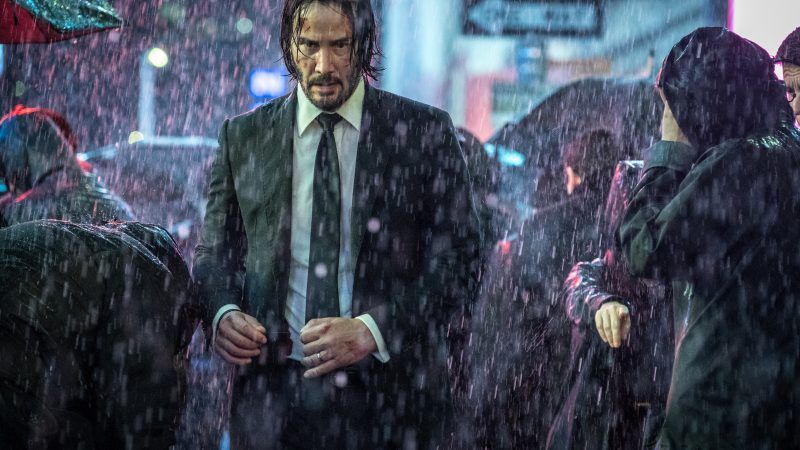 Forget the bullets in the face, the hatchet in the head, the kill teams and katana masters and the seven-foot-tall goon lurking among the stacks in the New York Public Library. These are everyday annoyances in the urban jungle of stylish mayhem through which our man John Wick moves. In his third big-screen kill-a-thon, Wick—Keanu Reeves, as always—encounters a new breed of butt-kicker. Two of them, in fact.
In a scene set in a Manhattan stable (yes, that is a thing), a couple of horses come to Wick's aid as he's being assailed by yet another squad of soon-to-be-dead assassins and they…well, I won't go into it, apart from noting how much fun extreme horse violence turns out to be. And then there are the dogs, which are considerably more alarming. They belong to Halle Berry, who plays an old associate of Wick's (or maybe an extra-angry old girlfriend, it's hard to say) named Sofia. She and John are at a Casablanca villa, conferring with a leathery gent whose exact purpose in the story eluded me, when suddenly, as is so often the case when Wick is around, an explosion of insane violence erupts, triggered by another gang of gun-waving thugs. When Sofia sics her dogs on these guys, we see that the vicious beasts have apparently been trained to focus their flesh-rending efforts on, let's say, a very sensitive anatomical area. This is even more fun than the thing with the horses.
Those new to the Wick universe can surely have a fine time at this movie, but catching up on the story before going into it couldn't hurt. In the first film, in 2014, John Wick was an assassin in retirement, dragged back into the professional fray by a Russian punk who killed his beloved dog (Daisy, RIP). In that movie we got our first look at New York's Continental Hotel—one of a string of international hostelries catering exclusively to the contract-killer community—and met its dapper manager, Winston (Ian McShane). We also learned that no terminations are allowed on the Continental's premises.
With John Wick: Chapter 2 (2017), we were primed for more of the exhilarating slaughter to which we'd been treated in the first film, and we certainly got it. But director Chad Stahelski—Reeves's stunt double in the Matrix movies, you'll recall—and writer Derek Kolstad were careful to maintain interest by opening up the rich Wickian mythology (the cool coins, the mysterious High Table). They also gave John a new dog, which he took with him, on the run, after killing an Italian mobster inside the Continental. (The guy needed killing, of course, but rules are rules.) Inevitably, we next learned that Wick would be declared "excommunicado" —drummed out of the underworld, with a multimillion-dollar bounty affixed to his head, to be collected by whichever member of the worldwide assassin guild rubbed him out. Breaking a major rule himself, Winston gave John an hour's head start to get out of town.
Now we rejoin John Wick back in New York, where he's running through the rainy, noir streets with his new dog (didn't catch its name) in tow. The doggo is soon dispatched by taxi to the Continental, where the sleek concierge, Charon (Lance Reddick), can be relied upon to tend to him in a first-class fashion. Then the Continental's amusingly tattooed switchboard ladies announce to the world the news that John Wick is officially fair game. Stahelski starts cranking up the action and it is, of course, generally sensational. The mano-a-mano with the giant goon (NBA star Boban Marjanović) in the New York Public Library is a model of close-quarters fight choreography and an imaginative demonstration of some terrible things that can be done with books. Stahelski remains an action master, maintaining complete control of every crowd surge, every flying blade and chattering machine gun, every detail of every complex chase scene – you always know you're in expert hands, down to the last meeting of foot and face.
It pains me to report, however, that not all of the news about this movie is good. Wick 3 is a half hour longer than Wick 1, and the stuffing sticks out. It becomes noticeable about midway through the film, after Wick consults with The Director (Anjelica Huston) —a ballet-and-martial arts specialist of some sort—and receives from her a guarantee of passage to Casablanca, where the Halle Berry action transpires. But why does Wick go to Casablanca? It's to find someone called The Elder (Saïd Taghmaoui)—a character whose essence seemed to me to be entirely hazy. Locating him requires our man to traipse across the golden dunes of the Moroccan desert—in his trademark black suit under the roaring sun—in a series of shots that can only be called…pretty.
Only slightly more interesting than The Elder is the movie's designated villain, a stark, frowny woman called The Adjudicator (Asia Kate Dillon, of Billions and Orange Is the New Black). She's been dispatched by the High Table to get to the bottom of that illegal killing at the Continental that's gotten Wick into such hot water. Normally, you'd want a big bad like this to have some snap and color, some scheming eccentricity. But Dillon, floating through the movie as if being rolled along on dolly tracks, adds nothing to its texture, and the picture deflates a little whenever she's onscreen.
It helps that Mark Dacascos—an intensely engaged actor and martial arts guy—is around a lot as Zero, a sushi-stand proprietor who's also one of what appear to be the world's millions of assassins. Zero has been conscripted by The Adjudicator to give John Wick a very hard time—which he does in a long and spectacular confrontation at the end of the movie. (Also on Zero's to-do list is Laurence Fishburne's Bowery King, who presides over the city's homeless and coordinates their secret spying activities. He has also run afoul of The Adjudicator for having provided his own prohibited help to Wick when he needed it.)
As jaw-dropping (literally!) as much of the action here continues to be, the filmmakers must realize by this point that they're just inches away from hitting a wall of monotony. This is a built-in problem—how many characters can you send sailing through the air, or through a wall of glass, no matter how brilliantly you do it, before surfeit sets in? Fortunately, the world of John Wick, as an imaginative construct, is rich in narrative promise: we want to know more about Wick's background, and the High Table, and the other assassin tribes and their attendant hotels. (The major plot development billboarded at the end of this movie suggests that much new info may be on the way.) Yes, we want to see people whomped around and blown away and sent sailing through the air—of course we do. But even the hardest-core fans of this kind of picture cannot live by mayhem alone. Well, possibly.