Trump Spox: 'There Is No Republican Primary, as the RNC Has Made Clear'
So much for impartial arbitration of intra-party competition.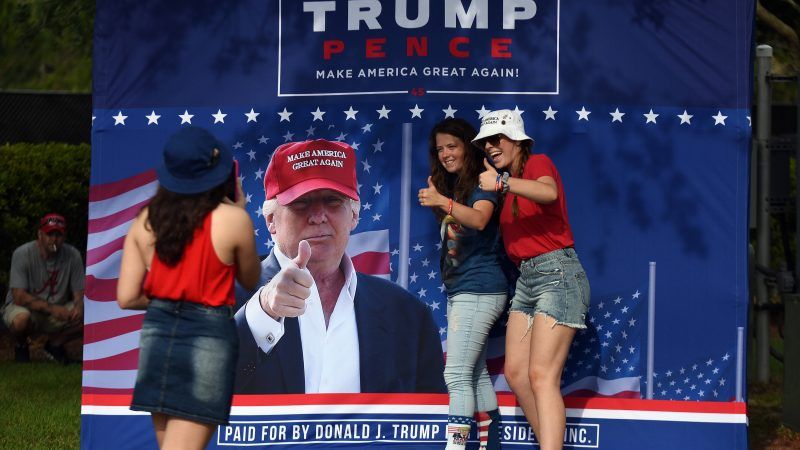 (Paul Hennessy/Polaris/Newscom)
In a move that escaped much journalistic attention last week year, the Republican National Committee (RNC) voted unanimously to disband its debate committee, an explicit signal that the traditionally impartial body is not interested in officiating a primary challenge against President Donald Trump. Incumbent presidents will continue their unbroken string of avoiding primary debates.
Over the past five months, as former Massachusetts Gov. Bill Weld threw his hat into the ring and Maryland Gov. Larry Hogan played footsie with a run, the RNC has merged with Trump's re-election campaign, passed a resolution pledging "undivided support" for the president, and taunted any potential competitors.
In an interview Wednesday with the Daily Mail, Trump campaign spokeswoman Kayleigh McEnany was blunt about Weld's Quixotic fight to dislodge a president who polls consistently at 90 percent approval among Republican voters.
"There is no Republican primary, as the RNC has made clear," McEnany said. "That's the highest own-party approval rating for a president, with one exception—and it's [George W.] Bush during 9/11….President Trump got more votes in the history of our party than any Republican nominee. So the notion that there is a Republican primary is a false one."
As for Weld? "The fake news can try to create a primary but it doesn't exist because our voters stand with the president," she said.
Polls even in their home states have been brutal for Trump's real and would-be challengers. An April 29–May 4 Gonzales Maryland survey of 203 likely Republican voters showed Gov. Hogan trailing the president, 68 percent to 24 percent. Weld in an April 4–7 Emerson College poll of 183 likely Massachusetts voters got thrashed, 82 percent to 18 percent. The Trump machine is basically taking a bazooka to a thumb-wrestling match.