The U.S. Just Imposed New, Higher Tariffs on China. Blame Trump's Faulty Trade War Strategy.
If the United States had pursued a different strategy from the outset of the Trump administration, it might now be in a position to counter China's hardball tactics.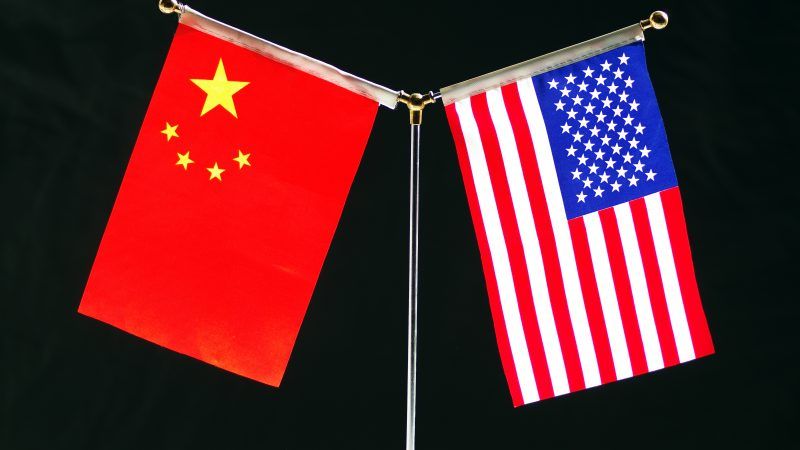 This morning it became official: The trade war between the United States and China has escalated.
High-level trade negotiations that ran into the final hours of Thursday night proved fruitless, and at midnight the United States began the process of raising tariffs on about $200 billion of Chinese imports from 10 percent to 25 percent. New tariffs of 25 percent on an additional $325 billion of Chinese-made goods are also being implemented. In an early morning tweetstorm, President Donald Trump said that talks with China would continue and defended the decision to impose new and higher tariffs; he avoided noting that they're really a tax on American importers, businesses, and consumers. China has vowed to retaliate, but it has not given any specifics so far.
Clearly, the trade war that was supposed to be "good and easy to win" has now entered a more dangerous and destructive phase. After nearly a year of trying to use tariffs to force China to negotiate a trade deal without success, the president seems to believe the only solution is more tariffs.
Time will tell if he's right about how China will respond. But in the meantime, those new tariffs can do serious damage to the American economy. More than 2.1 million American jobs could be lost and the average family of four will face about $2,200 in higher annual costs, according to a study from The Trade Partnership.
"We want to see meaningful changes in China's trade practices, but it makes no sense to punish Americans as a negotiating tactic," said David French, a vice president at the National Retail Foundation, in a statement. "If the administration wants to put more pressure on China, it should form a multinational coalition with our allies who share our concerns."
That was one of the biggest missed opportunities of the Trump administration's trade policy. If you're looking for the moment that brought America to this latest escalation of the trade war, you have to look back before the Sunday morning Trump tweets that rattled markets and set off a week of uncertainty. Before the Chinese reportedly reneged on key details of the nascent trade deal. Before the start of the trade war last summer. Before the threats of tariffs on steel and aluminum and washing machines and the rest. Even before Trump was president.
You have to go all the way back to April 2015, two months before Trump declared his candidacy. That was when the future president first lashed out, on Twitter of course, at the Trans-Pacific Partnership, a multilateral trade agreement the Obama administration was negotiating with about a dozen other countries. China was not part of the TPP. The proposed pact was seen as a way to counterbalance China's growing influence over the region.
"If confronting China and getting it to do a better job of abiding by the international trade rules is the objective, we blew the two best opportunities to make that happen," says Dan Ikenson, director of the Center for Trade Studies at the Cato Institute. The United States should have not have withdrawn from the TPP, argues Ikenson. Failing that, Americans should have confronted China through the World Trade Organization, bringing complaints that could have been backed by the European Union, Japan, Korea, and others.
"There is power in numbers in these circumstances, but the Trump administration has insisted on going it alone," Ikenson tells Reason. "Inevitably, we Americans will bear the costs of those calamitous decisions."
That swaggering, go-it-alone mentality has defined much of this administration's policy toward the rest of the world. The president believes he can strike better deals in one-on-one settings than as part of an international community. But so far, he has precious little to show for it. After hitting steel and aluminum imports with tariffs last year, the Trump administration promised to remove those trade barriers as soon as other nations worked out unilateral trade deals with America. A couple deals materialized, but not many.
Trump clearly relished the chance to pick a fight with China. But he went into it without allies, and he may have given China leverage in several important ways. As The Wall Street Journal reported this week, China was encouraged to play hardball because it saw Trump's constant hectoring of the Federal Reserve board to lower rates as a signal that the U.S. economy was slowing. Dragging out negotiations into the 2020 president election also gives China more power, as Trump could be politically weakened if he does not deliver the promised deal—and as tariffs take their inevitable toll on the economy, the strength of which is central to Trump's political messaging.
He could also face a congressional revolt from within his own party. "There's a lot of feeling in farm country we're being used as pawns in this whole business," Sen. Pat Roberts (R–Kansas) tells The Washington Post. The new round of tariffs could give Congress a greater incentive to claw back some of the trade powers handed to the presidency over the past decades.
If the United States had pursued a different strategy from the outset of the Trump administration, it might now be in a position to counter China's hardball tactics with alternatives that don't include higher taxes on American businesses and consumers. As it stands, the options are limited—and Trump does not seem ready to walk away.
"Economic sanctions rarely work to compel governments to do things they don't want to do," says Ikenson. "Trying to force a large country with a large, diversified economy and an historical chip on its shoulder to behave as we wish by levying massive tariffs unilaterally—imposing higher costs on ourselves—is a fool's errand."
As for the decision to bail on the TPP, it may be a little unfair to lay that entirely at Trump's feet. Give the voters a share too. Trump was the loudest anti-TPP voice in the 2016 Republican primaries, and his success—along with the impact of Sen. Bernie Sanders (I–Vt.), another anti-TPP protectionist—in running against the trade deal was enough to convince Hillary Clinton to turn against the TPP during the 2016 campaign.
Shrewd politics can lay the groundwork for bad policy. Whether following his own instincts or following the will of the people, Trump yanked the U.S. out of the TPP negotiations shortly after taking office. It's a decision that looks especially myopic in retrospect—one that effectively sidelined useful allies and made the future trade war a one-on-one fight.
But it was a myopia tinged with ignorance. After all, Trump seemingly believed he was striking a blow against China. During one Republican primary debate, in December 2015, Trump went on an extended rant about how the TPP would benefit China. Sen. Rand Paul (R–Ky.) then leaned in to remind his rival candidate that China wasn't actually part of the proposed pact.
Trump is a master of creating his own political reality. But the real reality is coming back to bite him—and the rest of us.