John Bolton Threatens Iran With 'Unrelenting Force'
Plus: Texas bartender charged for serving alcohol to shooter, Cory Booker proposes a federal gun-licensing scheme, and more...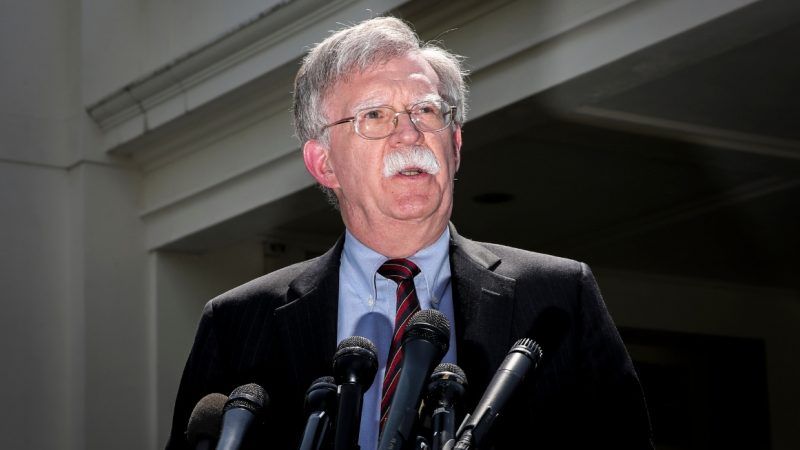 (Oliver Contreras/Sipa USA/Newscom)
"The United States is not seeking war with the Iranian regime, but." So says a not-so-reassuring Sunday statement from National Security Advisor John Bolton.
Call it what you will, but it sure seems like Bolton and the Trump administration are trying to entangle us in another dick-swinging Middle Eastern military adventure.
The U.S. is sending a bomber task force and a Carrier Strike Group toward Iran, according to the statement. Bolton called it a way to send an "unmistakable message" that if the wrong people do something we don't like (to anybody), "the Iranian regime" will "be met with unrelenting force."
Ahhh, there's that sociopathic old "America: World Police" spirit that Bolton perfected during the George W. Bush years.
Invoking increasing tensions between Iran and the U.S., Bolton said "we are fully prepared to respond to any attack, whether by proxy, the Islamic Revolutionary Guard Corps or regular Iranian forces."
As White House Reporter Andrew Feinberg (and many others) have pointed out, "the US has pretty much constantly had a carrier on station in that area since the 1980s," so the fact that it's being sent there is pretty much business as usual. The fact that Bolton felt the need to put out a belligerent statement about it isn't.
---
FREE MINDS
Bartenders in Texas must now be clairvoyant if they want to avoid criminal charges. At least that's the message the state seems to be sending with the arrest of 27-year-old Lindsey Glass, who served drinks to a man named Spencer Hight before he went on a shooting spree that killed eight people. Glass has been charged with a misdemeanor for violating a Texas ban on selling alcohol "to an habitual drunkard or an intoxicated or insane person."
---
FREE MARKETS
The Wall Street Journal takes a somber look at newspapers in the U.S. "Local papers have suffered sharper declines in circulation than national outlets and greater incursions into their online advertising businesses from tech giants such as Alphabet Inc.'s Google and Facebook Inc," the paper reports.
The result has been a parade of newspaper closures and large-scale layoffs. Nearly 1,800 newspapers closed between 2004 and 2018, leaving 200 counties with no newspaper and roughly half the counties in the country with only one, according to a University of North Carolina study.

Meanwhile, about 400 online-only local news sites have sprung up to fill the void, disproportionately clustered in big cities and affluent areas, the UNC study found.
---
ELECTION 2020
Booker wants all gun owners to get federal approval. The Democratic candidates seem to be in competition for the most overbearing gun policy proposals:
Cory Booker announces new gun plan that would require every firearm owner to be licensed by the federal government. pic.twitter.com/FFC4avv9Sp

— Philip Wegmann (@PhilipWegmann) May 6, 2019
---
QUICK HITS
The Cat in the Hat is right about parenting, writes Katherine Mangu-Ward.
"Are we cool? We like to think we're cool," the Transportation Security Administration declares on Instagram. It gets worse from there…
That word…I do not think it means what you think it means:
I am continuing to monitor the censorship of AMERICAN CITIZENS on social media platforms. This is the United States of America — and we have what's known as FREEDOM OF SPEECH! We are monitoring and watching, closely!!

— Donald J. Trump (@realDonaldTrump) May 3, 2019