Florida's Health Care Deregulation Is a Win for Doctors, Patients, and Free Markets
Florida is on the brink of abolishing its Certificate of Need laws for health care faciltiies. It's about time.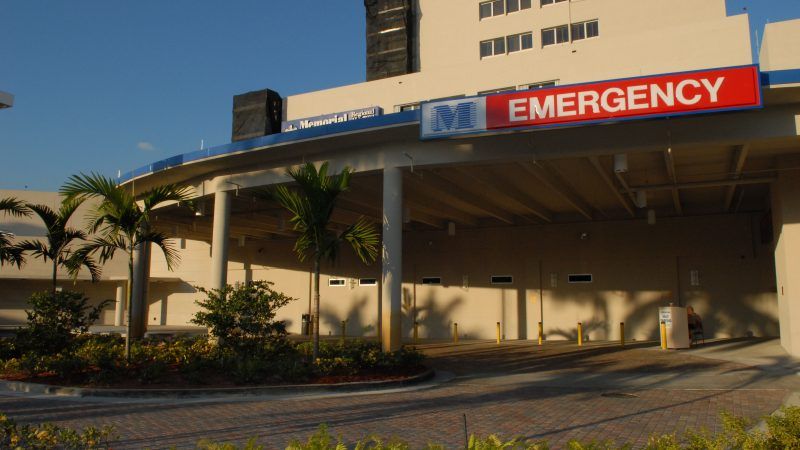 Hospitals and many other health care centers offering outpatient care in Florida will no longer have to get the state government's permission before expanding or offering new services, if Gov. Ron DeSantis signs a bill that reached his desk this week.
A bill to overhaul the state's Certificate of Need (CON) regulations cleared both chambers of the state legislature during the final week of April, making Florida the latest state to ditch that vestige of a failed 1970s federal effort at controlling health care costs. CON laws were supposed to hold health care costs down by limiting unnecessary capital expenditures, but they often do the opposite—by operating as artificial limitations on the supply of health care services, they tend to inflate costs and reduce access to care.
"It's time we got more cost effective coverage, more freedom and options, and more direct care," state House Speaker Jose Oliva (R–Miami-Dade), who made the CON reforms a top priority for this year's legislative session, says in a statement. "We will make these changes and reap the inevitable reward of the free market—lower costs and higher quality."
The bill passed in Florida would exempt hospitals from CON review starting in July. Specialty hospitals, such as those dedicated to women's health care or pediatric centers, will be free from CON oversight by the state's Agency for Health Care Administration starting in 2021. Nursing homes and hospice facilities will remain subject to Florida's CON laws.
CON laws have not produced better health outcomes in places where they are on the books. A 2016 paper by two researchers at George Mason University's Mercatus Center found that the average 30-day mortality rate for patients with pneumonia, heart failure, and heart attacks in states with CON laws is between 2.5 percent and 5 percent higher (even after demographic factors are taken out of the equation) than in non-CON states.
Residents of states with CON laws end up paying higher prices too. The Federal Trade Commission has urged states to repeal those regulations, arguing that they "are not successful in containing health care costs" and "pose serious anti-competitive risks that usually outweigh their purported economic benefits. Market incumbents can too easily use CON procedures to forestall competitors from entering an incumbent's market."
Indeed, as Reason has previously reported, hospitals can use CON regulations to effectively block nearby hospitals from offering certain services. In one particularly tragic instance, a Virginia hospital with a neonatal intensive care unit successfully lobbied the state Department of Health to veto a CON application from a competing hospital that wanted to build a similar facility for sick babies. Shortly after the second hospital's application was denied—despite widespread support from local officials, health care administrators, doctors, and residents—an infant died there following a premature birth.
Even when the stakes aren't that high, CON laws create weird, anti-competitive outcomes. An eye doctor in Iowa has been waiting for years to see patients at his fully outfitted office, but a nearby hospital has repeatedly blocked his application for a Certificate of Need.
In December, a report from the federal Department of Health and Human Services urged states "to repeal or scale back Certificate of Need laws" as a way of promoting "choice and competition in provider markets."
In Florida, Oliva championed CON reform as part of a larger effort to overhaul the state's health care system. In a session-opening address in March, he called health care costs "a five-alarm fire" and called out "the health care industrial complex" for standing in the way of needed reforms.
Sure enough, hospital lobbyists fought the CON reform bill, then tried to promote an alternative, watered-down version of the legislation. In the end, Oliva's favored proposal won out.
With the stroke of a pen, DeSantis can score a significant—and all too rare—win for freer markets in health care.