Gov. Terry Branstad Pushed Certificate of Need Reform; Iowa Hospitals Killed It
State Rep says hospitals are "holding entrepreneurial physicians and clinics hostage" with CON laws. That's exactly right.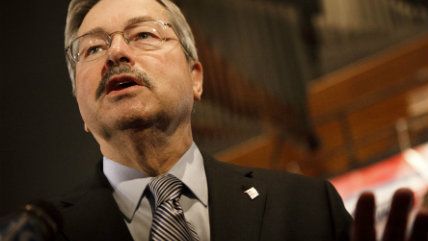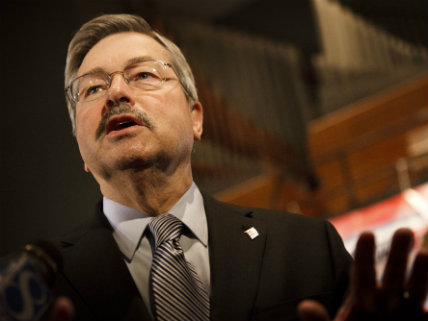 Iowa hospitals successfully killed a proposal that would have allowed more competition in the state's health care markets.
A bill, pushed by Iowa Gov. Terry Branstad, that would have reformed the state's Certificate of Need laws failed to clear a committee vote on Wednesday after a concentrated lobbying effort from large hospitals, according to Iowa Public Radio. The bill would not have repealed the state's CON law entirely, but would have exempted several medical services—including surgical centers and medical imaging clinics—from the CON process.
Certificate of Need laws—also known as Certificate of Necessity or Certificate of Public Need laws in other states—give state governments broad authority to regulate health care facilities, supposedly in order to balance the interests of providers and patients. Often, they are fraught with politics and allow providers to effectively veto unwanted competition, leaving patients with fewer choices, less access to care, and forced to pay higher prices.
In Iowa, the CON law has "become a way for certain (organizations) to keep out competition," Branstad told the Quad City Times last year. In other public comments, Branstad has stressed how the CON law hurts Iowans by limiting access to health care and hurts the state's economy by making it harder to attract new medical services.
But Branstad's support wasn't enough to get the bill through the state legislature against the wishes of the state's hospital lobby.
"You're holding the entrepreneurial physicians and clinics hostage in not being able to expand their clinics," state Rep. Rob Taylor (R-West Des Moines), told hospital executives who attended the committee meeting and urged the bill's defeat, Iowa Public Radio reported.
That's exactly right. To understand how that happens, take a look at the story of Dr. Lee Birchansky, an Iowa eye surgeon has spent more than decade trying to navigate the process. Birchansky was profiled in 2016 by Erin Jordan, a reporter at The Gazette in Cedar Rapids, as part of an investigation of Iowa's CON laws:
Ceiling-mounted microscopes, sterilizers and phacoemulsification equipment sit dormant in Dr. Lee Birchansky's operating rooms — hundreds of thousands of dollars wasted because Birchansky can't get state permission to do cataract surgery in his office at the Fox Eye Laser and Cosmetic Institute on H Avenue NE.

Birchansky operated in these rooms for six years, but in 2004 — after Birchansky asked for a change in ownership — UnityPoint Health-St. Luke's Hospital pulled out of the deal. When he tried to get his own certificate for outpatient surgeries, which cost less than in hospitals, the state said no — four times.

"There were three entities objecting — Surgery Center Cedar Rapids, Mercy and St. Luke's," Birchansky said. "They all had reason to make sure no competition was entering the marketplace."
It's the same story in other places. A Reason investigation published in January showed how Carilion Clinic, a major hospital in Roanoke, Virginia, had used the state's CON licensing process to stop a nearby hospital from building a neo-natal intensive care unit. Even after a premature infant died at the second hospital, the Virginia Department of Health (at the urging of Carilion's executives) refused to grant permission for a NICU.
The costs of CON laws aren't always that obvious, they always exist. In a paper published last year by the Mercatus Center at George Mason University,Thomas Stratmann and Davild Wille argue that hospitals in states with CON laws have higher mortality rates than hospitals in non-CON states. The average 30-day mortality rate for patients with pneumonia, heart failure, and heart attacks in states with CON laws is between 2.5 percent and 5 percent higher even after demographic factors are taken out of the equation.
Patients lose, but hospitals (at least the ones lucky enough to already have access to the market) benefit from CON laws. That's why they continue to be on the books in more than 30 states, despite opposition from academics, the Federal Trade Commission, and governors like Branstad.