Pelosi, Schumer Pitch Trump on Spendy, Protectionist Infrastructure Package
The president continues to move closer to Democratic proposals on infrastructure spending.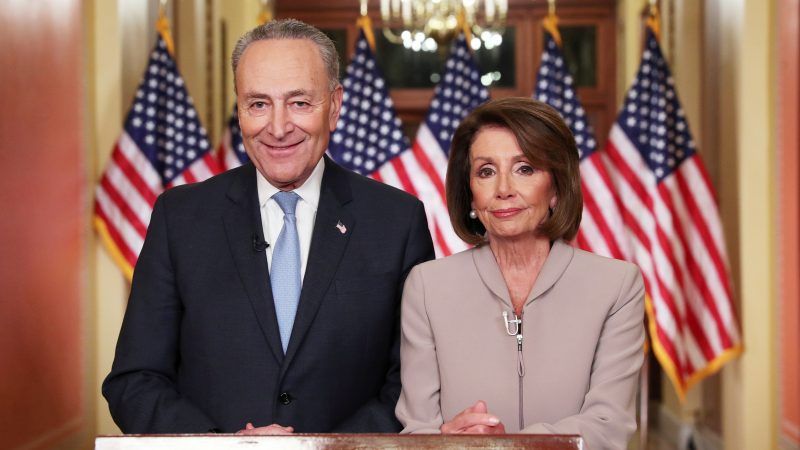 (Jonathan Ernst/REUTERS/Newscom)
Senate Minority Leader Chuck Schumer (D–New York) and House Speaker Nancy Pelosi (D–Calif.) met with President Donald Trump today to discuss a new $2 trillion infrastructure package. While details of the plan have yet to be hashed out, the two Democratic leaders laid out their broad priorities in a Monday letter to the president.*
"The issue of infrastructure spending is a bipartisan Congressional priority and we believe there are significant majorities in both the House and the Senate to take action on this issue," wrote the two in their Monday letter which argued the country needs to "rebuild its infrastructure to promote commerce, create jobs, advance public health with clean air and clean water, and make our transportation system safer."
To do this, Pelosi and Schumer listed three priorities any infrastructure package should focus on.
This includes a call for "substantial, new and real revenue"—i.e. tax increases of some form—in order to fund a package "big and bold enough to meet our country's needs."
Something big and bold should "go beyond transportation and include broadband, water, schools, housing, and other initiatives," reads priority number two, which adds that "we must also invest in resiliency and risk mitigation of our current infrastructure to deal with climate change."
Lastly, any infrastructure package "must have strong Buy America, labor, and women, veteran, and minority-owned business protections" all of which will help make any infrastructure deal "a major jobs and ownership boost for the American people."
As far as Democratic infrastructure initiatives go, this is all pretty pro forma. Since at least 2017, Democrats have floated various spending plans as a counter to Trump's famed $1 trillion infrastructure initiative.
Unlike the president's proposal—which initially was focused mostly on transportation projects, included relatively modest amounts of new federal spending, and contained a number of privatization and deregulatory provisions—Democrats' plans have called for lots of new federal spending on a wide range of priorities that often stretch the definition of infrastructure.
In March of last year, Senate Democrats floated the idea of a $1 trillion infrastructure package comprised entirely of federal spending, and which echoed many of the priorities advocated in Schumer and Pelosi's letter, including billions of dollars for schools, affordable housing, and internet infrastructure. This proposal would also have undone some of Republicans' 2017 corporate tax cuts as well.
In January 2018, Sens. Bernie Sanders (I–Vt.) and Elizabeth Warren (D–Mass.)—both now presidential contenders—sent a letter to Trump asking that any infrastructure package include stiff Buy America provisions.
More recently, Sen. Amy Klobuchar (D–Minn.)—also running for president—released her only $1 trillion infrastructure plan that included lots of money for rural broadband, high-speed rail, and schools.
What's notable about Pelosi and Schumer's latest pitch to Trump is that, while they might not have moved much on infrastructure, the president seems to be edging closer to them.
Trump's initial infrastructure proposal from February 2018 included only $200 billion in federal spending, which was supposed to leverage an additional $1.3 trillion in non-federal investment.
It also included calls for exploring the privatization of publicly-owned airports and utilities, streamlining environmental reviews, and shifting from a tax-and-spend model of funding infrastructure to one dominated by public-private partnerships and user fees.
Trump failed to show much interest in advancing his own proposal however, and it eventually died on the vine. The president has also at times contradicted his own marginally more free market stance on infrastructure by bashing privatization and endorsing a gas tax hike.
Trump's latest $1 trillion infrastructure proposal—included as part of his March budget request to Congress—was remarkably less detailed than the February 2018 proposal, and put much less emphasis on reforming the way infrastructure dollars are spent.
That suggests the president and Democratic leaders might find enough common ground for some sort of pork-laden infrastructure proposal that pairs some Republican priorities (like spending on rural infrastructure) with Democratic requests for money on transit or broadband. Getting Trump to agree to stiff Buy American provisions would not be a tough sell either.
Perhaps the biggest sticking point would likely be the tax increases Democrats are asking for, which would cut against Republicans' one real legislative achievement in recent years.
Provided that the issue can be solved, a bipartisan infrastructure bill heavy on federal spending and light on reform might be in the cards.
This post has been updated to include details of Schumer and Pelosi's meeting with President Donald Trump.