Amy Klobuchar's $1 Trillion Infrastructure Plan Contains Nothing That Hasn't Failed Before
From high-speed rail to rural broadband, Klobuchar's supposedly bold policy framework reads like a retread of policies pushed by Democrats and Trump.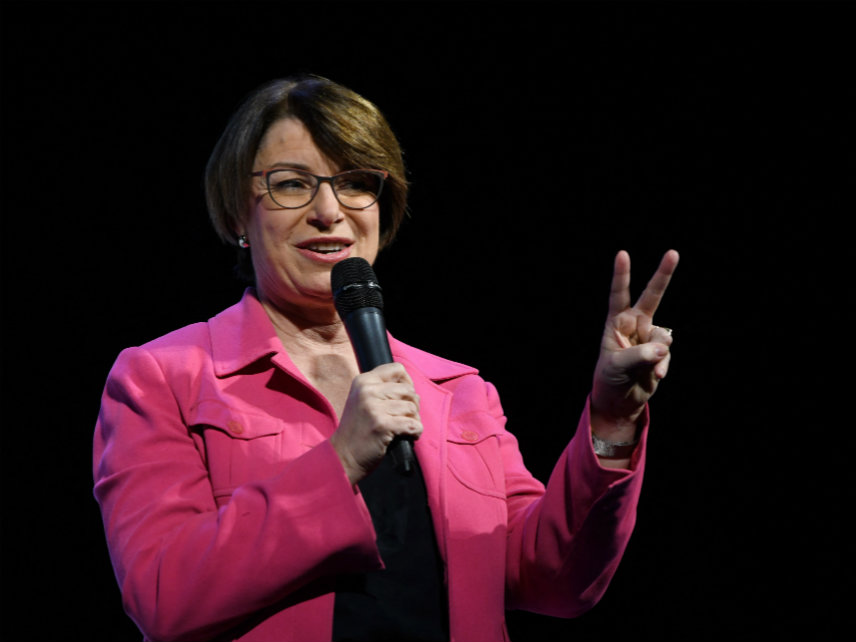 When the Interstate 35W bridge in Minneapolis collapsed in August 2007, killing 13 people, Congress wasted little time in appropriating $250 million to fund a replacement. Just 13 months after the old bridge plunged into the Mississippi River, the first vehicles rolled across the new structure.
In announcing her presidential campaign's first major policy proposal, which calls for spending $1 trillion in combined federal and state funds on infrastructure projects, Sen. Amy Klobuchar (D–Minn.) touts her experience in the aftermath of the I-35W bridge disaster. As a freshman senator in 2007, she had sponsored the bill that then-President George W. Bush signed, directing federal funds to the clean up and replacement of the bridge. Now, as a presidential candidate, Klobuchar says that "proven track record of delivering results" is exactly what's needed to "get things done and pass progressive policies that keep our country moving."
The problem with Klobuchar's infrastructure proposal—outlined in broad strokes in a Medium post last week—is that, aside from Klobuchar's involvement, there's not really much common ground between the emergency funding for the I-35W rebuilding project and what she's proposing now.
That bridge handled 140,000 vehicles daily; it was a crucial link in the highway system and a key conduit for people and commerce in the Twin Cities. Whether it should be rebuilt was never in doubt. But Klobuchar's infrastructure proposal would have Congress repeal part of last year's corporate income tax cut in order to fund projects that seem far less essential. Some, like high-sped rail and government-funded broadband internet, have a long track record of being outright boondoggles while others barely seem like infrastructure projects at all.
"This is retread of the Senate Dems grab-bag plan from last year," says Bob Poole, director of transportation policy for the Reason Foundation, which publishes this website. "Basically, define everything possible as infrastructure and throw hundreds of billions of dollars at it."
Specifically, Klobuchar wants to hike federal infrastructure spending by $650 billion—though she is pitching her plan as a $1 trillion proposal, equal to what President Donald Trump has proposed spending on infrastructure, by assuming state and local governments will pony up the rest.
For now, there are no details regarding how much to spend on any particular type of project—something that Congress would likely decide anyway—but Klobuchar says she would prioritize "smart investments to repair and replace our roads and highways" and structurally deficient bridges. (Her release inflates the number of officially designated structurally deficient bridges from 47,000 to 50,000.)
Beyond that, she wants to "expand reliable public transit options" and "bring high-speed rail to more communities."
But public transit ridership is in decline almost everywhere, notes Randal O'Toole, a transportation policy expert with the Cato Institute. "Now is not the time to be spending more tax dollars on a dying industry that is already the most heavily subsidized form of transportation, per passenger mile, that we have," he tells Reason.
As for high-speed rail, well, California Gov. Gavin Newsom recently pulled the plug on the nation's most high-profile high-speed rail project—but only after projections showed the project would run tens of billions of dollars over-budget. The current plan is to finish building a shorter high-speed rail line between Bakersfield and Merced at a cost of about $10 billion instead of a longer, more expensive line connecting San Francisco to Los Angeles. Even in places where high-speed rail make geographic sense (that is, the Northeast), tickets on Amtrak's Acela service are far more expensive than airfares for trains that go less than half as fast (and usually less than that) as planes.
Similarly, Klobuchar sees a role for the federal government in getting Americans online. She promises to connect all houses to the internet by 2022, promising to bring "high-speed internet infrastructure to areas most in need." But the market is doing a fine job of bringing people online, while government-run broadband projects (a staple of the Obama-era stimulus) have been unable to keep up. In Louisiana, a $160-million fiber-to-the-home rural broadband initiative ran up $160 million in debt while falling short of connectivity goals by 30 percent. In Minnesota, a federally funded rural broadband project lost $40 million and was eventually sold to a private provider.
Faster wireless data speeds and improved coverage maps have, or soon will, allow anyone to be online without a physical internet connection running to their home. Government-funded rural broadband service is a policy idea that's rooted in the 2000s, not the 2020s.
Other parts of Klobuchar's plan seem even more misplaced as elements of a federal infrastructure proposal. She calls for upgrading "crumbling and unsafe schools" and cites a 2017 survey that found half of America's school buildings need improvements. School funding has always been the purview of local and state governments, and turning that into a federal responsibility would be huge shift in policy—and one that would be unlikely to address the personnel and pension costs at the root of many school budget problems.
There is not enough detail in Klobuchar's proposal to determine whether the math adds up, but it's probably right to be skeptical of the idea that a hike in the corporate income tax will be enough to pay for $650 billion price tag. Other funding mechanisms include "closing loopholes that encourage U.S. companies to move jobs and operations overseas, establishing a financial risk fee on our largest banks, and increasing efforts for tax enforcement."
Even if that works out, funding infrastructure with tax dollars instead of user fees is a risky proposition. "Experience shows that infrastructure funded out of user fees is well maintained but infrastructure funded out of tax dollars is crumbling," says O'Toole.
In many ways, Klobuchar's first major policy outline reflects the image she is trying to project in the Democratic primary: that of a moderate who is willing to expand government's role in small ways without promising a fundamental transformation of the country. It's telling that her infrastructure plan is getting a somewhat chilled reception from progressives for failing to grapple with carbon emissions (beyond a token mention of "greener communities and workplaces") and other environmental consequences of moving people from place to place. That's where the Democratic Party is heading now, with proposals like the Green New Deal calling for an end to commercial air travel in the future, but Klobuchar's would hardly seem out of place within the Obama administration.
It also gives her an opportunity to draw a contrast with Trump, who promised to deliver a $1 trillion infrastructure bill during his first year in office and failed to deliver it. Trump is now asking Congress for a smaller $200 billion infrastructure bill, but Klobuchar says that plan "is a mirage" that's too scarce on details.
The same criticism could be leveled at her own vague proposal, which looks like it was pasted together after Klobuchar combed through the clippings on the Democratic policy office's cutting room floor. The campaign is still in its early stages and she will have time to refine her pitch to voters, but for now it looks like "Infrastructure Week" remains as elusive as ever.