De Blasio to Skyscrapers: Drop Dead!
"We're going to ban the classic glass and steel skyscrapers which are incredibly inefficient," said the mayor of New York City.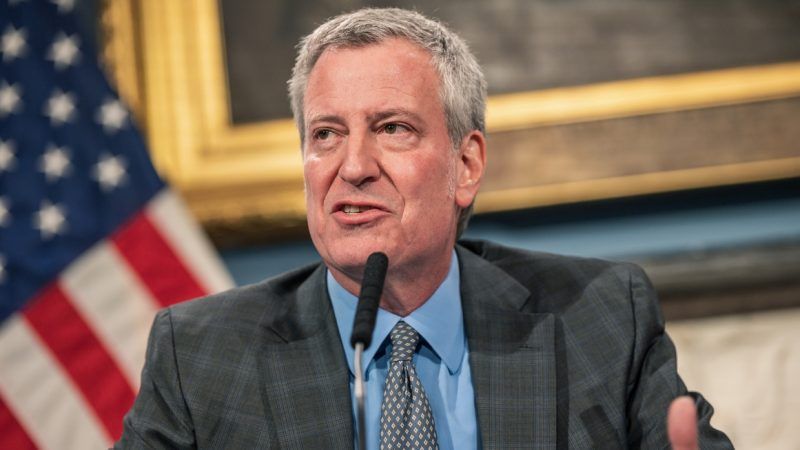 (Albin Lohr-Jones/Sipa USA/Newscom)
New York City Mayor Bill de Blasio (D) said Monday he plans to crack down on "the classic glass and steel skyscrapers" because of their energy inefficiencies. While de Blasio does not appear to have plans to impose a blanket ban on glass and steel skyscrapers (i.e. all of them), he does intend to impose burdensome regulations that will hurt many building owners and discourage new construction.
De Blasio was asked on Morning Joe by co-host Joe Scarborough how New York's "Green New Deal" can "provide a road map" for members of Congress looking to implement policies that will fight climate change. Congressional efforts—led by Rep. Alexandria Ocasio-Cortez (D–N.Y.) and others—to pass a Green New Deal made headlines in February, though the measure failed in the Senate last month by a 57–0 vote.
"We're actually making the Green New Deal come alive here in New York City," de Blasio told Scarborough. "It's three very basic ideas. One, the biggest source of emissions in New York City is buildings. We're putting clear, strong mandates, the first of any major city on the Earth to say to building owners: 'You gotta clean up your act. You gotta retrofit. You gotta save energy.'"
Building owners will have until 2030 to implement these changes, he added, or else face fines of up to or exceeding $1 million. That's where the part about the skyscrapers came in. "This mandate is going to ensure that we reduce emissions," he said.
"We're going to ban the classic glass and steel skyscrapers which are incredibly inefficient," de Blasio said. "If someone wants to build one of those things they can take a whole lot of steps to make it energy efficient, but we're not going to allow what we used to see in the past."
.@NYCMayor on the city passing a municipal "Green New Deal": "We are going to ban the classic glass and steel skyscrapers, which are incredibly inefficient." pic.twitter.com/XtYNvMRCt0

— Tom Elliott (@tomselliott) April 22, 2019
NYC's government, de Blasio went on to say, will become completely reliant on renewable energy "in the next five years."
The mayor's remarks came four days after the New York City Council approved legislation that imposes new emissions standards on buildings bigger than 25,000 square feet (about the size of a grocery store, according to CNBC). The city, which wants to cut its carbon footprint by 80 percent in the next three decades or so, is hoping that big buildings will lower their carbon emissions 40 percent overall by 2030. Different types of buildings won't be allowed to exceed various emissions caps. De Blasio planned to sign the legislation on Monday.
About 50,000 buildings will be affected, CNBC reported. Religious structures and hospitals will not have to meet all of the standards, and rent-controlled buildings will have more time to comply. Public buildings and low-income housing will also receive some exemptions.
There's no question that the legislation will cost building owners a pretty penny—$4 billion in total, Mark Chambers, the director of the Mayor's Office of Sustainability, told The New York Times. And with so many buildings receiving exemptions, the costs will be borne by a smaller group of landowners.
"The real estate industry and other stakeholders support the goal of reducing carbon emissions 40 percent by 2030," Real Estate Board of New York (REBNY) President John Banks told Crain's New York. "The bill that passed today, however, will fall short of achieving the 40-by-30 goal by only including half the city's building stock."
Building owners may also be hesitant to lease space to tenants who might use more energy. "The approach taken today will have a negative impact on our ability to attract and retain a broad range of industries, including technology, media, finance, and life sciences," Banks told Crain's New York.
"There's a clear business case to be made that having a storage facility is a lot better than having a building that's bustling with businesses and workers and economic activity," REBNY general counsel Carl Hum added to the Times.
There's also the issue of how realistic it is for some buildings to meet the new legislation's stringent standards. Ed Ermler, the board president of a group of landlords that owns 437 apartment units in Queen, told the Times he's already spent hundreds of thousands of dollars trying to improve energy efficiency in those buildings. "To get down to even 20 percent from where I am today, with the technology that exists, there's nothing more that I can do," he said. "It's not like there's this magic wand."