The Feds' Special Opioid Task Force Spent 8 Days Harassing Arizonans, Found 0.2 Grams of Heroin
They made 50 arrests, but almost all were for immigration offenses.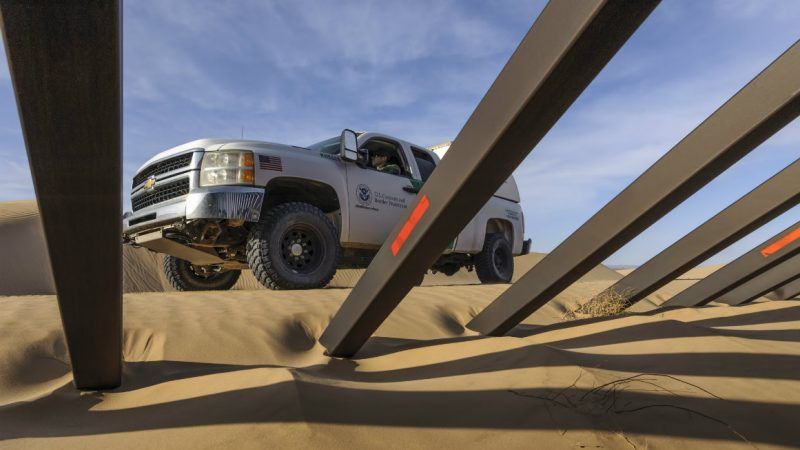 (Gary Moon/ZUMA Press/Newscom)
A special federal law enforcement task force dedicated to stopping the flow of opioids into the United States was deployed in southern Arizona for eight days in March. The joint effort of local, state, and federal cops managed to stop more than 400 cars and conduct 129 vehicle searches.
How many opioids did all that effort yield? Less than a quarter gram of heroin.
Rather than targeting opioids, the Interior Department's Opioid Reduction Task Force seems to have been used primarily to enforce immigration laws. According to a press release issued last week by the department, the operation conducted between March 20 and March 28 resulted in 50 arrests—with 42 of those arrests for "illegal entry." Though the press release trumpeted the fact that the task force seized $2.3 million in illegal drugs, nearly all of that total was marijuana, not opioids. (The feds also reported seizing 31 grams of meth.)
That shouldn't be a surprise when you considering where the task force was deployed: on the Tohono O'odham Reservation, along the United States' southern border, and not at a port of entry. Most heroin and other opioids—and, indeed, most foreign drugs of all varieties—come into the United States through border checkpoints. The majority of heroin coming from Mexico is transported via privately owned vehicles "entering the United States at legal ports of entry, followed by tractor-trailers, where the heroin is co-mingled with legal goods," the federal Drug Enforcement Administration concluded in a 2018 report.
That's one of many reasons why building a massive wall along the length of the southern border is unlikely to staunch the flow of heroin into the country.
It should also raise questions about why a federal opioid task force was deployed for eight days in a part of the country that does not include a port of entry. After all, if you're trying to stop opioids from coming into the country, it would make more sense to go where you're most likely to find opioids. The Interior Department did not respond to questions from Reason seeking further explanation about why the task force was deployed to the Tohono O'odham Reservation—and the department did not clarify whether it viewed the eight-day operation as a success, despite the apparent lack of opioid interdiction.
What we do know is that the feds managed to harass lots of apparently innocent Americans—many of them likely Native Americans—in the effort. In addition to stopping 422 vehicles and searching 129 of them, the Opioid Reduction Task Force deployed its K-9 units 89 times and responded to 40 "K-9 alerts." The task force also handed out 14 traffic tickets.
In all, the Arizona deployment makes a pretty good argument against using federal law enforcement to combat the opioid trade. Americans who are addicted to heroin and other opioids need safe ways to ween themselves off dangerous drugs (and better access to non-lethal drugs in the first place), a strategy that has already paid off in places like Ohio. Giving federal immigration cops—yes, Immigration and Customs Enforcement was included in the Opioid Reduction Task Force—another opportunity to demand to see proof of citizenship is not helping reduce opioid addictions or deaths. If anything, government enforcement efforts are only making opioids more dangerous by creating market conditions that benefit more potent, and potentially more deadly, alternatives like fentanyl, which can be 10 times as profitable per kilogram than heroin.
The Department of the Interior says its special opioid cops have seized "millions of dollars worth of fentanyl, heroin, methamphetamine and other drugs during the task force's first year of existence. But its pretty clear that the most recent operation was a dud.