Harm Reduction Is Helping Reduce Ohio Opioid Overdose Deaths
Success attributed to tools like naloxone, not punitive drug wars.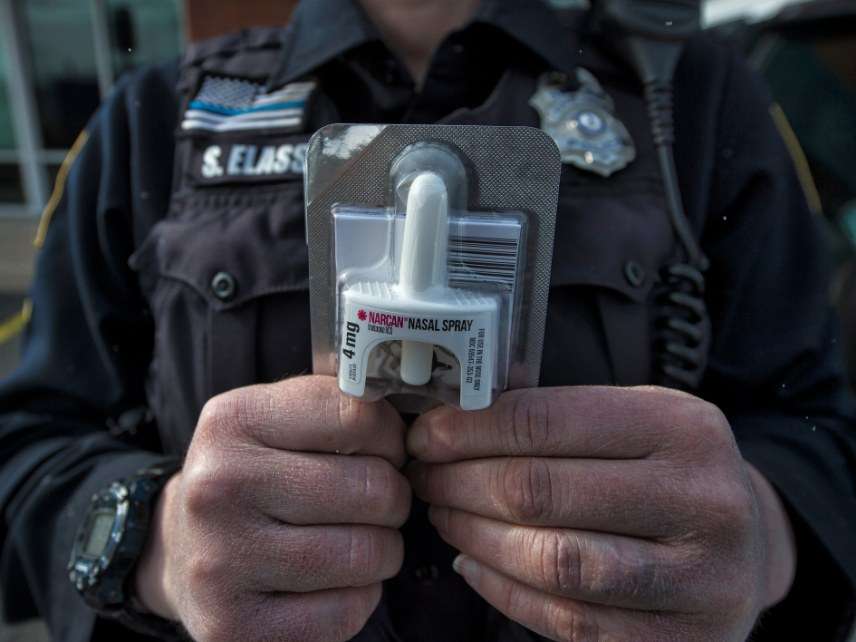 Ohio has been hit hard by the effects of opioid abuse, ranking as one of the top five states for rates of overdose deaths. The rate dramatically increased over the past few years, far above and beyond the proportions of the increase we've seen nationally. Last year Ohio saw more than 4,800 opioid overdose deaths, a record for the state.
But now the numbers are finally going down in some Ohio communities. Dayton has seen a dramatic 54 percent drop in opioid overdose deaths this year. Hamilton County (home of Cincinnati) is seeing a 31 percent drop in overdose deaths this year and on Monday was the focus of a CBS report.
There are several reasons why the overdose rates are dropping, but one thing seems pretty consistent: Harm reduction, not punitive responses by police and prosecutors, is what's saving lives.
Public health officials in these areas have flooded the communities with Narcan, the brand name for naloxone, the drug that reverses the effects of opioid overdoses. Over the course of a year, the office of Hamilton County Public Health has handed out more than 37,000 doses. It's had a huge impact. Last year emergency responders in Hamilton County say they responded to eight overdose calls per day. This year that number is five. When a CBS correspondent rode along with paramedics during a visit, they didn't have any overdose calls at all.
It's also worth noting the impact on emergency services themselves. The county reported during this time a 42 percent drop in emergency visits and a 37 percent drop in emergency calls to respond to drug overdoses. So while taxpayers are likely shouldering the costs of providing Narcan, it can't help but be cheaper than the cost of sending out crews to respond to overdoses. Another benefit is the impact it has ha on availability of doctors and nurses in emergency rooms.
Watch CBS's report on Hamilton County's successes here. The New York Times explored Dayton's decline in November here. Note in the Times coverage that Dayton's Police Department and its chief are on board with the pursuit of harm reduction rather than arrests, and that's been vital to Dayton's successes.