I'm Betting the 2020 Election Polls Are Junk
It's too early to make predictions based on public opinion surveys.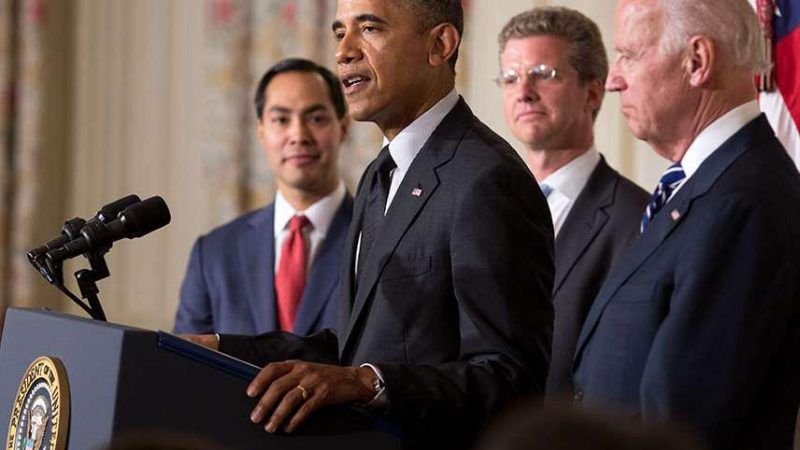 (Obama White House Archives)
It's too early to draw conclusions from surveys about who will win the 2020 Democratic presidential nomination. The race is apt to dramatically change in the 15 months until a victor is formally declared, and some of the candidates who will play significant roles in the coming conversation haven't appeared on most voters' radar screens.
Look back at Gallup polling from this point in the race 12 years ago. In April 2007, a quarter of the American public had not yet formed an opinion of eventual Democratic nominee Barack Obama, and a fifth were blank when it came to eventual Republican nominee John McCain. This is important: When a large chunk of the electorate—easily big enough to swing the eventual outcome—could still go either way, public opinion surveys can't be trusted to have much predictive power. Indeed, Hillary Clinton and Rudy Giuliani led polls throughout 2007. Whoops.
One issue is that as exciting new candidates enter the race, attitudes toward the pre-existing front-runners can undergo major shifts. Check out Clinton's "net favorables" that year, for example. As Obama came onto the scene (with his name recognition jumping from 53 percent in December 2006 to 72 percent a month later), voters' positive feelings about the New York senator waned, at times even dropping into negative territory: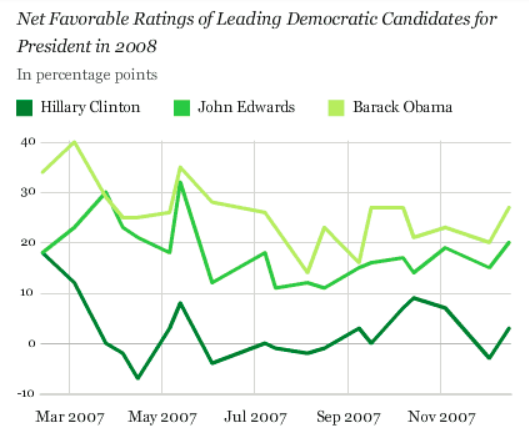 That race, of course, is ancient history. And an apples-to-apples comparison with 2016—the next time there was an open Democratic field—isn't possible, because Gallup stopped conducting pre-election "horse-race" surveys after its embarrassing miss in 2012. But I'm betting we're going to see something similar in the coming year.
Literally betting.
If you regularly listen to the Reason Podcast, you've probably heard me say that we should all hold off on prognosticating because little-known contenders—folks such as former San Antonio, Texas, Mayor Julian Castro—still have lots of time to make an impact. To prove I meant it, I invested $10 at PredictIt* on the theory that Castro—a young, charismatic Latino who served as President Obama's secretary of Housing and Urban Development—is, at 1–2 cents a share, being undervalued by the market.
That's not to say I think the 44-year-old will actually win the nomination. But I predict his odds will increase as the field solidifies. As I type this, former Vice President Joe Biden is trading at 17 cents, for example. If he decides not to run, as he did four years ago, the remaining candidates' chances in toto will increase. Meanwhile, as Castro's name recognition improves (again, most people don't know anything about him yet), he could see a bump. That'll be even more likely if his newly released, arguably radical immigration plan attracts the notice of the rest of the field.
One major problem with my theory is that I might have chosen the wrong "young, exciting mayor" to break in and steal the spotlight: South Bend, Indiana, Mayor Pete Buttigieg—a gay 37-year-old self-proclaimed progressive I honestly hadn't heard of three months ago—is trading at an astonishing 17 cents per share, alongside Biden and California Sen. Kamala Harris. "Mayor Pete," as he's come to be called, seems to be the Democratic darling of the current political moment.
But I actually think that strengthens my overall case. First, it shows that someone can emerge almost out of nowhere to upend the conventional wisdom and scramble the poll results. Second, it shows how out of whack our current expectations likely are. Do we really think a former McKinsey and Co. consultant, whose only governing experience is overseeing a city of 100,000 people, is eight times as likely to secure the nomination as Castro, the older, more experienced former leader of the second-most-populous city in America's second-largest state? More than twice as likely as Democratic Sens. Cory Booker (N.J.) and Elizabeth Warren (Mass.), even?
Maybe he is, but I'm not betting on it.
*CORRECTION: This post originally said the bet was made on InTrade, a now-defunct site, instead of PrecictIt.