Will Congress Finally Protect State-Legal Pot Businesses From the Feds?
A bill introduced Thursday with bipartisan support in both chambers of Congress would stop federal law enforcement from targeting states with legal weed.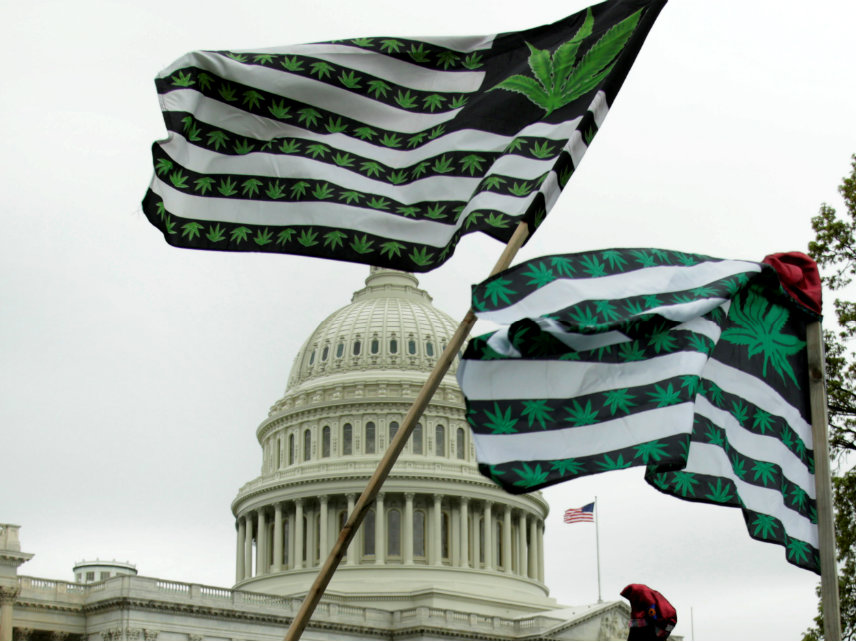 Until the federal government gets around to ending marijuana prohibition once and for all, the least it could do is stay out of the way of states that have already legalized weed.
That's the idea behind a bipartisan bill introduced Thursday in both houses of Congress. The Strengthening the Tenth Amendment Through Entrusting States (STATES) Act would amend the federal Controlled Substances Act to prevent federal law enforcement from taking action against people and businesses in states that have legalized marijuana. That's less helpful than full-fledged federal legalization would be, but it would be both an acknowledgment that states are in the clear when it comes to setting marijuana policy and an important legal shield for the growing number of legal marijuana users and businesses across the country.
Sens. Cory Gardner (R–Colo.) and Elizabeth Warren (D–Mass.) teamed up to introduce the Senate version of the STATES Act. In the House, the bill has a number of cosponsors on both sides of the aisle, including Earl Blumenauer (D–Ore.), David Joyce (R–Ohio), and Barbara Lee (D–Calif.).
"The current federal policy interferes with the ability of states to implement their own cannabis laws, and the resulting system has stifled important medical research, hurt legitimate businesses and diverted critical law enforcement resources needed elsewhere," Joyce says in a statement. Blumenauer echoes that sentiment in a separate statement, saying that outdated federal marijuana laws "have ruined lives, devastated communities, and wasted resources for critical medical treatment and research."
"It's time for Congress to catch up with the rest of America are and fix a badly broken system," he adds.
Indeed, Congress is lagging farther behind public opinion on marijuana, which has shifted decisively towards ending pot prohibition. According to the Gallup poll, two-thirds of Americans think marijuana should be legal for recreational use; support for medical marijuana hit 93 percent in a Quinnipiac University poll last year.
"The majority of states now regulate either the medical use or the adult use of marijuana. It is time for the federal government to cease standing in the way of these voter-backed regulatory policies being implemented throughout the country," says Justin Strekal, political director for NORML, which advocates for marijuana legalization, in a statement.
More than 200,000 Americans are now working full-time in state-legal marijuana businesses in 33 states with legal medical marijuana and 10 states where recreational weed is legal. The STATES Act would allow those businesses to access banking systems without being in danger of running afoul of federal money laundering laws.
The bill "would immediately improve public safety and the local economies within the states in which the cannabis industry operates," says Neal Levine, CEO of the Cannabis Trade Federation. "It would protect the freedom and livelihood of the hundreds of thousands of Americans working in the legal cannabis industry today."
During the last session of Congress, the same bill garnered 11 cosponsors in the Senate and more than 40 in the House. It also received vocal support from governors in a number of states with legal weed. Last June, President Donald Trump told reporters he would "probably" end up supporting the bill if it reached his desk. Ironically, lawmakers were compelled to draw up the legislation in the first place because Trump's first attorney general, Jeff Sessions, signalled an intention to crack down on state-legal weed businesses (though that crackdown thankfully never materialized).
Despite that support, the bill never received a vote in either chamber during 2018. Gardner attempted to include it as an amendment to the FIRST STEP Act, the major criminal justice reform that passed Congress late last year, but he was unsuccessful.
"If we can get a vote on it, I feel very confident we can get it passed," Gardner told The Denver Post in December.