Did We Overestimate the Benefits of Police Body Cameras?
A review of 70 studies shows only limited benefits.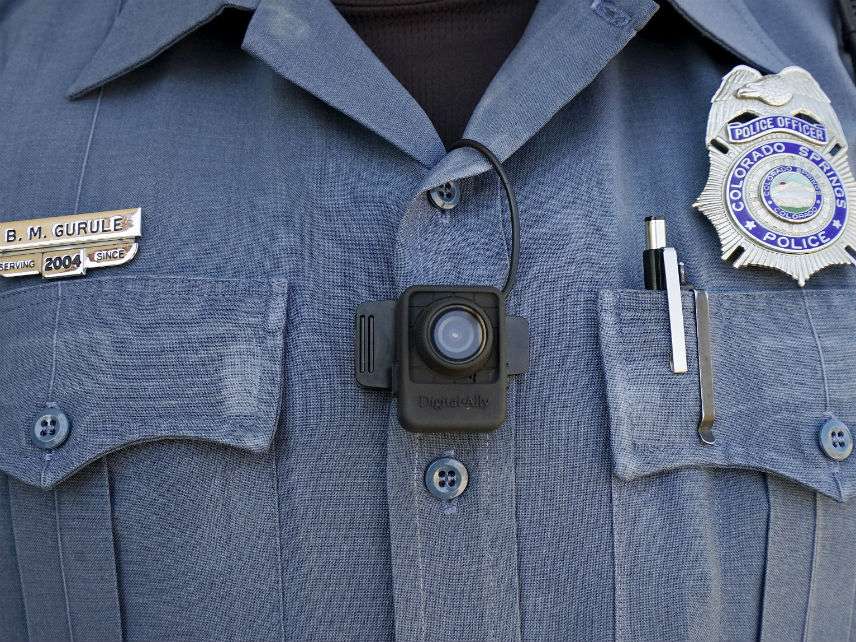 Those of us who think cops should be required to wear cameras may have to reconsider the scope of the benefits we hoped the technology would bring to policing.
A new paper by four George Mason University criminologists, published in Criminology and Public Policy, reviews 70 studies evaluating the cameras' impact on officer behavior, officer perceptions, citizen behavior, citizen perceptions, police investigations, and police organizations. Most of these studies find that both officers and citizens support the cameras. Unfortunately, they have not identified strong and consistent changes in either police or public behavior that can be traced to the body-cams.
Some early studies found that requiring cops to wear cameras deterred both frivolous citizen complaints and excessive police aggression. But whether body-cams make a big difference in policing practices and citizen satisfaction turns out to depend on how much individual police departments limit officer discretion on when to record, how easily available the videos are to individuals filing complaints, and how they address personal privacy concerns, among other issues.
The use of body cameras does seem to have resulted in fewer citizen complaints against officers. "The question remains," the authors write, "as to whether and to what degree these changes reflect citizens' reporting behaviors or improvements in officers' behavior or their interactions with citizens." Cameras "may curb some of the worst police behaviors," but they seem to show "little impact otherwise." Most body-cam footage used by prosecutors has been deployed not to prosecute police misconduct but to prosecute citizen misconduct.
The authors conclude that the cameras' "anticipated effects" have "perhaps…been overestimated." Nevertheless, "agencies will almost certainly continue to adopt [body-worn cameras]. Given the ubiquity of personal video and audio recording devices, more and more police agencies are likely to conclude that they need to have their own recording of events for police-citizen encounters that go bad. There is also likely to be a growing expectation among the public that adopting [the cameras] is a marker of a responsive, transparent and legitimate police organization."
For body-cams to really represent responsive and transparent policing, of course, agencies will have to refrain from stonewalling public requests for access to the recordings.