ICE Tracking Immigrants with Huge License Plate Database
The privately maintained database has billions of records on drivers across the country.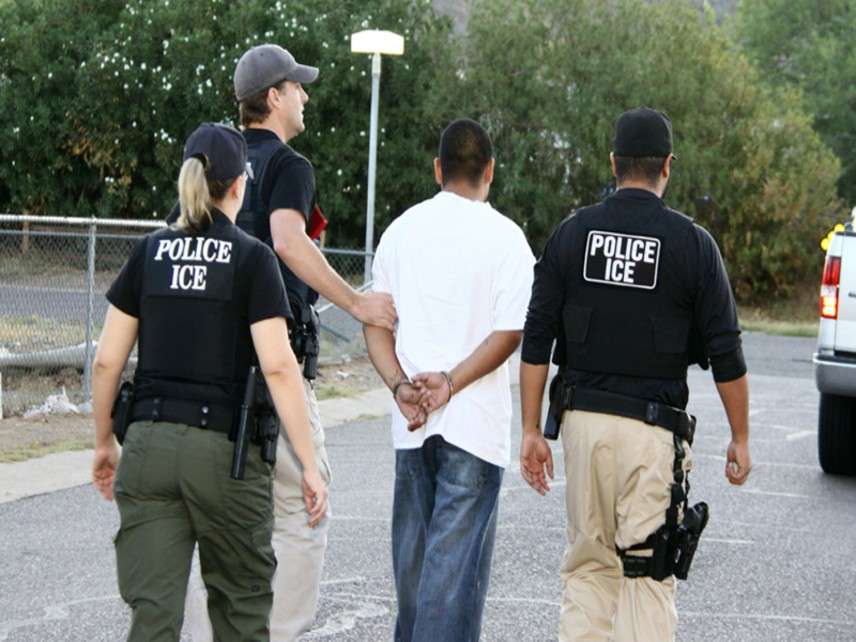 ICE is watching you. Or at least there's a good chance it is, according to a new report from the American Civil Liberties Union (ACLU).
The nonprofit released documents detailing the existence of a large, privately maintained database tracking license plate numbers and driver location data, which ICE—Immigration and Customs Enforcement—is using to find those who might be in the U.S. illegally.
Maintained by Vigilant Solutions, the system contains billions of location points now available to the agency on a $6.1 million contract.
"ICE has long embraced technology to target immigrants," writes ACLU attorney Vasudha Talla. "Now it's taking surveillance to an unprecedented level to target vulnerable communities—and sweeping up everyone else in the process."
Law enforcement agencies have shared approximately 1.5 billion records on driver whereabouts, obtained via covert cameras that snap license plate numbers in order to track criminals or those who have committed traffic infractions. Affixed to police squad cars or positioned on road signs and bridges, the automated license plate readers photograph and capture location information on all passing vehicles. And a staggering 5 billion more come from an elaborate network of private businesses, which were collected by Vigilant and sold to ICE.
The database is continuing to grow at a rapid pace, with an average of 150 million to 200 million unique license plate snapshots added per month. Derived from the most populous cities across the country, it gives the enforcement agency a detailed roadmap of people's comings and goings over the course of several years.
More than 9,000 ICE agents have access to the information, raising concerns over the privacy and civil liberty implications—not only for the immigrants tracked by ICE, but also for the millions of drivers whose personal details are at their disposal.
The agency does not use information to find individuals "who have no connection to ICE investigatory or enforcement activities," ICE spokesman Matthew Bourke tells The Washington Post. But police departments—which can also buy access to the database—have famously abused location data in the past to track acquantainces, lovers, and journalists, among others.
Regulation around license plate tracking is somewhat evocative of the Wild West, with scant rules surrounding the practice. But many "sanctuary cities"—such as New York City and Los Angeles—have laws limiting police cooperation with immigration enforcement, which ICE is disregarding to obtain location records and track immigrants for deportation.
In one instance, emails obtained by the ACLU show a friendly exchange between an ICE officer and a detective in Orange County, California, with the latter freely and informally sharing location data over the course of several years. "Hate to ask, but would you mind running 2 more?" asks the ICE officer in their most recent published message.
"Come on, you really don't hate to ask.. :)" replied the detective, attaching scan information on two illegal immigrant suspects. The practice not only breaks local laws but also directly conflicts with ICE's internal privacy guidelines, which, according to the agency, say that "there are no circumstances where ICE can gain access through the vendor system if a law enforcement agency has chosen not to share its data."
The contract, which commenced in February 2018, is ICE's third attempt to land such an agreement. The first, in 2014, was quashed by the Department of Homeland Security over privacy concerns. Another effort the following year dissipated after budget talks fell through.
Jose Sigala, mayor of Tulare, California, issued a statement last week after the ACLU furnished records showing that his city, too, collaborated with ICE. He called the sharing "inadvertent." And Tulare Police Chief Wes Hensley has apologized, saying the department doesn't facilitate immigration enforcement.
"It's inconsistent with community-based policing philosophies, and it's incongruent with state law SB 54," Hensley tells the local ABC affiliate. "We are a community that's pretty diverse, and we do have a lot of folks that could be targeted, and we won't have any part of that."