ICE Is Releasing a Staggering Number of Migrants Into Some U.S. Cities
Plus: an unusually candid look at Marine life, proof we're past Peak Farmer's Market, "fetal heartbeat" law blocked in Kentucky, and CBD Jelly Bellies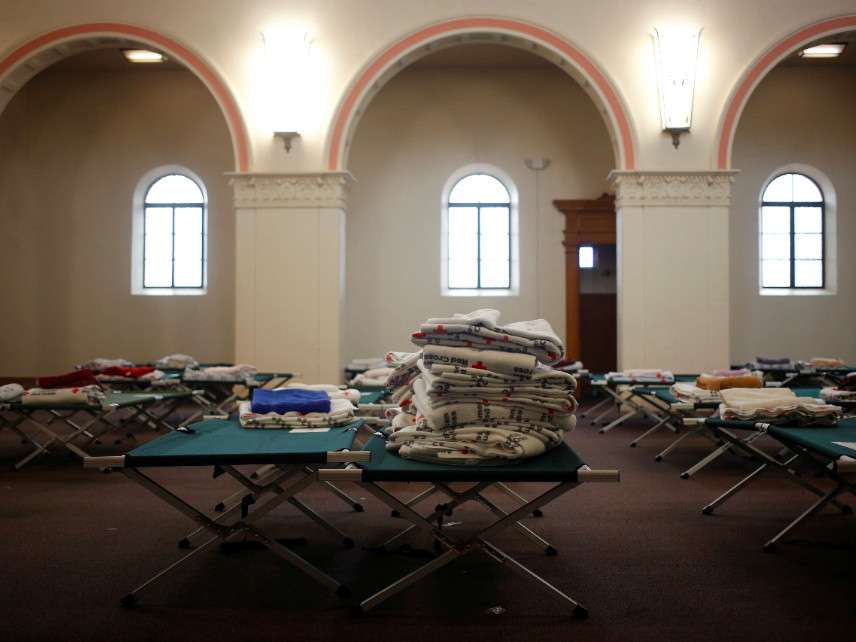 Volunteers beg federal agents for advance notice of new arrivals. Over the past weekend alone, more than 300 people detained by Immigration and Customs Enforcement (ICE) officials were simply deposited, without notice, in Phoenix, Arizona. Migrants seeking legal refugee status or other immigration visas, these have all been legally processed and have a family member or other sponsor in the U.S.—but not necessarily in the area.
ICE has released 14,500 refugee seekers in Phoenix since last December 21, reports the Arizona Republic based on ICE statistics. El Paso saw about 24,000 new residents deposited there by ICE in the same time period; San Diego, around 8,500; and south Texas, approximately 37,500.
Many are bound for elsewhere. But they have seven to 10 days to get to where their sponsor lives and report to a judge in that area. After being released from ICE custody in a particular city, many need temporary shelter and help with travel arrangements to their destination.
The groups that provide this find ICE unwilling to work with them on simple steps to make the process easier.
"The volunteers said churches and volunteers are overwhelmed," reports the Republic. "They're begging ICE to give them more notice about the drop-offs." Local volunteer Javier Torres tells the newspaper, "When ICE does the drop-off, they have one sheet of paper for their family that has a name and phone number of the relative or sponsor. ICE hands that sheet to a volunteer; the staff arranges the travel," which may take up to a couple days.
"Torres explained it can be stressful for volunteers because of the number of arrangements they need to make last minute," the paper says. "He said if ICE could provide the contact information for relatives and sponsors sooner, then the families or individuals will only be in Phoenix for a few hours rather than a day or two."
FREE MINDS
"We filmed what they wanted, but then we kept shooting." Former Marine Corps videographer Miles Lagoze found a way to use military equipment and deployment to make a documentary of Afghanistan troops speaking their truth. From The Washington Post:
Lagoze found himself in a murky gray area of free speech and fair-use government products. U.S. citizens can already go on Pentagon-operated sites and download free military photos and video. Their tax dollars fund it, and federal government creations are not protected by copyright.

So could Lagoze take the moments he filmed with government resources and make something new?

He worked with the Knight First Amendment Institute at Columbia University to push back against the military's claims of impropriety. The Marine Corps relented this month.
FREE MARKETS
Is the farmer's-market era over or just normalized? "Nationwide, the number of farmers markets increased from 2,000 in 1994 to more than 8,600 in 2019, which led to a major problem," reports NPR:
There are too few farmers to populate the market stalls and too few customers filling their canvas bags with fresh produce at each market. Reports of farmers markets closing have affected communities from Norco, Calif., to Reno, Nev., to Allouez, Wis.
QUICK HITS

• A federal judge has temporarily blocked Kentucky's "fetal heartbeat" law banning abortion after about six weeks pregnancy, in response to an American Civil Liberties Union suit challenging the law's constitutionality. Known as Senate Bill 9, the legislation was passed by the state legislature last Thursday, signed into law by Republican Gov Matt Bevin on Friday, and slated to take effect immediately.
• Suicide? "A 19-year-old woman whose hands were cuffed behind her back when she committed suicide during a traffic stop in Chesapeake died of a gunshot wound through the mouth, according to the Office of the Chief Medical Examiner" and local TV station WRIC.
• When your Twitter bio says R but your heart wants socialism (and also you are are the president):

• Eggs are becoming suspect again:
Reminder that nearly all diet studies linking a single food to a single health outcome are essentially worthless. Researchers get a huge dataset, then p-hack their way through it looking for correlations. The effect sizes are tiny, noisy and often non-replicable. https://t.co/mMQUOoP6oN

— Michael Hobbes (@RottenInDenmark) March 15, 2019
• Cannabis Jelly Belly jelly beans have arrived! The CBD-only treats can be ordered online, just in time for Easter.
• Activists are testing a new way to hold gun manufacturers legally responsible for mass shootings.
• Multiple people are reported injured after someone opened fire on a tram in the Dutch city of Utrecht this morning, in what police are describing as a possible terrorist incident.