Kirsten Gillibrand the Brave Enters the Democratic Presidential Ring
She's a centrist turned progressive.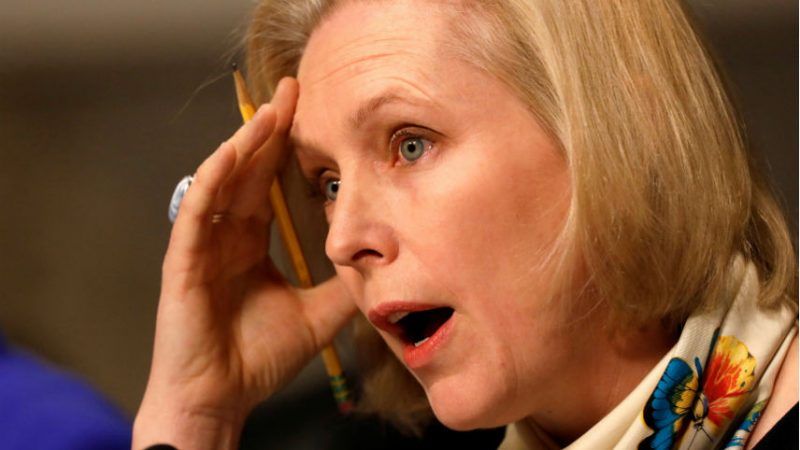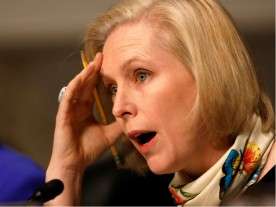 New York Sen. Kirsten Gillibrand threw her hat in —or should we say beret?—for the Democratic presidential nomination on Sunday, the sixth woman in an already-crammed field.
Gillibrand has been a U.S. House member in a heavily Republican district in New York. She was initially tapped in 2009 to fill Hillary Clinton's U.S. Senate seat in New York when Clinton was named Secretary of State.
She was re-elected to the Senate in 2018, and since then she has moved from a centrist to a progressively progressive position.
She rose to national prominence as an outspoken critic of President Donald Trump and his misogynistic comments. Subsequently, she positioned herself as an advocate of women's issues within her party and became a forceful proponent of the #MeToo movement, authoring a children's book last year titled Bold & Brave: Ten Heroes Who Won Women the Right to Vote.
She was the first senator in 2017 to call for Minnesota Democrat Al Franken to resign from the Senate after allegations that he touched women inappropriately. She even commented that President Bill Clinton should have resigned over the Monica Lewinsky affair. If this upset Hillary Clinton, who strongly supported Gillibrand's bid to become her successor, she didn't say anything, although Bill Clinton did comment that Gillibrand was "living in a different context." However, the Clintons must have experienced at least a little schadenfreude earlier this week when Gillibrand herself faced claims that she mishandled allegations of sexual harassment in her Senate office. A female Senate staffer for Gillibrand resigned in 2018 after her complaints about sexual harassment by a senior advisor didn't result in his firing.
Gillibrand used to be anti-"amnesty," pro-gun, and anti–gay marriage. Now she has reversed herself on all those issues, which aside from gun rights isn't a bad thing from a libertarian perspective—although it does raise questions about her campaign theme of "bravery," which she featured in her opening ad.
The ad mocks Trump's calls for banning Muslims and building a wall as fear-mongering, not bravery. True bravery, it suggests, rests in embracing all progressive causes in toto. That may be par for the course given that she is, after all, a progressive. But what was jarring to anyone who cares even a little bit about logic was this little non sequitur: "If we could land on the moon," then we can definitely achieve "universal coverage" and "paid family leave" and "end gun violence" and "pass a Green New Deal"— unless Gillibrand has some secret way of making astronauts airdrop these things on the United States from the moon like manna!
Gillibrand has yet to reach the 1 percent mark in polls, a Democratic National Committee requirement to be included in the upcoming 2020 debates.
Her ad: