Rudeness Isn't Illegal Says Sixth Circuit, In Case of Flipped-Off Cop Who Issued Ticket
Plus: Can sex workers ever trust Kamala Harris? Why do teens love Google Docs? And how is Tumblr faring without porn?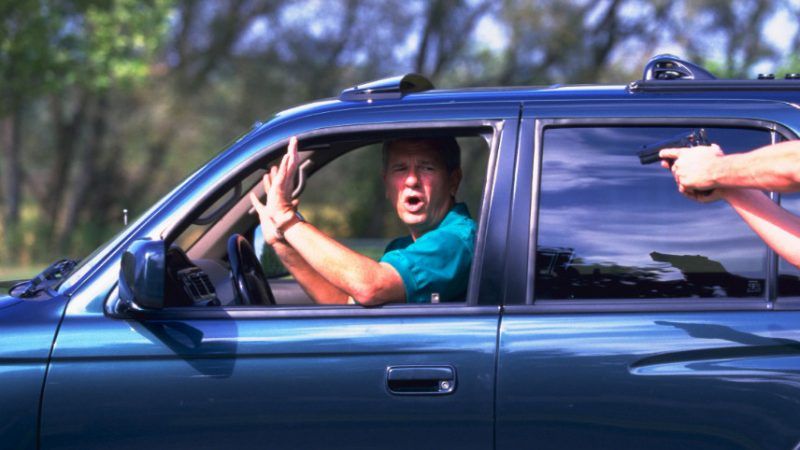 (Jonathan Kirn Stock Connection Worldwide/Newscom)
Sixth Circuit sides with snippy driver. Rest assured, folks: It's still OK to give cops the middle finger. And if a police officer detains and harasses a driver for doing so, that officer could find themselves in trouble. In a March 13 ruling from the U.S. Court of Appeals for the Sixth Circuit, judges denied qualified immunity to a Michigan police officer who re-pulled over a driver for flipping him off as she drove off from a traffic stop.
"Fits of rudeness or lack of gratitude may violate the Golden Rule. But that doesn't make them illegal or for that matter punishable or for that matter grounds for seizure," wrote Circuit Judge Jeffrey Sutton for the three-judge panel in Cruise-Gulyas v. Minard.
Initially, Debra Cruise-Gulyas was pulled over for speeding. Officer Matthew Minard gave her a ticket for a lesser offense (called a non-moving violation) and she stuck her middle finger up at him as he drove away.
"That did not make Minard happy," writes Sutton. "He pulled her over again and changed the ticket to a moving violation—a speeding offense and what counts as a more serious violation of Michigan law. Because Cruise-Gulyas did not break any law that would justify the second stop and at most was exercising her free speech rights, we affirm the district court's order denying Officer Minard's Civil Rule 12(c) motion for judgment on the pleadings."
Sutton notes that "Minard moved for judgment on the pleadings based on qualified immunity" and that "qualified immunity protects police from personal liability unless they violate a person's clearly established constitutional or statutory rights." In this case, "the rights asserted by Cruise-Gulyas meet that standard."
ELECTION 2020
Can sex workers ever trust Kamala Harris? asks Gustavo Turner at XBIZ. Recently, California senator and 2020 presidential candidate answered a few interview questions about prostitution. "But if Harris thought her endorsement of 'decriminalization'…would spark joy among sex workers, her alleged 'evolution' on the issue was largely unconvincing," he writes. Here's why.
QUICK HITS
• Forty-nine people were killed in an attack this morning on two New Zealand mosques. The killer "explicitly describes his murders as a terrorist act," notes Joe Setyon. More details here.
• The Taser Lobby would like to talk to you:
lol this garbage "excited delirium is a totally real thing" written by two Taser/Axon board members and a jail doctorhttps://t.co/YPbNPUfG10 pic.twitter.com/eXrqbV12VS

— threat level: beige (@TimCushing) March 15, 2019
• Tumblr traffic reportedly dropped by about 150 million pageviews in the month following its ban on pornographic content.
• Why teens love Google docs.
• Beto O'Rourke, Manic Pixie Dream Candidate?
• Black-market economics:
When cocaine prices rise in either the United States or Europe, homicide rates rise in Colombian municipalities whose trafficking networks serve each market.

New research by Jaime Millán?Quijano of @EconomicsUc3m —> https://t.co/Zk9AnjF9kz pic.twitter.com/IADjFK5sPo

— Michael Clemens (@m_clem) March 14, 2019