49 Dead in Alleged 'Eco-Fascist' Attack on 2 New Zealand Mosques
The suspected shooter is in custody.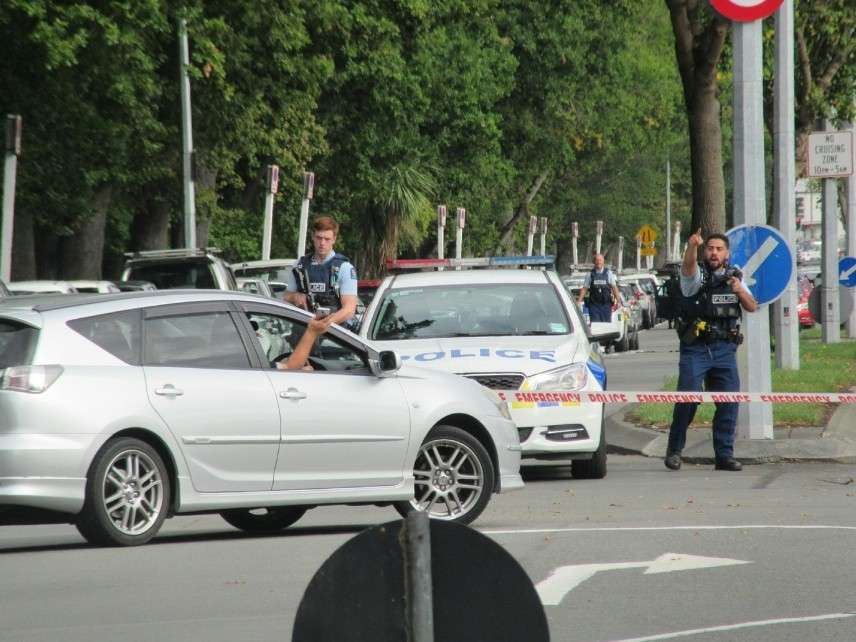 At least 49 people are dead and dozens more injured following shooting attacks Friday at two mosques in Christchurch, New Zealand. Officials there have arrested the alleged gunman, who livestreamed his assaults on Facebook and is apparently the author of a racist, anti-immigrant, and "eco-fascist" manifesto. Several bombs were also found in the area.
Eyewitnesses describe a horrific scene in which men, women, and children were all shot. "There were bodies all over me," one witness told stuff.co.nz. There was "blood everywhere," another said to Radio New Zealand.
The manifesto denies that the killer acted in search of fame ("After all who can remember the name of the attackers in the September 11 attack in New York?") and explicitly describes his murders as a terrorist act. His chief grievance is a "crisis of mass immigration and sub-replacement fertility" that he believes amounts to "white genocide," a common charge on the racist right.
In addition to the suspected shooter, two other men and one woman have been detained, according to The New York Times. Their connection to the attack is not clear, and police do not think one of them was involved in the shooting at all, The Washington Post reports.
The shootings occurred at Linwood Mosque and Al Noor Mosque around the time of Friday prayers. The latter is where the vast majority of people were killed. (According to the New Zealand Herald, the attacker or attackers left the Linwood Mosque after "one Friday prayer goer returned fire with a rifle or shotgun.") In addition to the 49 dead, at least 48 patients were being treated for gunshot wounds at a local hospital, Canterbury District Health Board Chief Executive David Meates said in a statement.
In his manifesto, the alleged shooter describes himself as a 28-year-old Australian male who wants "to ensure the existence of our people and a future for white children." He claims to have no personal hatred for Muslims "living in their homelands" but denounces Muslims "choosing to invade our lands live on our soil and replace our people."
The alleged gunman makes several references to the United States, expressing hope that his shooting will result in calls for more gun control and that white Americans will have to "fight to protect your rights and the constitution." He also mentions conservative activist Candace Owens, declaring that she is "the person that has influenced me above all." That part is likely sarcastic—he goes on to say that he has "to disavow some of her beliefs, the extreme actions she calls for are too much, even for my tastes."
New Zealand Prime Minister Jacinda Arden called the attack "one of New Zealand's darkest days."
What has happened in Christchurch is an extraordinary act of unprecedented violence. It has no place in New Zealand. Many of those affected will be members of our migrant communities – New Zealand is their home – they are us.

— Jacinda Ardern (@jacindaardern) March 15, 2019
Members of the Bangladesh national cricket team were on a bus and about to pray at one of the mosques that was attacked. Before they could go in, the attack started, and they were escape to safety, the Post reports.