Florida Sentenced Nonviolent Drug Offenders to Decades in Prison. New Laws Could Change That
The passage of the bipartisan FIRST STEP Act in Congress and a struggling, expensive prison system have Florida lawmakers considering similar reforms.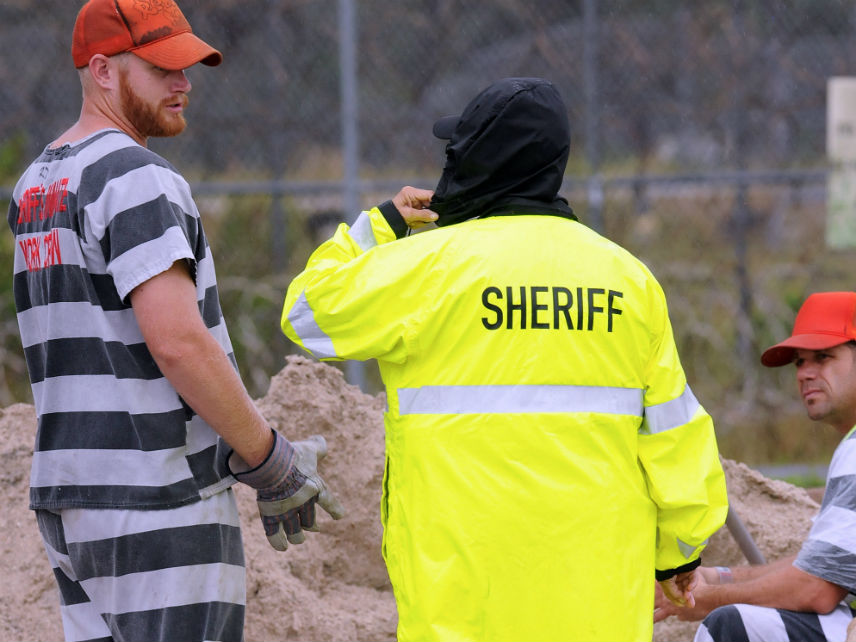 In 2002, Florida resident James Caruso was sentenced to 25 years in state prison for a drug deal involving 48 opioid pills.
The mandatory minimum laws that put him behind bars for more than two decades has since been reduced, but he is one of more than 1,000 Florida inmates sweating out their long sentences under laws that legislators now consider flawed.
"A person in Florida could literally do the exact same thing today that I did in 2002 and still get out of prison before me," Caruso wrote in a letter to Reason two years ago as part of an investigation into the devastating effects of Florida's mandatory minimum sentences for opioid trafficking.
Although the laws were intended to stop high-level traffickers, the low weight thresholds to trigger the mandatory minimums ended up putting thousands of small-time users in prison for decades for selling, or sometimes just possessing, a bottle of painkillers.
Local Florida news outlet NBC 6 profiled Caruso's case last week as an example of the people who are still serving lengthy sentences under mandatory minimums that have since been rolled back. "He's a non-violent drug offender and he's still sitting there," Caruso's sister told NBC 6. "We're looking for someone who's going to be a trailblazer and help us get him out of there."
Now a bipartisan group of Florida lawmakers have introduced a number of bills that could lead to the early release of inmates serving lengthy sentences under the state's harshest drug laws, such as those profiled by Reason.
Last month, Florida Republican Sen. Jeff Brandes introduced the Florida First Step Act. The bill would allow judges to depart from mandatory minimum sentences in drug trafficking cases under a variety of circumstances, such as when the crime did not involve violence or the defendant wasn't part of a continuing criminal enterprise. It would also require inmates to be housed within 300 miles from their homes.
"I'm somebody who believes that we need to look at the individual circumstances of a crime and make determinations based on that," Brandes says. "Under Florida law, we largely throw mandatory minimum sentences at people and don't give judges the opportunity to actually judge a case."
The bill's inspiration is the federal FIRST STEP Act, which passed Congress by a wide bipartisan margins last year. Although it was modest in scope, it has already led to the release of some federal inmates who were serving decades or life in prison under some of the harshest mandatory minimums on the books.
Indeed, Matthew Charles, a former federal inmate whose case drew national attention and who became one of the first to be released under the FIRST STEP Act, travelled to Tallahassee last month to meet with Florida legislators about criminal justice reform, including Brandes.
Florida lawmakers are hoping to pass some of the small-ball provisions of the FIRST STEP Act in a state where voters have shown an appetite for some criminal justice reforms, and where the state's problem-ridden and expensive prison system has become a bipartisan concern.
Like their federal counterparts, the authors of the Florida First Step are trying to keep the bill palatable to law enforcement groups and law-and-order conservatives. For example, the distance limit for inmates was 150 miles in the original bill, but the version unanimously approved by a Florida Senate committee Monday doubled that distance.
The question for criminal justice advocacy groups is whether they'll settle for a tiny step and support the legislation.
"It's not remotely comprehensive and doesn't go as far as we probably need to go in any number of areas," says Greg Newburn, the state policy director at FAMM, a nonprofit advocacy group that opposes mandatory minimum sentences. "But it definitely moves the ball forward and makes the system better."
Other organizations are more skeptical. In an op-ed published last week, officials from the Florida chapter of the American Civil Liberties Union (ACLU) and Desmonde Meade, one of the organizers behind Florida's recent successful ballot initiative to restore voting rights to people with felony records, worried that the bill didn't address racial disparities within Florida's criminal justice system, nor would it allocate more money mental health or addiction treatment.
Although Florida's rate of new prison admissions has fallen in recent years, its prison population has remained fairly steady at around 96,000 inmates—the third largest prison population of any state in the U.S. One culprit for the inelastic population is the amount of offenders serving long mandatory minimum sentences.
In 2014, the Florida legislature reduced mandatory minimums for drug trafficking and increased the thresholds necessary to trigger them, but lawmakers were barred from making those changes apply retroactively thanks to an obscure provision in the Florida Constitution. This meant that there was no way for lawmakers to reduce sentence lengths that they no longer considered just.
However, in November, Florida voters passed Amendment 11, a ballot initiative to repeal the so-called "savings clause," and now lawmakers' hands are free.
Along with the Florida First Step Act, Democrat Sen. Daryl Rousson has introduced another bill, S.B. 704, that would automatically make future criminal justice reforms retroactive, and it would make all past reforms, such as the 2014 legislation, apply to people currently in prison. That would mean freedom for inmates like Caruso.
The Florida Prosecuting Attorneys Association, which has opposed similar reform proposals in the past, did not respond to a request for comment on the legislation.
Florida activists are making a similar push to pass legislation improving conditions for incarcerated women, another issue that resulted in bipartisan legislation in recent years. State lawmakers introduced the Dignity for Incarcerated Women Act last month, which would require jails and prisons to provide free tampons and require documentation when male guards perform pat-downs or cavity searches.
Last August, the Justice Department launched a civil rights investigation into complaints of sexual abuse and misconduct at Florida's Lowell Correctional Institution, a women's prison.
Valencia Gunder, the criminal justice program manager for New Florida Majority, hosted an event in Miami Tuesday with 30 formerly incarcerated women as part of a nationwide "day of empathy" campaign to draw attention to the criminal justice system. The campaign was organized by Cut50, a criminal justice advocacy group.
"Florida has been slow in kickstarting its criminal justice reform compared to other states," Gunder says. "With Florida incarcerating so many people, now we're trying to have better conversations around it and talk about what reform really looks like."
That also includes prison officials. At a committee hearing last week in the Florida Senate, wardens from across the state testified that their prisons were understaffed and underfunded, leading to high turnover, poor conditions, violence, and precious few resources for rehabilitative programming.
While law enforcement officials and criminal justice advocates probably disagree on the specifics of how to deal with the problem, both say that something has to budge.
"The truth is the state can't afford 96,000 inmates, not without spending hundreds and hundreds of millions of dollars a year and pulling that money from education or health care, which it doesn't want to do," Brandes says. "People think I'm joking when I say we're one federal judge away from losing control of our prison system, but I'm not."
Neither are judges. A federal judge placed California's prison health care system into receivership in the mid-2000s as a result of several civil rights lawsuits that revealed appalling negligence. Last year, a federal judge held the Arizona Department of Corrections in contempt for failing to comply with orders to improve its health care for inmates. Most notably, in 2011 the Supreme Court upheld a ruling ordering California to reduce the population of its chronically overcrowded prison system by releasing thousands of nonviolent inmates.
A record number of inmates died in Florida state prisons in 2017.
"I think it's just almost criminal on the state's part that we can't look somebody in the eye and tell them that their relative will be safe while they are a ward of the state prison facilities." Brandes says. "It's terrifying."