Brazil President Jair Bolsonaro Tweets Golden Shower Video, Later Asks, 'What Is a Golden Shower?'
It's an attempt at scaremongering meant to win over social traditionalists.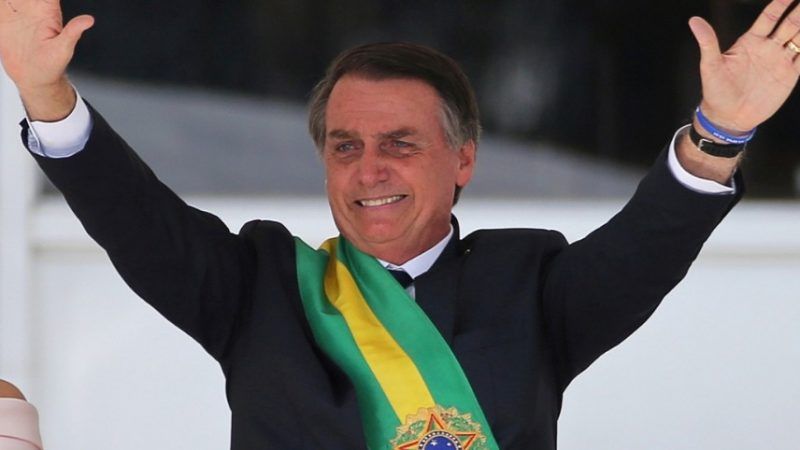 (Sergio Moraes/REUTERS/Newscom)
Far-right Brazilian President Jair Bolsonaro is not at all happy with this year's Carnaval, an annual street celebration held in the days leading up to Ash Wednesday.
On Tuesday, he tweeted out to his 3.46 million followers an explicit video from the celebration. In it, one man puts his finger up his anus, then allows another man to urinate on his head:
Não me sinto confortável em mostrar, mas temos que expor a verdade para a população ter conhecimento e sempre tomar suas prioridades. É isto que tem virado muitos blocos de rua no carnaval brasileiro. Comentem e tirem suas conslusões: pic.twitter.com/u0qbPu9sie

— Jair M. Bolsonaro (@jairbolsonaro) March 5, 2019
"I do not feel comfortable in showing, but we have to expose the truth to the population," reads a loose translation of Bolsonaro's tweet. "This is what has turned many blocks of street in the Brazilian carnival."
Peeing on a person as part of a sex act is colloquially called a "golden shower." Bolsonaro didn't appear to know that. "What is a golden shower?" he tweeted Wednesday.
O que é golden shower?

— Jair M. Bolsonaro (@jairbolsonaro) March 6, 2019
The Brazilian president's tweets might be seen as humorous on their face: a world leader tweeting a golden shower video is kind of funny, after all. The reality is much more serious. Bolsanaro "appears to be trying to discredit Carnaval, Brazil's biggest street party, after people staged massive protests to mock him there," Business Insider noted. Take this reply to his initial tweet, for instance:
O Brasil te ama pic.twitter.com/uXO1epTZu9

— Lannes Del Rey (@LannesDelRey) March 5, 2019
Bolsanaro also has a long history of making inflammatory remarks on the basis of gender and sexual orientation. "I would not rape you because you are not worthy of it," he told a female lawmaker in 2014, according to The New York Times. He's also said he's "proud to be homophobic," and that he'd "rather have a son who is an addict than a son who is gay."
It's worth remembering that Bolsonaro "is no friend of liberty" in other ways as well, as Cato Institute Latin America policy analyst Juan Carlos Hidalgo noted in October. He advocates executing criminals as a solution to crime, and has defended the use of torture during the reign of a military dictatorship that ruled the nation in the 1960s, 70s, and 80s. While his chief economic adviser is a fan of spending cuts and privatization, Bolsonaro has proposed expanding welfare programs and signaled he would support economic protectionism as well.
In short, he's a far-right populist with some disturbing authoritarian tendencies and his golden shower tweets read less funny when you realize they're meant to scare and rile up social traditionalists.