'Everyone' Here Is a Socialist Except Most Americans: Reason Roundup
Plus: Amash 2020?...Huwei to sue the U.S. government...and who needs Russian bots when you've got TV reporters?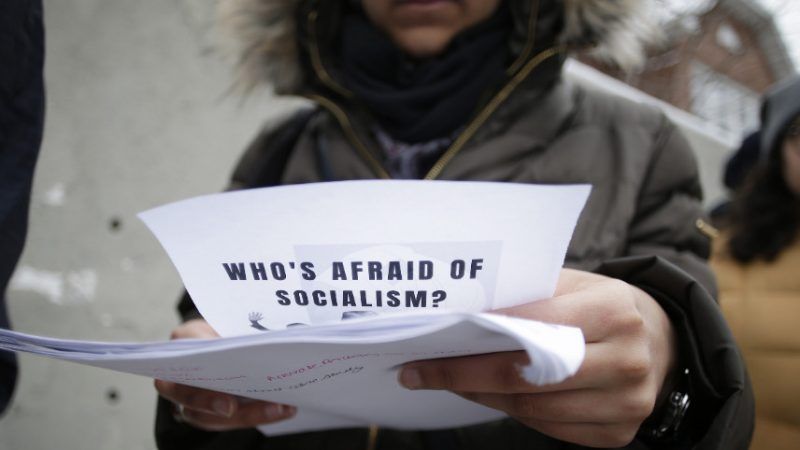 (JOHN ANGELILLO/UPI/Newscom)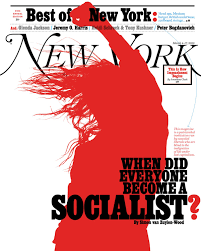 Are tax cuts socialist? Is everyone? "Until very recently, it wasn't that socialism was toxic in a red-scare way. It was irrelevant, in a dustbin-of-history way," writes Simon van Zuylen-Wood in new cover story for New York magazine. "But then came Bernie Sanders's 2016 candidacy," a boost in Democratic Socialists of America (DSA) membership, the Chapo Traphouse podcast, and Rep. Alexandria Ocasio-Cortez (D–N.Y.).
These days, the magazine suggests, "everyone" has "become a socialist."
Now, I'm not one to begrudge a bit of editorial hyperbole. But the New York coverline—a more accurate and boring rendering of which would be something like "socialism is trendy again"—provides a good jumping off point for the latest numbers on Americans, socialism, and capitalism.
In a national NBC/Wall Street Journal poll released yesterday, respondents were asked about what traits are desirable in a presidential candidate and what traits they could do without. Overall, most people were comfortable with "an African-American" (87 percent), "a white man" (86 percent), or "a woman" (84 percent) becoming president. Majorities were comfortable with "a person who is gay or lesbian" (68 percent), "an independent" (60 percent), "someone under 40" (58 percent), "a business executive" (56 percent), or "an evangelical Christian" (54 percent) winning the presidency.
And a near-majority (49 percent) said they would be OK with a Muslim president of the United States.
Trailing significantly behind in acceptance were two traits. Only 37 percent of respondents said they would be OK with a president over 75 years old, and just 25 percent said they would be OK with a president who is a socialist.
Another poll question asked whether respondents viewed the term socialism positively. Just 18 percent did.
A full 50 percent viewed it negatively—a near mirror split from respondents' views on capitalism. Half of those surveyed said they viewed capitalism positively, versus 19 percent who viewed it negatively.
The poll reflects other relatively recent data, which continues to show strong support for free markets even as socialism's star rises in certain younger circles. For instance, a 2016 Harvard poll found 42 percent of 18- to 29-year-olds had a positive view of capitalism, while 33 percent had a positive view of socialism.
As demonstrated in the 2014 Reason-Rupe poll, and as others have also shown since, support for concepts like capitalism and socialism often shifts drastically depending on how the terms are defined or the specific phrasing of poll questions. Still, there are limits to linguistic fluidity, and some socialist-identified pundits are definitely pushing them. For instance, here's Jemele Hill suggesting that "tax cuts" are a socialist goal: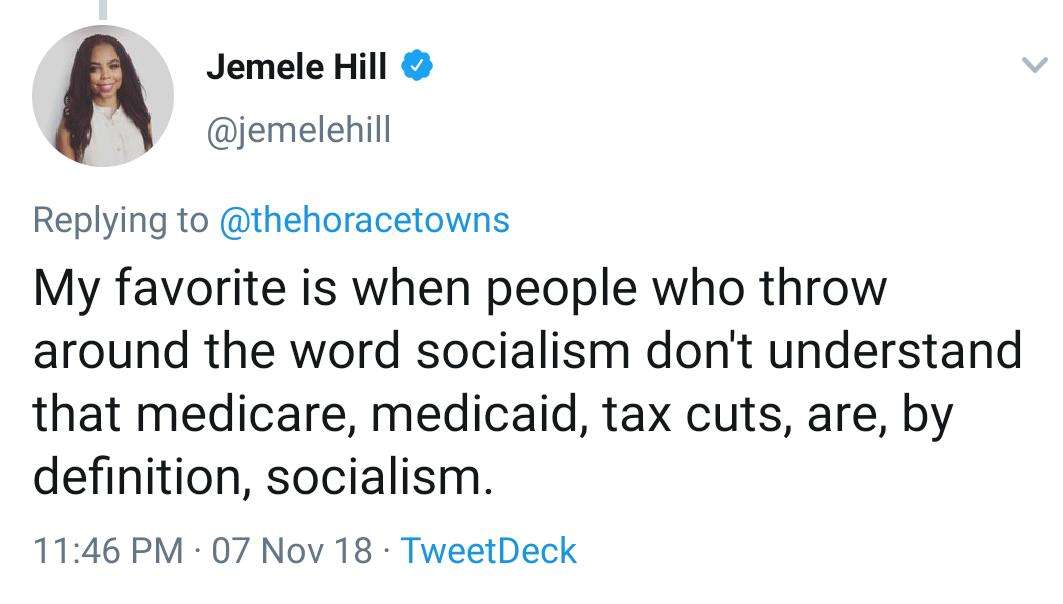 ELECTION 2020
Presidential run not on Amash's radar. Rep. Justin Amash (R-Mich) told CNN's Jake Tapper yesterday that he would "never anything out" when it comes to running as the Libertarian presidential nominee in 2020. Alas, he added that "that's not on my radar right now."
Amash also criticized our polarized political culture:
"Right now we have a wild amount of partisan rhetoric on both sides," he said. "And Congress is totally broken; we can't debate things in a clear way anymore. Everything has become 'Do you like President Trump?' Or, 'Do you not like President Trump?' And I think that we need to return to basic American principles, talk about what we have in common as a people—because I believe we have a lot in common as Americans—and try to move forward together, rather than fighting each other all the time.
"Sounds like a platform," commented Tapper.
Meanwhile, in the Democrats' dominion, former Colorado Gov. John Hickenlooper is running.
FREE MINDS
Who needs Russian bots when you've got TV reporters? The Momo hoax isn't just being reported "as fact" by a lot of local TV stations; it's "seemingly embraced by local news sources," notes Nieman Lab.
"The Momo challenge is a fascinating example of how a fake story spreads in real time with the assistance of the U.S. mainstream media (no Russian trolls required)," writes Laura Hazard Owen. "I set out to name and shame some of the many local TV news stations that are spreading this story. There are many more examples out there — if you want to share one, DM me."
FREE MARKETS
Huawei to sue the U.S. government. "The Chinese electronics giant Huawei is preparing to sue the United States government for banning federal agencies from using the company's products, according to two people familiar with the matter," reports The New York Times. "For many years, United States officials have said that Huawei's telecommunication equipment could be used by Beijing to spy and disrupt communication networks. The company has denied the allegations, but major wireless carriers such as AT&T and Verizon have effectively been prevented from using Huawei's equipment as a result."
QUICK HITS
• Sex workers and activists aren't buying the idea that Sen. Kamala Harris (D–Calif.) has actually changed her views on prostitution.
• Harris endorses statewide rent control:
You will not find a credible economist who endorses rent controls—so naturally a leading Democrat candidate for President is. https://t.co/1lnFhwetkx

— Kate Andrews (@KateAndrs) March 4, 2019
• NBD, just our government bragging about being an "Angel of Death"…
Her-cu-les, Her-cu-les!
You don't want to be on the receiving end of this gunship, aka the Angel of Death. pic.twitter.com/r5sN6c7g4I

— U.S. Dept of Defense (@DeptofDefense) February 28, 2018
• Some Florida media are starting to look skeptically at the Robert Kraft/Asian massage parlor investigation.
• "For as long as I've been in Washington, CPAC was the Creature Cantina of conservatism," writes Jonathan V. Last at The Bulwark in a defense of its coverage of this past weekend's event.
• How not to address poverty:
Listen, SF absolutely must spend more money on homelessness. For sure. But it's actually way, way more important that the process for spending the money improves. Like not paying $40,000/month to shelter 5 families. https://t.co/I0Uesv9rjw

— Cathy Reisenwitz (@CathyReisenwitz) March 3, 2019
• This seems like a cool project (learn more and lend support here):
Many documentaries have been made about sex work and the fight for sex workers' rights. Few center the narratives and contributions of Black and Brown people, how they have shaped this industry and an entire movement. We are hoping to change that with The Heaux History Project, a documentary series created by Black and Brown sex workers, centering Black and Brown sex workers.
• Rep. Thomas Massie stands with Sen. Rand Paul in opposing President Donald Trump making an emergency declaration:
Consistency matters. I agree with @RandPaul https://t.co/zQjz7xOgQghere.

— Thomas Massie (@RepThomasMassie) March 4, 2019
• Megan McArdle with a good Twitter thread on why maybe calling out "Green New Deal" proponents for taking cars everywhere isn't so silly. Start here:
Okay, so a number of people have responded to this by saying basically, "You can't expect AOC to live as if she's already in the GND world. Wanting better public transit doesn't mean you have to take the inadequate stuff we have now."

And fair, except … her district's in NYC. https://t.co/goAWiT2u6s

— Megan McArdle (@asymmetricinfo) March 3, 2019