Michael Cohen Slated to Link Donald Trump to Wikileaks Today: Reason Roundup
Plus: Using "fake news" to justify censorship, and Elizabeth Warren's childcare plan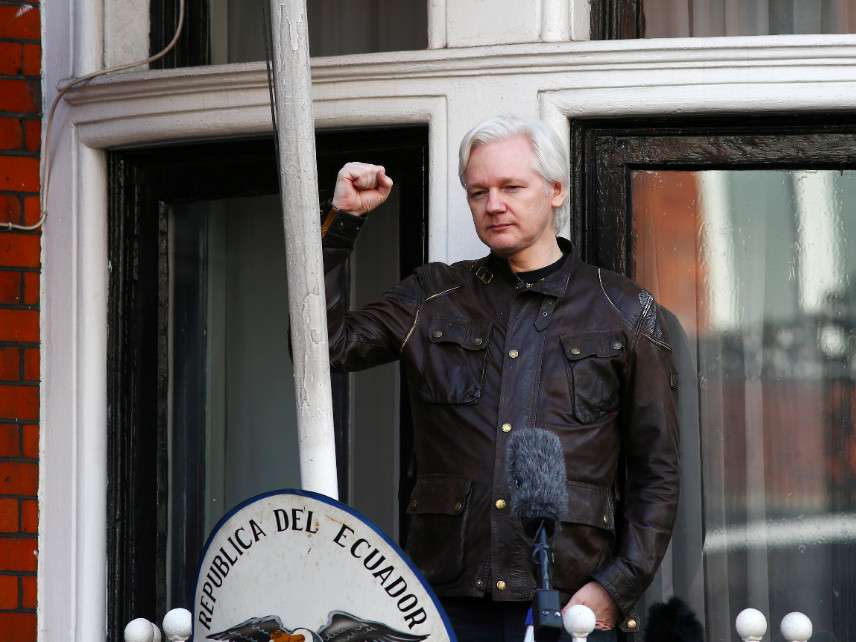 Roger Stone told candidate Trump that WikiLeaks would drop damaging Clinton emails. According to the president's former lawyer and personal henchman Michael Cohen—who is slated to testify before Congress later today—Donald Trump knew in advance that WikiLeaks founder Julian Assange planned to expose emails that could be bad for Hillary Clinton.
"I was in Mr. Trump's office when his secretary announced that Roger Stone was on the phone," says draft testimony from Cohen that was obtained by NBC. It continues:
Mr. Trump put Mr. Stone on the speakerphone. Mr. Stone told Mr. Trump that he had just gotten off the phone with Julian Assange and that Mr. Assange told Mr. Stone that, within a couple of days, there would be a massive dump of emails that would damage Hillary Clinton's campaign. Mr. Trump responded by stating to the effect of 'wouldn't that be great.'
Roger Stone was indicted last month on allegations of witness tampering, obstruction, and making false statements to federal officials. Cohen pleaded guilty last year to making a false statement to Congress (along with bank fraud, tax evasion, and campaign finance violations) and was sentenced in December to three years in prison.
Now, Cohen allegedly plans to tell Congress that not only did Trump know about Stone's dealings with Wikileaks, he also "knew of and directed the Trump Moscow negotiations throughout the campaign and lied about it. He lied about it because he never expected to win the election. He also lied about it because he stood to make hundreds of millions of dollars on the Moscow real estate project."
The project was a skyscraper hotel in Moscow which Cohen was helping negotiate. Last November, Buzzfeed reported that one of Cohen's duties had been to offer Russian President Vladimir Putin the $50 million penthouse of the building.
On Tuesday, Republican Rep. Matt Gaetz (Fla.) tweeted at Cohen:
Do your wife & father-in-law know about your girlfriends? Maybe tonight would be a good time for that chat. I wonder if she'll remain faithful when you're in prison. She's about to learn a lot.
Hours later, Gaetz apologized and said "it was NOT my intent to threaten, as some believe I did. I'm deleting the tweet & I should have chosen words that better showed my intent."
Let me put it this way: if one of my clients made a statement to a witness like @mattgaetz did, I'd be telling them to board their dogs so they don't get shot when the arrest team shows up.

— WitnessTestingHat (@Popehat) February 26, 2019
FREE MINDS
"Beware the rise of censorship under the guise of stopping fake news," warns Mike Masnick at Techdirt. In the U.K., Damian Collins, a member of Parliament, is "using moral panic and fear mongering over 'fake news' to try to censor content he doesn't like," Masnick explains.
Recently, Collins' committee—the Digital, Culture, Media and Sport Committee—published its big report on fake news, in which it calls for new regulatory powers to "oversee" what content goes on sites like Facebook. With the report, Collins put out quite the bombastic comment about all of this. Here's just a snippet:

"We need a radical shift in the balance of power between the platforms and the people. The age of inadequate self regulation must come to an end. The rights of the citizen need to be established in statute, by requiring the tech companies to adhere to a code of conduct written into law by Parliament, and overseen by an independent regulator."

There are all sorts of sketchy and dangerous ideas in this report, but I want to focus on the one that is most scary. A plan to regulate the amorphous concept of "harmful content."
Read the whole thing here.
FREE MARKETS
Against nationalizing childcare. Reihan Salam offers a good critique of Sen. Elizabeth Warren's national child-care proposal. The "program is nothing if not shrewd," he writes. But:
The dream of a comprehensive federal program that would liberate working parents from having to scrap for a seat in a safe, clean child-care facility that will provide for their little ones for a full day, and all for a price so low as to be negligible, has obvious appeal across the Democratic Party's class divide. But it's also an object lesson in the unseriousness of how we think about social policy. Instead of just helping working families, her proposal risks increasing the federal deficit, driving up the cost of child care, and squeezing stay-at-home parents. And that last risk is one Warren should understand particularly well because she made her reputation as a public intellectual by warning against it.
QUICK HITS
• The U.S. House of Representatives voted to overturn Trump's national emergency declaration. It now must clear the Senate.
• "Trying to stop adult sex work shouldn't be the business of the criminal justice system," said New York state Assemblyman Richard Gottfried at a Monday launch event for Decrim NY. "Throughout history, it hasn't worked, and it makes things worse. Decriminalizing adult sex work is harm reduction."
• Molly Jong-Fast offers a fun look at family life with Fear of Flying author and famed second-wave feminist Erica Jong and a novelist father and grandfather.
• Apple and other phone companies are battling governments around the globe over encrypted devices.
• Introducing Culttture: "Has Laura Loomer shouted at someone lately? Culttture will have the video. Did some former Breitbart reporter get banned from Facebook? Culttture has a take. Did Mike Cernovich post a picture of his latest dinner? Culttture will, for some reason, have that as well."
• A woman claiming her pimps sent her to work at legal Nevada brothels as a "form of punishment" is now suing to have legal brothels in Nevada declared unconstitutional.
• President Donald Trump is once again meeting with North Korea's Kim Jong-Un, this time in Hanoi. "For reasons that appear to be rooted in Trump's vanity and impulsiveness, the president has decided to break from 70 years of American policy and seek a rapprochement with North Korea based on a mysterious personal bond with the country's supreme leader. That's hardly a sound foundation on which to devise a strategic vision for the region," writes Damon Linker at The Week. "Yet…the outcome of the president's overtures to Pyongyang could well prove beneficial to the United States."