The Time for an All-Male Military Draft 'Has Passed,' Says Federal Judge: Reason Roundup
Plus: Silicon Valley is suspicious of media, Cory Booker calls for weed reform, and how to understand the "upper middle class"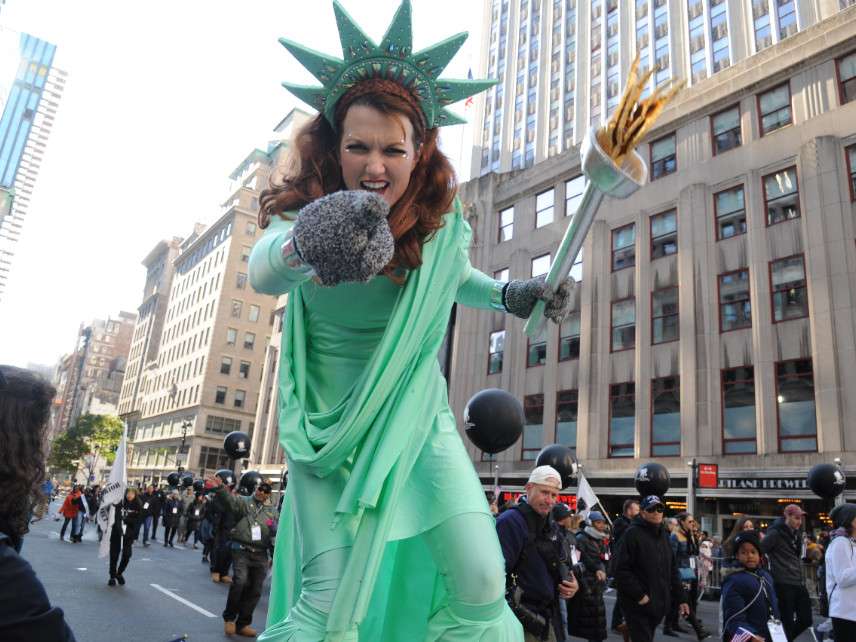 "The time has passed" for an all-male military draft, a federal judge in Texas has ruled.
The Selective Service System assumes "that women are significantly more combat-averse than men" but presents no evidence to this effect, writes U.S. District Judge Gray Miller in his decision, issued late last Friday. He notes that "it may well be that only a small percentage of women meets the physical standards for combat positions. However, if a similarly small percentage of men is combat eligible, then men and women are similiarly situation for the purposes of the draft and…discrimination is unjustified."
The matter has made it all the way to the U.S. Supreme Court before, in 1981. In that case, justices called the sex-selective draft "fully justified," since women weren't allowed in combat roles back then. But now that women can join in combat too, the rationale for the draft no longer makes sense, the National Coalition for Men argued.
Judge Miller agrees. In fact, "the average woman could conceivably be better suited physically for some of today's combat positions than the average man, depending on which skills the position required. Combat roles no longer uniformly require sheer size or muscle."
In practical terms, the matter doesn't mean much, as the decision only provides for "declaratory relief" and not any action against the Military Selective Service Act. "Yes, to some extent this is symbolic," the National Coalition for Men's lawyer tells USA Today.
But it comes as some movement for reforming the draft is afoot. An "11-member commission is studying the future of the Selective Service System, including whether women should be included or whether there should continue to be draft registration at all," USA Today notes.
FREE MINDS
Tech staff side with Trump on "Fake News." A new Buzzfeed survey of Silicon Valley tech companies has found "deep skepticism toward the media and significant concers about the role idenitty politics plays in press coverage of technology." Slightly more than half of those surveyed at least "somewhat agree" that "Trump has a point when it comes to the media producing fake news," and 38 percent said media has gotten "too feminist."
FREE MARKETS
Upper-middle-class Americans don't follow top 1 percent or lower 90 percent in economic patterns. "Since 1980, the incomes of the very rich have grown faster than the economy," notes New York Times opinion columnist David Leonhardt. Meanwhile, "the upper middle class has kept pace with the economy, while the middle class and poor have fallen behind."
There's a debate among economists, social scientists, and advocates about whether the upper middle class, then, has more in common with its lower or higher wealth counterparts.
"Both sides have a point," writes Leonhardt. But "it's a mistake to divide the country into only two groups. To make grand pronouncements about the American economy, you need to talk about three groups."

QUICK HITS
It's not enough to just legalize marijuana at the federal level—we should also expunge records of those who have served their time, and reinvest in communities hardest hit by the failed War on Drugs—which has really been a war on people.

— Cory Booker (@CoryBooker) February 23, 2019
• Yes, New York just "passed a law allowing abortions after 24 weeks if the mother's health is at risk or there is an absence of fetal viability," Snopes notes. But "the law does not allow for unrestricted abortion up through the normal term of pregnancy."
• Will any Democrats address their vote for their FOSTA votes?
My latest, for @broadly.

Every Democratic 2020 candidate in Congress voted for a law that decimated my community—will any step up to answer for it?

Please pass the word—we'll need the grassroots to ask the question to get an answer. #LetUsSurvivehttps://t.co/FLEIeSQCEA

— Liara Roux (@LiaraRoux) February 22, 2019
• Carpenters, strippers, dog walkers, and may other California workers are struggling to deal with the state's new rules on independent contracting.
• An important long-read from The New Yorker on the appalling state of health care in our prisons and jails.
• Should we be worried about this giant iceberg breaking off Antartica?