As Domestic Policy and as Foreign Policy, Trump's Automobile Tariffs Would Be a Disaster
Trump could destroy American jobs and America's relationship with Germany at the same time.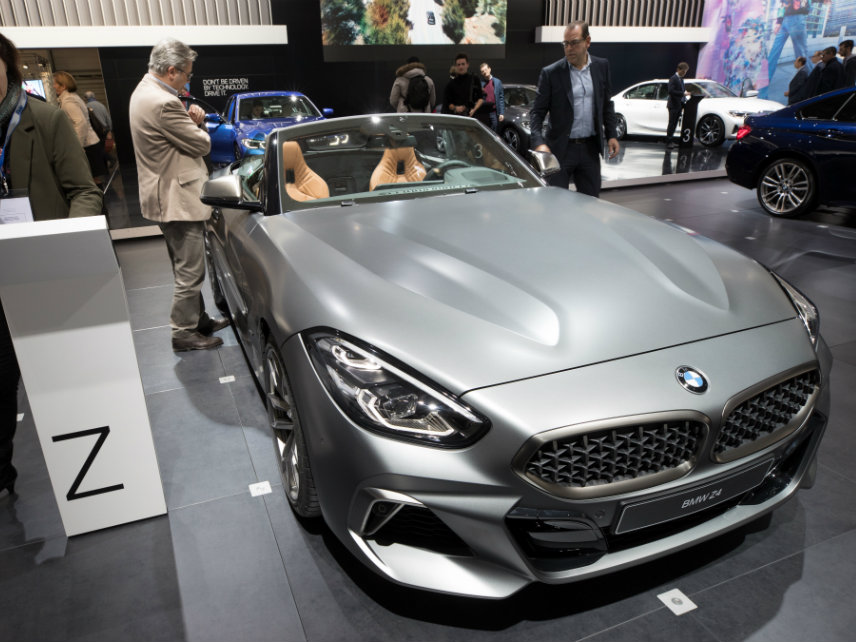 It takes a special kind of recklessness for a president to pursue a policy that could simultaneously smash blue-collar jobs across the South, rattle corporate shareholders on Wall Street, and wreck a decades-long close relationship with Europe's largest economic power—and to do it all while practically everyone, including the people you are ostensibly trying to help, is telling you it's a mistake.
That's where we are with President Donald Trump and automobile tariffs.
After the Department of Commerce completed a months-long investigation into whether imported cars and car parts coud be deemed a national security risk and thus subject to tariffs under Section 232 of a 1962 trade law, Trump now has 90 days to decide what to do. The administration is keeping the department's report and recommendations under wraps for now. That means hundreds of thousands of American workers building Toyotas, BMWs, and Hondas at plants scattered across the country—to say nothing of those working at dealerships and repair shops—remain in the dark about whether their government thinks their jobs are undermining national security.
"I'm not a national security threat and my cars are not a national security threat," Adam Thayer, general manager of a Volkswagens, Hyundai and Mazda dealership in Michigan tells The Detroit News. "I just want to sell cars."
And car manufacturers just want to build them. Unlike the steel manufacturers that lobbied for tariffs and cheered Trump when he imposed them last year, the automotive industry has been uniformly opposed to the tariffs ever since Trump first floated the idea. At a hearing hosted by the Commerce Department last year, more than 40 people representing automakers, dealerships, and specialty equipment manufacturers repeatedly told the government that tariffs will increase costs for raw materials, which will hike prices for consumers, which will reduce car sales, which will cost manufacturing jobs, all without any benefit to national security.
The potential tariffs "will put jobs at risk, impact consumers, and trigger a reduction in U.S. investments that could set us back decades," the Motor and Equipment Manufacturing Association warns in a statement released this week.
The Center for Automotive Research projects that a 25 percent tax on imported cars and car parts would cost nearly 367,000 jobs and reduce America's gross domestic product by more than $30 billion. Downstream businesses stand to lose too. Car dealers could lose $43 billion in revenue and 77,000 jobs as prices for new cars jump by an estimated $2,700 and sales fall by about 1.3 million units, according to the center's projections.
Still, Trump seems determined to press the tariffs forward. "Trump tells everyone who'll listen that the threat of car tariffs is his best source of leverage in negotiations with foreign leaders," Axios' Jonathan Swan reported last week. The president does that despite the fact that most of his top advisors believe the tariffs are a mistake, Swan wrote.
It's not at all clear what Trump hopes to accomplish by using the tariffs as leverage in Europe, but it's very apparent what he's putting at risk: America's decades-long tight relationship with Germany. The Leibniz Institute for Economic Research at the University of Munich estimates that Trump's proposal tariffs would cost Germany about 50 percent of its car exports to the U.S., a loss of about 18.4 billion Euros (about $20 billion).
No wonder European leaders aren't thrilled with the obviously false pretense that imported cars are national security threats.
"The largest BMW plant is in South Carolina. Not in Bavaria, but in South Carolina," German Chancellor Angela Merkel observed last weekend during a speech at the Munich Security Conference, an annual gathering of NATO members. "South Carolina delivers to China. If these cars, which are built in South Carolina, as well as those built in Bavaria, suddenly pose a threat to the national security of the United States of America, then that frightens us."
What she understands, and Trump apparently does not, is that there is no such thing as a fully American-made (or German-made) car anymore. Not even close. The National Highway Transit Safety Administration maintains a database listing every automobile make and model sold in the United States, along with the percentage of parts that are produced in either the U.S. or Canada. The "most American" cars turn out to be a few models produced by Honda, a Japanese company, that have 70 percent of their component parts made in the United States or Canada. That still leaves 30 percent that must be imported from elsewhere—and that's why even American-made cars are expected to increase in price if tariffs are imposed.
But the fact that there are no fully American-made cars doesn't mean that America doesn't make cars anymore. Quite the opposite. Those global supply chains have helped trigger a boom in American automaking, which now employs more than 8 million workers—a 50 percent increase since 2011, according to the American Automotive Policy Council.
That Trump would jeopardize those jobs, one of recent American history's true blue-collar success stories, is stunning. That he would do so in order to further a spat with a close ally and trading partner, without any clearly defined goals, is almost beyond belief. And that he would do all that under the guise of defending American national security—which, by any normal definition, is surely not benefitted by weakening either an important domestic industry or a major ally, let alone both—is reckless in the extreme.