Patriots Owner Robert Kraft's Bust Is Being Billed as a Human Trafficking Bust, but It Looks More Like Ordinary Prostitution
It's also part of a larger national attack on massage parlors and sex workers.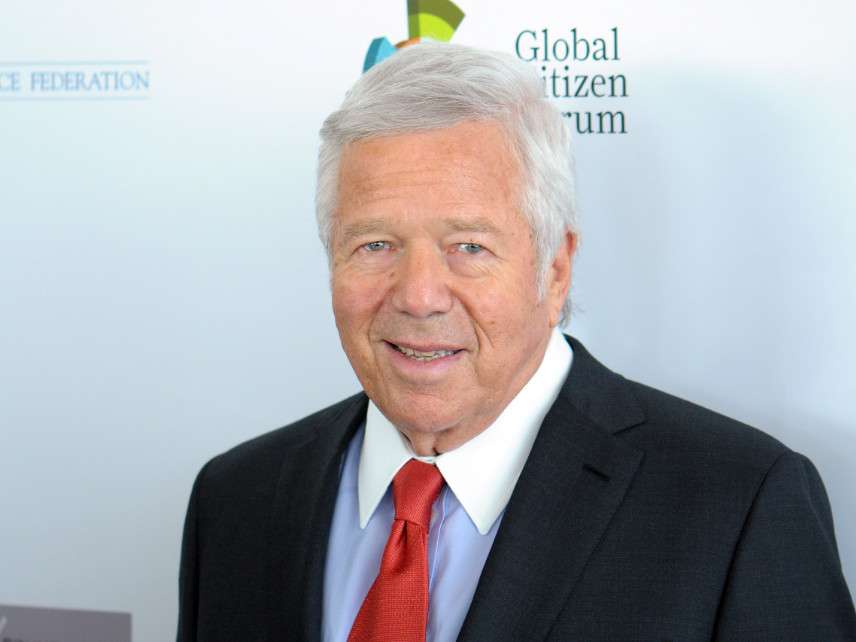 Robert Kraft, the owner of the New England Patriots, was charged today in Florida as part of a massage-parlor prostitution enforcement effort there. The 77-year-old NFL team owner is one of more than 150 men accused of soliciting prostitution. Police say they've been investigating the spa he visited, Orchids of Asia Day Spa, since October 2018.
Authorities are calling this a "human trafficking operation," with some media outlets invoking "modern-day slavery." But so far all signs suggest this is just an ordinary anti-prostitution effort.
Kraft was charged with two counts of soliciting for prostitution, a misdemeanor. Orchids of Asia's owner, Hua Zhang, was charged with deriving support from the proceeds of prostitution, keeping and frequenting a house of prostitution, and procuring for prostitution. All of these are charges that can apply to prostitution-business bosses even when everyone involved consents.
Martin County Sheriff William Snyder said at a press conference that some of the workers at these spas lived in them and weren't allowed to leave during the day. This is something we frequently hear from police chiefs and county sheriffs at the start of big "sex trafficking busts" that turn out to yield nothing but ordinary prostitution charges. (See, for instance, King County, Washington, cops on Korean sex workers there.)
Police across the country have been ramping up stings at massage parlors, driven by a concentrated effort coming from federal law enforcement (including Homeland Security) and a whole lot of misinformation. In most cases, these investigations don't lead to trafficking charges but do result in arrests for prostitution or people giving massages without a license. In at least one recent high-profile instance, they led to a Chinese sex worker's death.
It's not just undocumented immigrants who face deportation after an arrest in these stings. Prostitution charges can mean deportation even for immigrants here legally.
Florida police shut down Orchids of Asia along with nine other Asian spas and massage parlors around Orlando. The operation includes accusations of prostitution solicitation by 165 men, more than 50 of whom have already been arrested. These men have not been accused of being involved in human trafficking.
Despite some reports referring to the spa workers as "girls," police have not indicated that any employees were actually underage.
Massage parlor workers were also arrested as part of the operation to "help" them, but cops want you to know they wish they had found horrific abuse instead of just sex workers. "Even though we may have charges on some of them, we'd rather them be victims," said Vero Beach Police Chief David Currey.
Details on this story are still coming out, and police say charges are still forthcoming, which means it's possible that we'll find more here than currently meets the eye. But at the moment, it looks an awful lot like so many prostitution enforcement operations billed as "saving girls" from trafficking.