Thanks to New York City Health Officials, New Yorkers Can No Longer Get CBD in Their Coffee
After cracking down on sugar, salt, and trans fats, the agency's turn against CBD is hardly unexpected.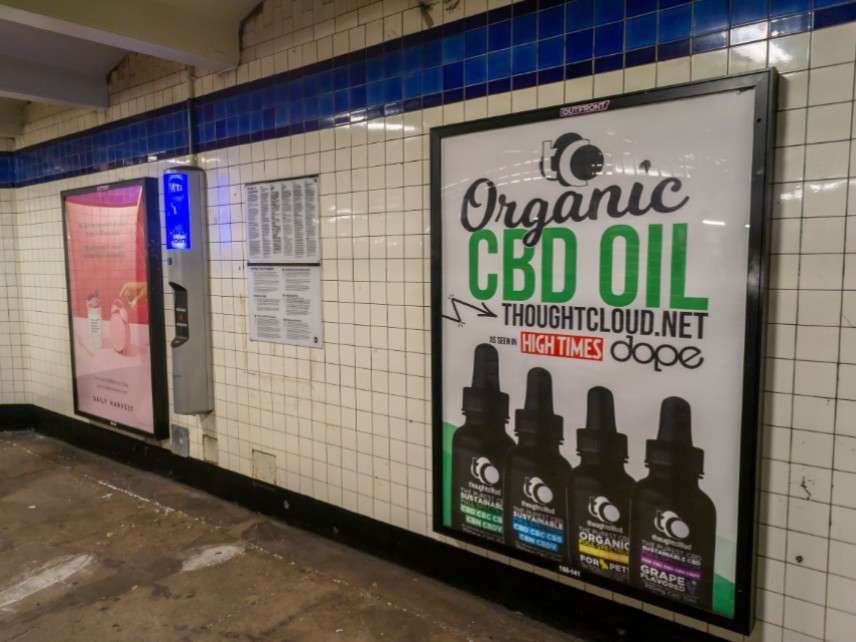 Last week New York City's health department, long the bane of food freedom supporters, banned city restaurants from adding cannabidiol—a compound found in both cannabis and hemp that's commonly known as "CBD"—as an ingredient in food or drinks they sell.
CBD products, purported to offer health benefits to consumers, also offer quite a premium for sellers. A coffee at Bushwick's Caffeine Underground costs $2.50. A CBD-infused coffee—presumably the same coffee with a couple drops of CBD added—will set you back $6.00.
New York City Council Speaker Corey Johnson (who is also a potential mayoral candidate) blasted the health department's move this week, saying it "doesn't make any sense."
I agree with Johnson. But considering the health department's long track record of targeting food ingredients—including sugar, salt, and trans fats—the agency's latest turn against CBD is hardly unexpected. Neither is it unique. It follows a similar crackdown last month by Maine's state health department. Other locales, including Detroit, have since jumped on the bandwagon.
But is there any merit to the move? The risks of ingesting CBD, if any, are somewhere between unclear and unconfirmed. Its benefits are better known. As New York City's health department noted last year, CBD "has medical benefits but is not psychoactive." (While that last claim is not entirely true, it is that true that CBD does not have the same "high" as THC, the most prominent active ingredient in marijuana.)
But in announcing the ban last week, the agency took a much less sanguine view.
"Until cannabidiol (CBD) is deemed safe as a food additive, the Department is ordering restaurants not to offer products containing CBD," the DOHMH said in a statement reported by the New York Post. The paper reports the health department will begin fining restaurants up to $650 for unapproved CBD food sales, starting in July.
But New York City health inspectors aren't waiting until the summer to launch their crackdown. Last week, health inspectors visited Fat Cat Kitchen and ordered them to stop selling cookies and other foods containing CBD. Eater reports the health department sealed hundreds of dollars worth of pastries in bags affixed with a label declaring it "unlawful to move or disturb" the baked goods.
While city health inspectors are busy quarantining cookies, CBD continues to make its way into all sorts of legal foods and drinks around the country. In only a matter of months, the Seattle Times notes, CBD has gone from niche substance to popular remedy: "from being a fidget spinner alternative for stoners to a mainstream panacea." The same media that treated CBDs as a newfangled curiosity as recently as 2016 now wonder whether there's just too much CBD in our lives.
A key element of media and government skepticism of CBDs stems from claims about their seemingly miraculous curative powers. Health websites regularly tout CBD as a marvel substance that can aid everything from digestion to pain relief and cancer prevention. Critics argue that CBD proponents claim falsely the cannabis derivative "cures everything."
Indeed, CBD proponents have become something like the new Paleo or vegan diet evangelists. Like many of the most vocal adherents of those diets, CBD fanatics have been mocked for claiming that CBD products can cure any and every malady—up to and including rigor mortis.
CBD's "explosive popularity as a hot new luxury self-care product rests on shaky ground," Mike Riggs cautioned this month. "And it's not clear how many consumers (or sellers) have a clue what they're doing."
Despite the moves by New York City, Maine, and Detroit, the popularity of legal CBD-infused foods is only gaining elsewhere, including Kansas City and Philadelphia. The owners of Root Café, a restaurant located just outside of Philadelphia that offers CBD-infused honey to diners, have organized a five-course tasting menu for a CBD-themed dinner later this month. The event menu includes elk meatballs with tortellini in a CBD green chili broth.
I'm neither a CBD proponent nor a detractor. I've used a 1:1 CBD/THC topical ointment for occasional minor aches and pains for the past couple years. I found it doesn't work as well for me as does a more commonly available cream (e.g., Icy Hot). My local grocer in Seattle, New Seasons, offers CBD oil add-ons at their coffee bar. I've partaken and been pleased with the drink, though I can't say for sure if my subsequent elevated mood was due to the very good Stumptown coffee, the added CBD infusion, or the combination.
Pressure to rein in CBD in New York and elsewhere likely stems from the federal government's stance. Last year, the agency announced it would crack down on health claims made by manufacturers whose food products contain CBD. In a statement, FDA Commissioner Scott Gottlieb said the agency is "concerned at the number of drug claims being made about products not approved by the FDA that claim to contain CBD or other cannabis-derived compounds." He also declared that the FDA prohibits the sale of foods it regulates if those foods contain CBD. New York City's health department appears simply to be following the FDA's lead.
If the FDA, Maine regulators, or New York City health department officials who are wary of CBD in the food supply want to help consumers, they can. They could target any clearly fraudulent health claims made by CBD sellers, for example, and consider taking action should any food or drink containing CBD harm a consumer. Otherwise, though, federal, state, and local officials should ensure that people who want to eat and drink foods that contain CBD have the freedom to do so.