How to Go From Government Shutdown to National Emergency in Just Two Weeks: Reason Roundup
Plus: Congress forgets to fund the First Step Act, The New York Times chastises smug politicians over Amazon, and what if the U.S. were 100 city-states?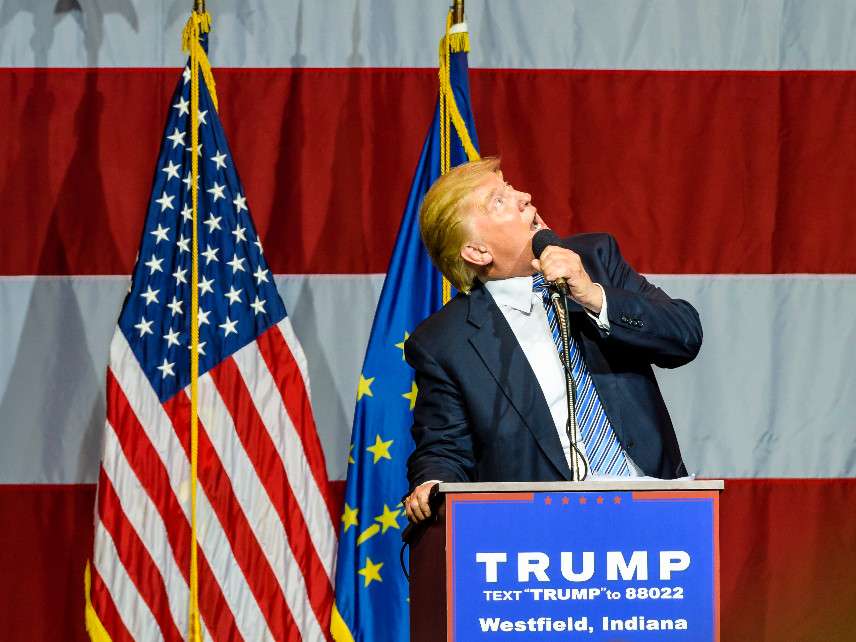 What the hell is happening today? In another timeline, the swearing in of new Attorney General William Barr would be the biggest politics story yesterday. Instead, it could barely compete with the cacophony of extremely pricey temper tantrums coming from the White House and the weary, shutdown-stung dealmaking in Congress. ("A surreal, discordant day," The New York Times called it.) Today, President Donald Trump is set to sign the $1.375 billion appropriations bill Congress approved yesterday. He also will reportedly declare a national emergency over the delusional melodrama he fancies is happening on the U.S.–Mexico border. The declaration would loosen up $3.5 billion from the Department of Defense to go toward constructing Trump's border wall.
Any such declaration would be at least be temporarily blocked by a federal court. But what could happen in the longer term is unclear. (See Joe Setyon's post here yesterday for more details.) According to ABC News, the Justice Department is telling Trump not to do it.
So are a lot of fellow Republicans, although reliable sycophants like Sen. Lindsey Graham (R–S.C.) are gung-ho. More importantly, Senate Majority Leader Mitch McConnell has said he would support the declaration.
What a bad (frankly, embarrassing) day for constitutional and fiscal conservatism. The Senate confirms Bill Barr as attorney general, congressional leaders conspire to advance a $333 billion wasteful spending bill, and @POTUS plans to declare an emergency for a non-emergency.

— Justin Amash (@justinamash) February 15, 2019
Here's a good primer on national emergencies and what presidents can do during them, from the Brennan Center for Justice at New York University law school. It found "the president has access to emergency powers contained in 123 statutory provisions," as the center's Elizabeth Goitein explains in The Atlantic:
While many of these tee up reasonable responses to genuine emergencies, some appear dangerously suited to a leader bent on amassing or retaining power. For instance, the president can, with the flick of his pen, activate laws allowing him to shut down many kinds of electronic communications inside the United States or freeze Americans' bank accounts. Other powers are available even without a declaration of emergency, including laws that allow the president to deploy troops inside the country to subdue domestic unrest.

This edifice of extraordinary powers has historically rested on the assumption that the president will act in the country's best interest when using them. With a handful of noteworthy exceptions, this assumption has held up. But what if a president, backed into a corner and facing electoral defeat or impeachment, were to declare an emergency for the sake of holding on to power? In that scenario, our laws and institutions might not save us from a presidential power grab. They might be what takes us down.
All of this sums up nicely why the presidency should never have been given so much power in the first place. In any event, national emergency declarations are common, but they usually have at least some tie to actual emergencies. From USA Today:
After the terrorist attacks in 2001, President George W. Bush signed an order giving him broad powers. A subsequent executive order, signed in November of that year, activated the same law the White House may be considering now for the wall—a provision that allowed the president to redirect military construction money for other purposes.

In 2009, President Barack Obama declared a state of national emergency for the H1N1 swine flu pandemic. That emergency, which expired a year later, allowed for waivers of some Medicare and Medicaid regulations—for example, permitting hospitals to screen or treat an infectious illness off-site—and to waive medical privacy laws.
Meanwhile, in Congress, the negotiation bill (intended to avoid another government shutdown) failed to include promised funding for criminal justice reform initiatives. Eric Boehm explains:
The FIRST STEP Act authorized $75 million in spending annually from fiscal year 2019 (the current fiscal year) through fiscal year 2023, with most of that funding directed to the federal Bureau of Prisons, which is part of the Department of Justice. It was widely assumed that funding would be included in the omnibus bill now before Congress—the most high-profile element of which is funding for President Donald Trump's border wall—but there is no explicit funding for the FIRST STEP Act included in the bill.

The omission is particularly glaring since President Donald Trump had highlighted the passage of the bill just 10 days ago at the State of the Union address. Among the White House's guests for the occasion was Alice Johnson, whose story, Trump said, "underscores the disparities and unfairness that can exist in criminal sentencing—and the need to remedy this injustice."
FREE MARKETS
Smug anti-corporate sloganeering doesn't pay bills. The New York Times editorial board chastises smug New York politicians over their gloating that Amazon will no longer build a headquarters in Queens. "There were all sorts of problems with the deal New York cut to bring Amazon to the city, and Amazon is no paragon, but its abrupt withdrawal was a blow to New York, which stood to gain 25,000 jobs and an estimated $27 billion in tax revenue over the next two decades. This embarrassment to the city presents a painful lesson in how bumper-sticker slogans and the hubris of elected—and corporate—officials can create losers on all sides." It notes that "polls showed wide support for Amazon's move to Queens," but elected officials seemed more keen to use Amazon in inequality talking points than have "a constructive conversation about how to improve the deal and make it work for the tech giant and the city."
There is a financial literacy epidemic in America.

Quick lesson: NYC wasn't handing cash to Amazon. It was an incentive program based on job creation, producing tax revenue.

There isn't a $3 billion pile of money that can now be spent on subways or education.

— Andrew Ross Sorkin (@andrewrsorkin) February 14, 2019
QUICK HITS
What would the US look like as 100 citystates? I made a map! Enjoy: https://t.co/APJHzlmpfh

— Nolan Gray (@mnolangray) February 14, 2019
"Jessica Rosenworcel, a member of the Federal Communications Commission, does not like TV and radio ads for e-cigarettes, and she seems to think they can be banned by reinterpreting the 1970 law that prohibited broadcast ads for conventional cigarettes," reports Reason's Jacob Sullum. "She is wrong."
"While it's very unlikely that Weld (or anyone else, for that matter) is going to beat Trump in the totality of the 2020 primary contest, or even grab a substantial number of delegates, Weld running as the anti-Trump Republican might not be as stupid a move as a lot of people seem to think," writes Liz Mair.