A Presidential Tweet Can't Stop the TVA from Shuttering Two Coal-Fired Generation Plants
So far, Trump's efforts to subsidize his coal cronies have failed.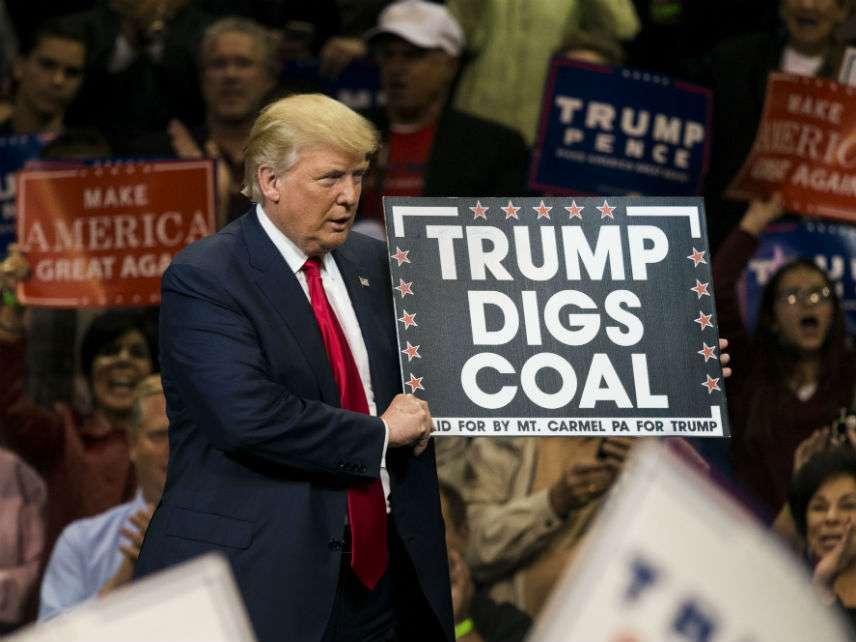 When President Donald Trump heard this week that the Tennesee Valley Authority's board of directors was preparing to vote on closing down two aging coal-fired electricity generation plants, he tweeted: "Coal is an important part of our electricity generation mix and @TVAnews should give serious consideration to all factors before voting to close viable power plants, like Paradise #3 in Kentucky!"
As it happens, that plant gets most of its coal from Murray Energy, whose CEO Robert Murray is a Trump supporter, according to Bloomberg News. His company donated $1 million to a political action committee that supported Trump-friendly candidates in the 2018 election. That could just be a coincidence.
Meanwhile, Sen. Micth McConnell (R–Ky.) released a video urging the TVA to keep the Paradise plant open. In the video, McConnell urges the board to consider the hundreds of jobs that depend on the plants and to delay its vote until two additional members have been appointed. He also notes, "In the Senate I championed efforts to end President Obama's War on Coal."
But the real war on coal is being fought in the marketplace, where coal for electricity generation is being outcompeted by abundant and cheap supplies of fracked natural gas. A 2017 National Bureau of Economic Research study calculated that the "declining price of natural gas relative to coal, on an energy-adjusted basis, explains 92 percent of the decline in coal production."
The Energy Information Administration (EIA) reported in December that U.S. coal consumption in 2018 was expected to be the lowest in 39 years. This largely because power generators have been shifting to natural gas and renewable energy sources.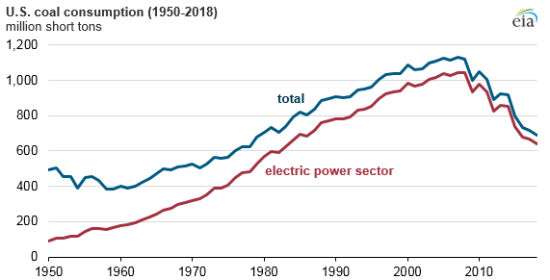 As a consequence, the EIA noted, "In 2007, coal-fired capacity in the United States totaled 313 gigawatts (GW) across 1,470 generators. By the end of 2017, 529 of those generators, with a total capacity of 55 GW, had retired. So far in 2018, 11 GW of coal-fired generating capacity has retired through September, and another 3 GW are expected to retire in the final three months of the year."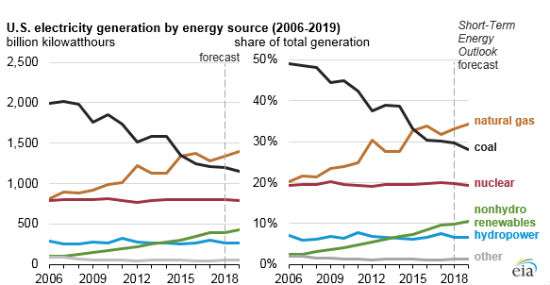 The TVA's chief financial officer, John M. Thomas III, has said that closing the two plants would save ratepayers $320 million without affecting the reliability and resilience of the agency's fleet. In addition, both plants would require about $1.3 billion in capital investments to keep them operating. And even if two Trump toadies had already appointed to the board, the 6–3 vote would still have shuttered both the Paradise and Bull Run plants.
So the plants are closing, despite the president's tweeting. So far, the Trump administration's economically insane proposals to subsidize his cronies in the coal industry have been successfully opposed.