When the Revolution Comes, I'll Be First Up Against the Bar
A few more drinks for AOC's "Cocktails for the Revolution" menu.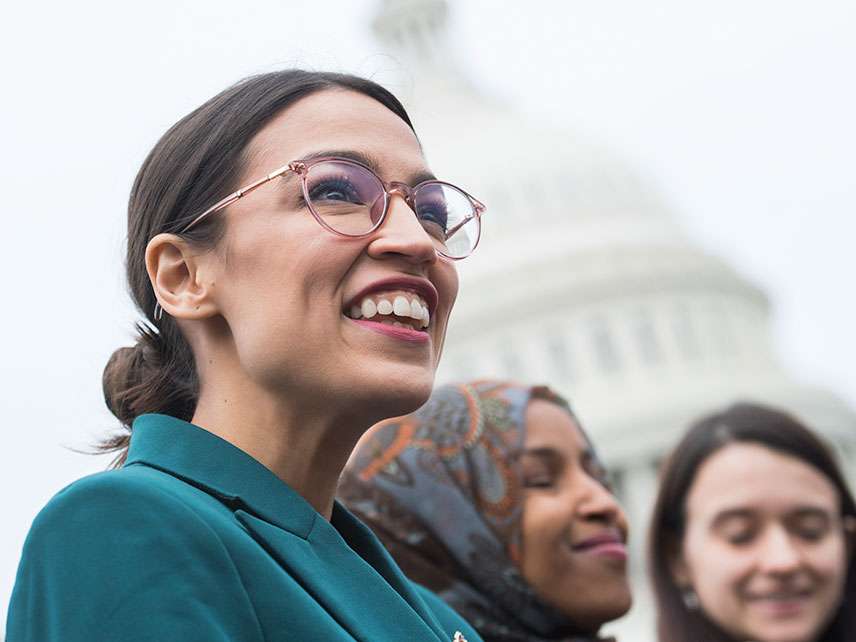 While I have many disagreements with Rep. Alexandria Ocasio-Cortez (D-N.Y.), I'm genuinely pleased to see a former bartender with an interest in craft cocktails find a seat in Congress. Partly because I frequently associate politics with the desire to drink, and partly because it means that the second-largest Twitter account in American politics can now be found tweeting out cleverly-named cocktail recipes first thing Monday morning. (It's always the right time to think, or tweet, about cocktails.)
Cocktails for the Revolution:

– World w/o a #GreenNewDeal: a Bitter Dark n' Stormy
– Clean transport: an Aviation, but hold the crème de violette
– Bridges, Not Walls: a Mezcal Greyhound
– Paid Parental Leave: Mocktail margarita
– Policy Failure: anything w/ Goldschläger
https://t.co/WGlUSc8BXK

— Alexandria Ocasio-Cortez (@AOC) February 11, 2019
I look forward to trying all of these, especially World Without a Green New Deal. I am rather fond of both ginger beer drinks and bitter liqueurs, so a combination of the two sounds amazing. (Although, as is sometimes the case with her ideas, it will probably take a bit of workshopping since she doesn't specify precisely what's in it.)
Cocktail menus have long played a role in politics—"the fiscal agent" appeared on drink menus prior to Prohibition—so in the interest of furthering this particular form of political conversation, here are a few additional cocktail ideas to drink while waiting for the revolution to come.
Remember the Senate
An old fashioned with Filibuster rye.
Dating back to the early 1800s, the old fashioned is the original cocktail, and the template on which many of today's drinks are built. Although it fell out of favor in its classic form for many decades following Prohibition, it has seen a surge in popularity over the last 15 years—a reminder that some things that seem new and exciting are based on ideas that have been with us for a long time. In this version, I recommend Filibuster rye, a subtle whiskey with notes of vanilla and pepper that has a way of unexpectedly asserting itself in a drink.
1.5 tsp rich demerara syrup*
1 dash Bitter Truth Orange bitters
1 dash Bitter Truth Jerry Thomas bitters
1 dash Angostura aromatic bitters
2 oz Filibuster dual cask rye
Combine all elements in a chilled rocks glass. Add one large ice cube, stir, garnish with an orange peel.
*Heat two parts demerara sugar with one part water until the sugar dissolves. Store chilled.
MMT G&T
A perfectly made gin and tonic.
You might be wondering: Why do you need a recipe for a gin and tonic? It's right there in the name. There's nothing to it. Yet with a little bit of salesmanship, even the most obvious two-ingredient cocktail, like an obscure economic theory, can be elevated into something semi-mystical. Anyone who has had a truly excellent gin & tonic knows they can't really be explained or understood except by trying them; properly made, a good one is practically a religious experience.
1 juiced lime, cut into strips
2 oz Tanqueray
6 oz Fever Tree tonic water
The real trick to a gin and tonic is to muddle the gin with lime strips in a separate bowl, then pour the gin-lime mix on top of the tonic in a tall glass filled with tonic and ice.
Legislative Record
A Penicillin.
Like so much legislation, this apparently simple drink is somewhat harder to make than it looks. Essentially a honey-ginger scotch sour, the best way to make it involves juicing ginger root and then combining the root juice with sugar to make ginger syrup, an admittedly arduous process that is nevertheless rewarding in the end. It also helps to have accumulated the right tools, including an atomizer for misting smoky scotch on top.
2 oz blended scotch (Famous Grouse or Pig's Nose)
¾ oz fresh lemon juice
? oz 3:1 honey syrup*
? oz ginger syrup**
Shake over ice until well chilled, then strain over a single large piece of ice in a rocks glass. Using an atomizer, mist the top of the drink with a smoky scotch, such as Laphroiag 10.
*Heat three parts honey, one part water over low heat until integrated. Chill and store for up to a week.
**Peel a batch of ginger roots, then blend them into a fine paste. Run the paste through a chinois sieve to extract the juice. Heat the juice on the stove with two parts sugar to one part ginger juice.