Portland Wants to Ban Hate Groups, Has No Idea How To Define 'Hate Group'
What constitutes a hate group isn't objective or easily defined, and Portland's resolution makes no attempt to clarify.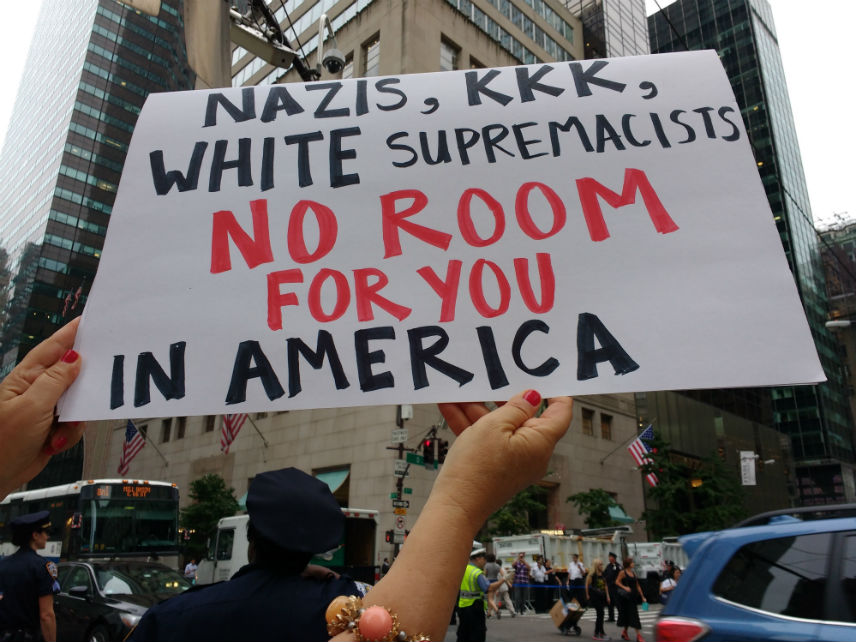 The city government of Portland, Oregon, last week proposed a resolution that "condemns white supremacist and alt-right hate groups." How the city plans to enact the condemnation was not addressed during the February 8 meeting, the resolution not yet more than an appeal for Portlanders to take ownership of their historic discrimination and hate and to pledge to do better.
"We've heard this resolution is mostly symbolic, we've heard this resolution will solve nothing," said Mayor Ted Wheeler, continuing a do-something-ism that, last November, saw his emergency ordinance to restrict potentially violent public protests voted down.
"I have concerns about the constitutionality of the protest ordinance," Commissioner Nick Fish said at that time.
"Arguing about the restrictions in court, when they may not even help much on the ground, is not a wise use of taxpayers' money," said Commissioner Amanda Fritz.
The city council was apparently more comfortable with the current call to action, its five members collectively writing the resolution: a list of seventeen "Whereas…" statements that "condemns hate groups" that fails to state how these groups will be identified (or not). The resolution does, however, contain a plan to educate "all City staff on the history and impact of white supremacy, and how to identify white supremacy."
There is no getting around Oregon's track record of racial atrocities: entering the Union as a whites-only state; redlining that displaced African-American communities and put them directly in harm's way. In 1988, skinheads beat Ethiopian immigrant Mulugeta Seraw to death with a baseball bat. And in 2017, Rick Best and Taliesin Myrddin Namkai-Meche came to the defense of two young women on a light-rail train that were being barraged with anti-Muslim sentiments by self-described white nationalist Jeremy Joseph Christian. Christian stabbed the two men to death as horrified commuters watched.
All reasons to give a resolution like this actual teeth, and processes by which to achieve success. Instead, commissioners used the 90-minute session at City Hall to wrestle with regret and restriction.
"I am not proud of many of the things my ancestors did, being from England," said Fritz. "The colonization, the slavery, the invasion of this country, the annihilation of the Native American people, I am not proud of any of those, and I'm sorry for all of it, and I'm sorry for what's happened in Portland over the last two hundred years."
Apparently losing his concern for constitutionality, Fish mentioned that, earlier in the day, he had urged a newspaper to take down a comment about a new city employee that Fish perceived to "attack her race and sexuality."
"What does it mean for our community to come to grips with its shared discriminatory history?" asked Wheeler, who continued to have no answer beyond the resolution's pledge to "not tolerate hate in any form." The theme of collective guilt was continued by most who testified in support of the resolution.
"Racism comes in many forms," said Wadji Said, of the Muslim Educational Trust. "Sometimes it's subtle and private, and sometimes it's public and overt, and sometimes it's violent and sometimes it's harmless. It's something that I think we are all guilty of and we have to make sure that we deal with our own personal racism in the right way."
"White supremacy isn't solely embodied in hate groups," said Nicole Grant, Senior Policy Advisor to Mayor Wheeler. "It is woven into the fabric of Portland, Oregon, past and present. It is not an abstraction. It feeds on itself and affects us all daily."
Zeroing in on the haziness of the resolution, Maria Garcia of the New Portlanders Policy Commission said, "I like the idea of having a resolution against white supremacy and alt-right hate groups, but it does not make me feel any safer."
Joey Gibson, the founder of Patriot Prayer, was among the last to testify. It had specifically been Patriot Prayer, a Christian group that self-describes as "using the power of love and prayer to fight the corruption both in the government and citizen levels" but which opponents have labeled far-right, that Wheeler had wanted to keep from protesting in Portland. This, after several rallies against counter-protesters and Antifa turned violent.
Gibson did not appear combative today. "Looking at this resolution, the word 'hate' is in it a lot," he said. "It's about what you guys are against and denounce, but I think you have to have a solution, and I do believe the solution is love." Gibson then read a passage on love from Corinthians, and told the commission he appreciated what they were trying to do.
Wheeler did not thank Gibson for his testimony, as he had all the others. After Portlander Robert West asked, "Who's going to determine who these [hate] groups are?" Wheeler wanted it noted, "This last testimony does not reflect anything in the resolution."
Commissioner Chloe Eudaly went further. "I want to thank everyone, or almost everyone, who showed up to testify today."
Wheeler and Eudaly appeared to dishonor the pledge of inclusion even before council members voted unanimously to pass the resolution.
If the city council had a tough time considering the varied opinions of its citizens, citizens themselves did a better job.
"That was a really valid question," said Randy Blazak, chair of the Oregon Coalition Against Hate Crimes, of Robert West's comment. "It can be with the wind, what a hate group is, and if you don't like what somebody's saying, suddenly they're a hate group. Is the Mormon Church a hate group because of their anti-gay initiative? There needs to be a real clear criteria by which we define these terms, because it can be up to the political will, which changes with the leadership."
West agreed. "When you pass a resolution or a law, you have to have something behind it to sit there and say what something is: this is what we consider racism, okay? You don't want to be stuck in a situation where you're stepping on people's freedom of speech, their rights to belief."
"We want to both support First Amendment rights, and also have the values of the city clearly stated," Blazak told Reason. "I'm both. I have an ACLU card in one pocket, and an ADL card in the other."