Snowflake Senator Calls for Boycott of Concert Venue Over Poster That Shows Him Eating a Baby
Arkansas Sen. Jason Rapert learns what the Streisand Effect is all about.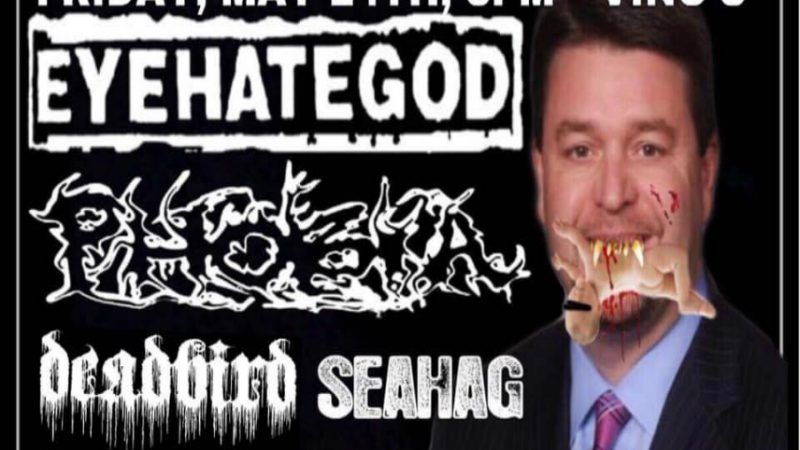 (Christopher Farris Terry)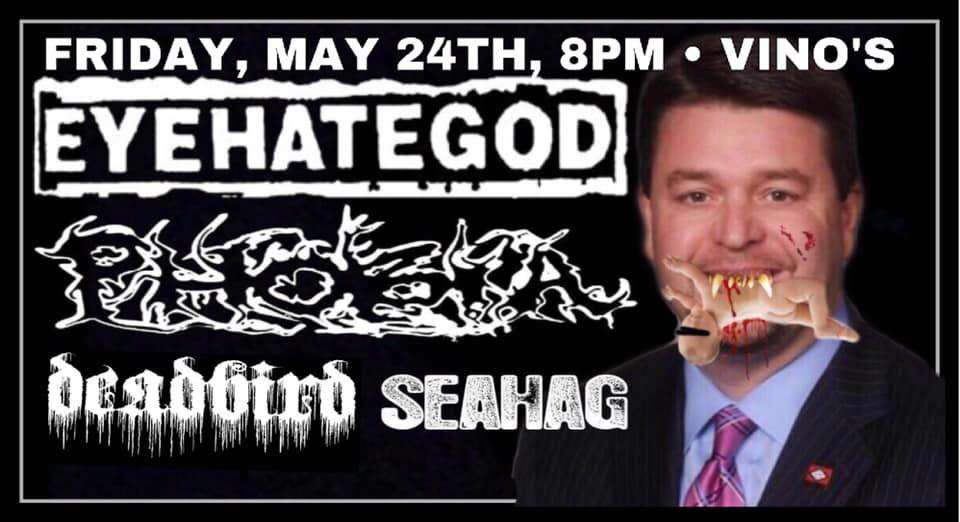 An Arkansas state senator is calling for people to boycott a local concert venue after the business used an image of him feasting on an infant to promote an upcoming show.
On Tuesday evening, Christopher Farris Terry, an event promotor for Vino's, a brew pub, pizzeria, and concert venue in Little Rock, shared a flyer on a Facebook event page promoting an upcoming May show by New Orleans metal band Eyehategod. Next to the logo of the band, and beneath information on the date and time of the show, is a poorly photoshopped image of state Sen. Jason Rapert (R–Conway) sinking large, bestial fangs into a human baby.
"My job as a promoter for any event I am hosting is to create buzz and get people excited about acts that are coming," said Terry in written responses to Reason's questions. The use of Rapert's image, he says, was satirical commentary on the senator's recent push to restrict abortion access in Arkansas.
Rapert was apparently not amused. Several hours after the flyer was published on social media, the senator shared a Facebook post of his own denouncing the "extreme liberals" who created this "wicked and evil depiction" of him, and demanding that it be taken down.
"They use my image on an event without my permission and they depict me 'biting a baby' in my mouth," wrote Rapert. "I call on Vinos in Little Rock to cancel this event and apologize for such a disrespectful image that shows the dehumanization of babies lives," said the senator in a post that urged a wider boycott of entire pizza joint.
Rapert has long been a controversial politician. In December, he was suspended from Twitter over anti-Muslim comments he made on the site. Rapert was also instrumental in getting a Ten Commandments monument placed at the Arkansas State Capitol. Both the ACLU and the Satanic Temple—a religious organization—have sued over the statue, claiming it is a violation of the First Amendment's religious liberty protections.
So far, it appears that Rapert has failed to win the public's support for a boycott of Vino's. The comments on his Tuesday Facebook post are largely from people saying they're eager to attend the Eyehategod show or otherwise asking why Rapert, a staunch pro-life Republican, is eating a baby.
Terry tells Reason that the restaurant has received a wave of visitors expressing their support for the business.
The offending flyer has been removed from Facebook event page promoting Vino's Eyehategod show, but other than that, Terry says that the show is going ahead as scheduled.
"Honestly, if the show were cancelled, it would just get moved to a bigger venue," he tells Reason. "It would have to be bigger from all the publicity Rapert has caused. So, we thank him!"