Vanessa Tyson Details Sexual Assault Accusation Against Virginia Lt. Gov. Justin Fairfax, Who Denies It
"I cannot agree with a description of events that I know is not true."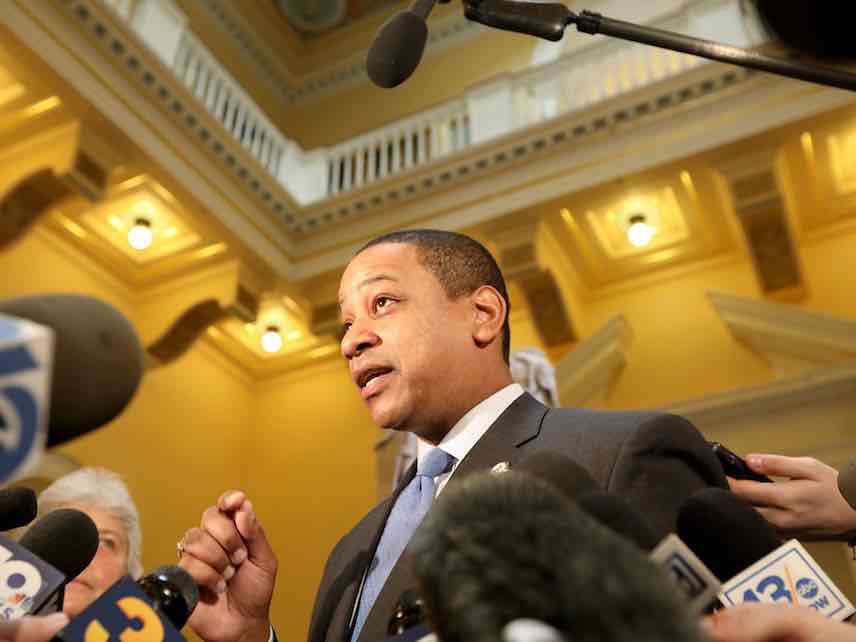 The woman who accused Virginia Lt. Gov. Justin Fairfax of sexually assaulting her at the Democratic National Convention in 2004 has now come forward. Her name is Vanessa Tyson, and she is a professor at Scripps College.
In a statement released Wednesday, Tyson said that she had gone willingly with Fairfax to his hotel room, and did not mind when he started kissing her. But then he forced her to perform oral sex on him, using his superior strength to overpower her.
"What began as consensual kissing quickly turned into a sexual assault," she said. "I cannot believe, given my obvious distress, that Mr. Fairfax thought this forced sexual act was consensual."
Fairfax has denied that the encounter was anything but consensual.
"I wish [Tyson] no harm or humiliation, nor do I seek to denigrate her or diminish her voice," he said. "But I cannot agree with a description of events that I know is not true."
Fairfax has made two claims to support his side of the story. First, he said The Washington Post had declined to print the accusation due to inconsistencies in Tyson's statements when she first approached them a year ago. Second, he said that Tyson appeared in a video in which she discussed her past as a sexual abuse victim, but did not specifically mention this incident.
Unfortunately for Fairfax, neither of these issues helps him. The Post released a story contradicting his claim—the paper didn't run Tyson's story because it couldn't find any corroboration, not because she made misstatements. And the video concerns Tyson's sexual abuse at the hands of her father, a different and very serious issue that could simply have seemed more relevant to Tyson when she decided to open up about her victimization.
This puts the people of Virginia—many of whom would like Democratic Gov. Ralph Northam to resign after it was revealed that he may have appeared in blackfack in his medical school yearbook—in quite a bind. What Northam is accused of is not nearly as bad as what Fairfax is accused of, though Fairfax has issued a more complete denial. (Northam initially apologized, then said he didn't think it was him in the photo, and then admitted he once put on black makeup for a Michael Jackson costume.)
Many progressives, of course, take the position that we should always believe victims, which would mean that Fairfax must resign. If Democrats had gotten their way during the Brett Kavanaugh hearings, Christine Blasey Ford's accusation of sexual assault likely would have been enough on its own to derail the judge's nomination. Unfortunately, it seems even less likely in this case that we will discover additional information that could help the public decide who is telling the truth, since there was no one else involved in the Fairfax/Tyson incident (unlike the Ford/Kavanaugh incident).
Fairfax would be entitled to due process if he were to face charges for his behavior, but the court of public opinion does not offer similar protections. If it's true that Fairfax committed a sexual assault for which he was never charged, he has no business serving as governor or lieutenant governor. At the same time, anyone accused of serious sexual misconduct should resign fom office, even without any additional evidence whatsoever to substantiate the accusation, does not seem like a particularly reasonable standard to which we should hold public officials. It's a tough situation, and it's not immediately clear to me what should happen next.
By the way, Virginia Attorney General Mark Herring—who is next in line to serve as governor, after Fairfax—has already admitted to appearing in blackface.