Nevada Fighters and the Right to Trash Talk
But the Nevada State Athletic Commission is considering restricting speech after taunts spark a brawl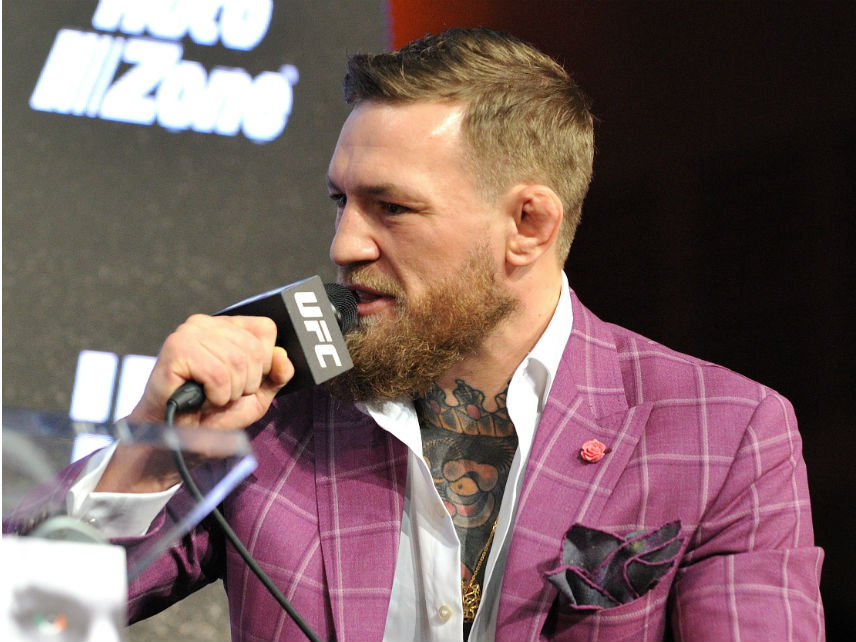 Insulting one's prizefighting opponent is a tradition that reaches back to boxer Jack Johnson, was perfected by Muhammad Ali, and is now an accepted form of mental warfare in boxing and MMA fights. When Lennox Lewis called fellow black British boxer Frank Bruno an "Uncle Tom," some invisible line of civility may have been crossed, but doing so never resulted in penalties for Lewis.
But an ugly brawl sparked by racial and religious insults after an Ultimate Fighting Championship (UFC) bout has Nevada regulators wondering if the time has finally come to put controls on pre-fight speech.
"I think it's gotten to the point with certain unarmed combatants to where it's become totally unacceptable," said Nevada State Athletic Commission (NSAC) Executive Director Bob Bennett. "I definitely think, unequivocally, that's something we need to take a more active role in and hold fighters accountable for their language."
Bennett's comments came at a disciplinary hearing for the UFC's verbal warfare king, Conor McGregor, and his November 2018 opponent, Khabib Nurmagomedov. After defeating McGregor, Nurmagomedov jumped out of the cage and attacked members of McGregor's team. McGregor remained in the cage but gave and received punches.
Nurmagomedov later defended his actions saying, "He talked about my religion, he talked about my country, he talked about my father." Nurmagomedov is a Dagestani Avar––an ethnic group from southern Russia––and a Sunni Muslim.
McGregor called Nurmagomedov a "smelly Dagestani rat" and a "backwards cunt" for his choice not to drink alcohol because of his Muslim faith.
In its role as the state regulatory body in Nevada for combat sports, including MMA and boxing, the NSAC issued large fines and suspensions to both fighters. (The $500,000 levied against Nurmagomedov for the attack on McGregor's team was the largest fine handed down since Mike Tyson was fined $3 million in 1997 for biting off part of Evander Holyfield's ear in the now-legendary "Bite Fight.")
Still, punishing only the fighters' actions left regulators wondering if they could punish their trash talking, too.
"None of these settlements take into account verbal statements made by parties to one another," said NSAC Chairman Anthony Marnell. So far, the NSAC has never punished a fighter for speech.
McGregor's other verbal blows include calling Nurmagomedov's manager Ali Abdelaziz: "a fucking snitch terrorist rat and that's it. I could go into heavy detail… and I will! He was pulled off of a flight going from Cairo, Egypt, to New York City on September 11, 2001. He was caught with fake passports in his possession. He turned informant and turned on the people that he was working with. He is a — I don't even know how that man is in this fucking country."
The commission members agreed to pursue rule changes to punish this type of fighter speech or what they called "inciting comments," but realized they weren't prepared to draft the actual regulations and placed the topic on a list of "items for future agendas." "[It] would break a lot of precedent and without notice that we're going to start fining and/or suspending for what you say vs. what you do," Marnell said.
The NSAC declined to comment for this story or clarify the status of any proposed regulation changes.
The UFC itself is much better positioned to regulate fighter speech (as the NFL and NBA do) owing to its existing fighter contracts, which stipulate adherence to the UFC Code of Conduct and which already include a prohibition on certain speech:
"Derogatory or offensive conduct, including without limitation insulting language, symbols, or actions about a person's ethnic background, heritage, color, race, national origin, age, religion, disability, gender or sexual orientation."
The UFC's official reaction to NSAC's proposed regulation was not supportive. "I think it's crazy. I think it's insane. I think it's unconstitutional," said UFC President Dana White at a Jan. 31 press conference.
"First of all, I don't think you can legally do that. These guys get into a cage and they punch each other in the face. They can knock each other unconscious, they can choke each other, but they can't say mean things to each other? It's pretty ridiculous."