Moooving on From NAFTA
A better deal on dairy with Canada, but at what cost?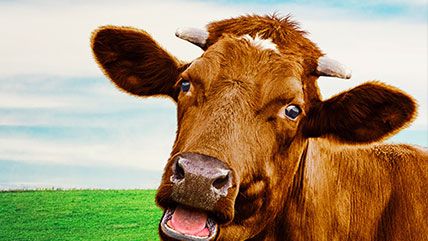 One of the few liberalizing policies contained in the Trump administration's rewrite of the North American Free Trade Agreement (NAFTA) amounts to little more than "a drop in the milk bucket," according to one new analysis, while other measures will significantly limit free trade.
Allowing American dairy farmers to export more of their goods to Canada, tariff-free, was a major goal for President Donald Trump in his yearlong effort to replace NAFTA with the United States-Mexico-Canada Agreement (USMCA). The president has often harped on Canada's dairy protectionism, citing it as a problem with the trade compact he famously described as "one of the worst deals" during his campaign for the White House.
It was a rare instance in which Trump—who has described himself on Twitter as "Tariff Man"—took the side of free trade. In announcing the terms of the USMCA in October, the Office of the United States Trade Representative called the lowering of Canadian tariffs on American milk, cheese, and butter a "key accomplishment" of the negotiations.
It remains to be seen whether Congress will approve the USMCA in its current form. The governments of Canada and Mexico must also OK the deal before it becomes official. While the dairy provision is a victory for free trade, Congress should weigh its impact against the USMCA overall.
Under NAFTA, U.S. exports to Canada accounted for about 3 percent of total Canadian dairy sales. A complex system of quotas and massive tariffs—some as high as 300 percent—kicked in at different thresholds, depending on the product. According to researchers at the Brookings Institution, the USMCA will allow American dairy products to reach a whopping 3.59 percent of total Canadian dairy sales before tariffs and quotas kick in.
This is undeniably a step in the right direction. But it's a very small one, potentially boosting U.S. dairy revenues by just 0.2 percent.
"The new agreement is a tweak, not a major reform," write Roger Knoll and Robert Litan, the authors of the Brookings analysis. "The benefits from the agreement for Wisconsin dairy farmers will be a drop in the milk bucket, lost in the annual variation in sales and production of milk products."
Measured against other aspects of the USMCA—such as new requirements for automobile manufacturers that will likely increase costs, limitations on how USMCA signatories can negotiate trade deals with other nations, and a sunset clause that would see the USMCA potentially expire in just five years—the promise of slightly freer trade for milk and butter doesn't appear to be worth the cost of the whole cow.
This article originally appeared in print under the headline "Moooving on From NAFTA".