Kamala Harris Blasts Trump for 'Cutting Red Tape' in SOTU Prebuttal
But she provided very little evidence to back up her claims.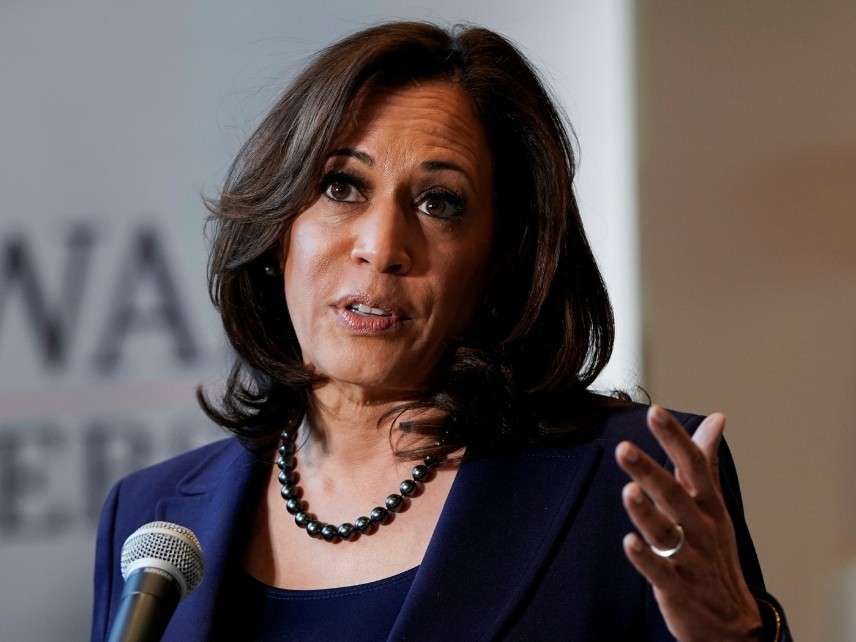 Delivering Facebook Live remarks Tuesday prior to President Donald Trump's State of the Union address, Sen. Kamala Harris (D–Calif.) criticized the Trump administration for implementing regulatory reforms.
"When you hear claims about rewriting the rules and cutting red tape, don't forget that means workers will have fewer workplace safety protections," the California Democrat and 2020 presidential candidate said. "Pregnant women will have fewer clinics to turn to for care. Children will have drinking water that's less safe."
In her remarks, Harris didn't pinpoint specific initiatives. However, she was likely referring to the Trump administration efforts in three areas. As Politico reported in September, the administration has cut safety regulations in the mining, oil rigging, and meat processing industries, among others.
In July, the administration proposed refocusing "the Title X program on its statutory mission—the provision of voluntary, preventive family planning services specifically designed to enable individuals to determine the number and spacing of their children." As a result, Title X money would not go toward clinic staff who give women information about abortion, according to PBS.
Finally, the administration proposed in December rewriting a clean-water regulation implemented by President Obama's Environmental Agency (EPA), The New York Times reported. Critics claimed Trump's move would threaten public health. Trump's EPA disagreed. "The previous administration's 2015 rule wasn't about water quality," read an agency memo obtained by the Times. "It was about power—power in the hands of the federal government over farmers, developers and landowners.
Harris, meanwhile, claimed "those rules are being rewritten to help big corporations and powerful interests."
In all of these cases, Harris conflated the mere existence of regulations with the provision of safety equipment, services, or results—something we can expect to see more of as the 2020 race develops.