To Protect Some Cab Drivers, San Francisco Will Stop Other Taxis from Picking Up Customers at the Airport
The rule will prohibit taxis from picking up passengers at the airport unless they purchase a $250,000 permit.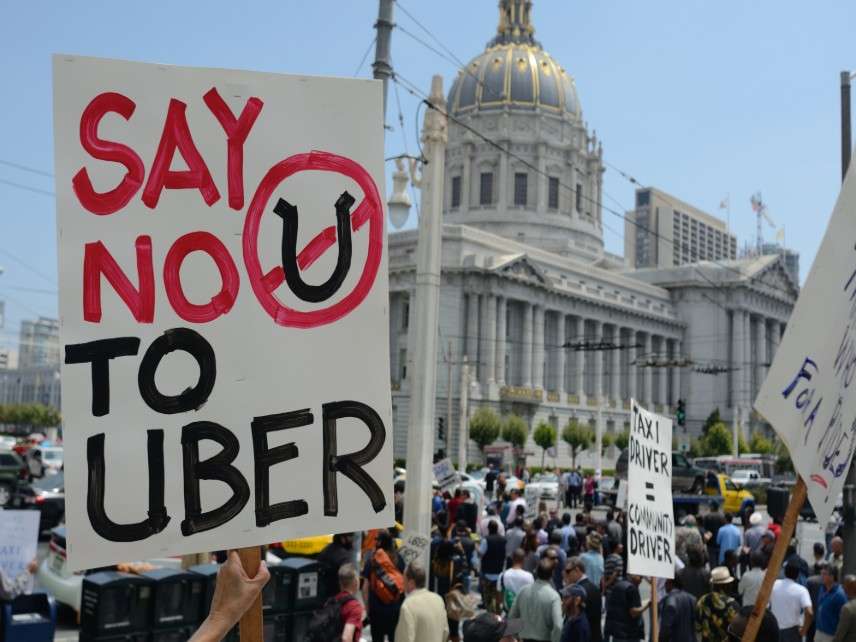 A new regulation in San Francisco is supposed to help the city's ailing taxi industry, which has had trouble grappling with competition from Uber and Lyft. But the new restriction will do nothing but pit cab drivers against each other.
Under the rule, which takes effect today, taxis without a city permit—otherwise known as a medallion—are not allowed to solicit customers at San Francisco International Airport. The Municipal Transportation Agency (MTA) says this will "level the playing field."
But, in fact, it will have the opposite effect, benefiting the cohort of cabbies who paid for a lavishly expensive medallion—they cost $250,000 a pop—and blocking the rest from one of the few spots where they can still make consistent cash. It will also help those ride-sharing apps, which are not subject to city taxi regulations and will profit from the suppressed competition.
There are currently 4,800 active taxi drivers in San Francisco, and 1,450 medallions in service, according to the MTA. About 1,100 of those permits—those purchased after 1978—will get a green light for airport pickups. Drivers who acquired one after 2010 will also enjoy "expedited access" to the airport curb, since their permits were more expensive.
The MTA pocketed the funds from those medallions—which brought in a total of $64 million. So basically, the government is giving preferential treatment to a select group of insiders in exchange for some costly kickbacks.
That's not to say the medallion holders are doing well. Many are now in financial ruin: As ridership plummets, it's getting harder and harder to pay off those pricey permits. The San Francisco Credit Union—which loaned drivers $125 million to help finance the medallions—is currently suing the MTA, arguing that San Francisco's failure to reinvigorate the industry violated promises the city had made to the lender. Since 2010, 158 of the permits have been foreclosed on. Not one has been sold since April 2016.
"I'm just in a tremendous amount of debt," says San Francisco cabbie Syed Mohsin. "Basically, you follow the rules, and get screwed."
Kate Toran, the director of taxis for the MTA, tells KQED that she wishes she could buy back the medallions. That won't happen, though, as it would put the city $160 million in the hole.
As new means of transportation become more popular, cab drivers are in a tough position. But it makes little sense for city officials to further limit taxi options just to provide relief to the drivers they bankrupted.