Why Aren't More Doctors Helping People Addicted to Opioids?
Philadelphia's innovative treatment program for incarcerated opioid users is failing. Is it because doctors don't want to treat opioid addicts?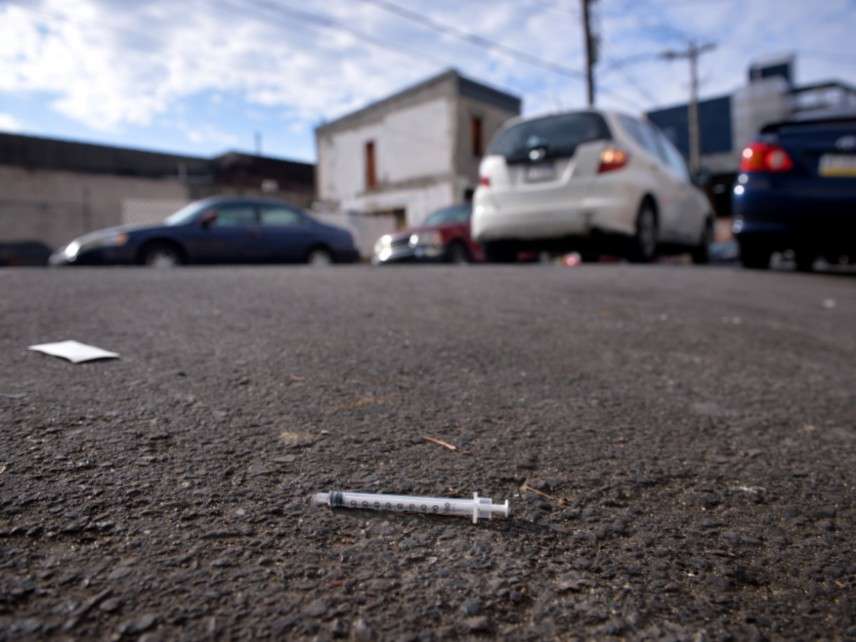 Philadelphia's innovative program to provide medication-assisted therapy (MAT) to prisoners with opioid use disorder has hit a snag, and an official at the Philadelphia Department of Prisons says federal limits on how many patients any one doctor can help are partially to blame.
Under federal law, doctors can concurrently treat only a limited number of patients using the drug buprenorphine, a partial opioid agonist that scratches the itch (so to speak) brought on by opioid cravings. The drug's effects are much milder than those of prescription painkillers and heroin, which allows patients to manage their addiction or dependence without being incapacitated.
The Philadelphia County Jail is currently struggling to provide buprenorphine to all the patients who need it because physician John Lepley, who has a federal waiver that allows him to treat 250 patients concurrently, recently left the facility for another job. None of the jail's remaining buprenorphine providers can prescribe as much as Lepley. According to Nina Feldman at WHYY,
The prison employs nine doctors with 30-patient limits, and one with 100. But because of the way the doctors' schedules are organized and how they are distributed throughout the facility, [Chief of Medical Operations Bruce Herdman] said he doesn't have enough doctors to meet the demand of his patients.
To treat just 30 concurrent patients, qualified providers must complete eight hours of training and receive an additional Drug Enforcement Agency (DEA) prescribing number. Even after completing that training, providers must wait a full year to apply for federal permission to treat 100 patients concurrently. According to Herdman, most of his team won't be eligible to treat 100 patients concurrently until June 2020.
In recent years, harm reduction advocates have suggested that the training requirement and patient caps endanger patients by discouraging provider participation. Herdman agrees, telling Feldman, "That limitation on prescribing is really weird. A regular physician can prescribe all sorts of other narcotics without additional training. But for buprenorphine, they want additional training."
I am skeptical that the time commitment alone can explain the massive gap between the number of providers who could get the waiver and the much smaller number of those who do. Eight hours worth of webinars and modules certainly do not explain why some number of waivered physicians—more than 50 percent, according to one survey—do not treat the maximum number of patients allowable by law.
In 2018, researchers pointed to a host of reasons why doctors do not obtain, or make maximum use of, the buprenorphine waiver: a small number of doctors don't think medication-assisted therapy is effective, while others don't find treating heroin addicts to be lucrative enough (doctors who do make it lucrative run the risk of going to prison). But the biggest issue is that the relative paucity of waivered doctors means every doctor with a waiver is being asked to serve far too many patients.
Among waivered doctors who are not treating as many buprenorphine patients as the law allows, 36 percent told researchers they lacked capacity; 10 percent were worried about diversion (and likely the DEA's response to said diversion); and 8.8 percent did not want to be inundated with buprenorphine requests. The DEA and the Substance Abuse and Mental Health Services Administration do not control reimbursement rates for MAT treatment, but they do jointly oversee the waiver program and are responsible for the distorted incentives that have created a massive gap between need and capacity.
We must also consider the fact that applying for permission to prescribe buprenorphine puts physicians under intense DEA scrutiny, and that the DEA is known to raid the homes and offices of doctors who prescribe the drug, sometimes for reasons that don't hold up in court. While there are doctors who do hand out Suboxone in a way one might charitably describe as uncareful, the drug is significantly safer than methadone, which is itself significantly safer than illicit fentanyl and heroin. Put another way: if it were as easy for Philadelphians to obtain pharmaceutical buprenorphine as it is for them to obtain illicit fentanyl, there would likely be fewer Philadelphians in the county jail and fewer still in the ground.
If you haven't already, please read Jacob Sullum's recent Reason feature on the deadly consequences of the feds micromanaging prescribers, and my interview with Christopher Moraff on Philadelphia's fentanyl problem.