A Man Will Take $1.25 Million Home After Police Tackled Him for Allegedly Stealing His Own Car
Dashcam footage shows officers kneeing, tackling, and punching Lawrence Crosby while shouting, "Stop resisting."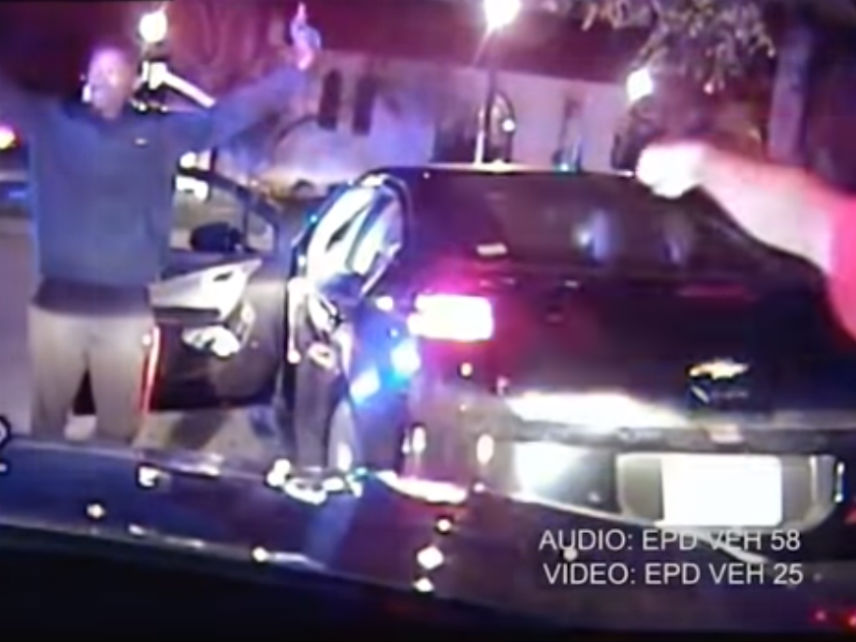 In 2015, 25-year-old Lawrence Crosby was pursuing his engineering doctoral degree at Northwestern University. The young black man never could have predicted that in October of that year, police in his college town would use excessive force to arrest him under the suspicion that he was stealing his own car. A little more than three years after the ordeal, Crosby is set to see compensation from the city of Evanston, Illinois, on behalf of their error.
Evanston City Manager Wally Bobkiewicz confirmed that the city reached a settlement following the use of excessive force in the arrest of Crosby. Crosby's lawyers also confirmed the settlement and told reporters that the city agreed upon $1.25 million. The city council is set to give final approval for the amount during an upcoming meeting on January 28.
Crosby was arrested in 2015 after a woman saw him entering his vehicle in the Chicago suburb. She called 911 and told dispatch, "somebody's trying to break into a car," after passing him on the street. Dashcam footage, which was released in 2017 following a third-party Freedom of Information Act (FOIA) request, showed Crosby exiting his vehicle with his hands high in the air. Officers prompted Crosby to get on the ground. When he hesitated, at least five officers swooped in to knee, tackle, and punch him while shouting, "Stop resisting." Crosby is heard saying, "I'm cooperating," while the officers pile on top of him. He was then arrested and later charged with disobedience to police.
The charges were eventually dismissed by a judge and, in 2016, Crosby filed a suit against the city for making a false arrest and using excessive force.
"Every time I see the video from that October 2015 encounter, I experience fear, anger and terror. Fear that the color of my skin will make me out to be a criminal when I have broken no laws. Anger at the blatant disregard for human life and rights that the Constitution is supposed to guarantee to all citizens," Crosby wrote in the Chicago Tribune last year.
Both city and university police have since implemented body camera programs. A study from the University of North Carolina at Chapel Hill used traffic data to determine that in 2014, Evanston police were seven times more likely to search a black driver during a traffic stop than a white driver.