Kirsten Gillibrand Announces Presidential Candidacy, Gets Slammed for Al Franken's Political Demise: Reason Roundup
Plus: optimism about the end of liberalism and Marco Rubio's new tech bill.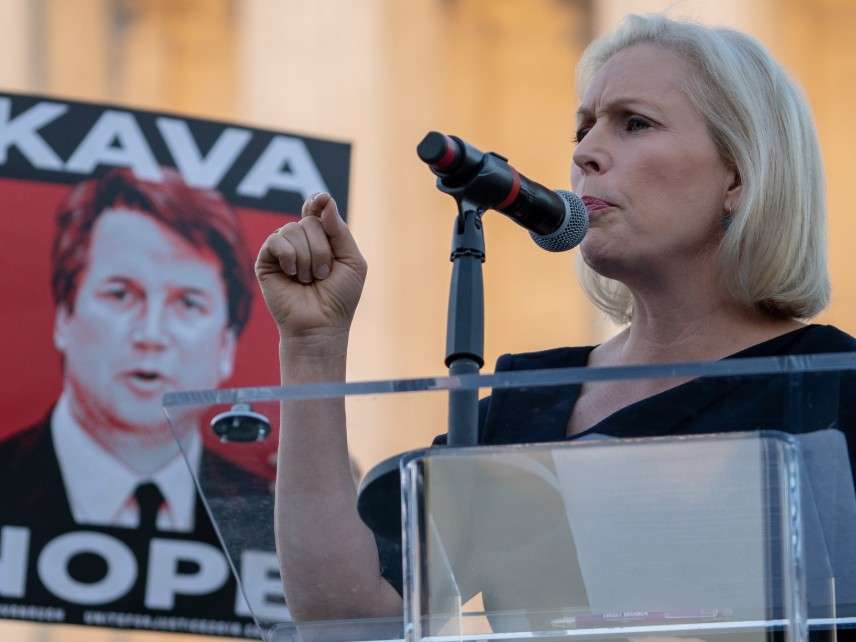 Kirsten Gillibrand is officially "preparing to run for president," the New York senator announced Monday evening. Gillibrand, a two-term senator, has gained influence in recent years for efforts related to sexual assault victims, including championing Title IX overreach on college campuses and, more recently, positioning herself as a leader in the #MeToo movement.
"In November, she said that Bill Clinton should have resigned the presidency over his affair with Monica Lewinsky," notes HuffPost. "And then the following month, she became the first Democratic senator to publicly call on then-Sen. Al Franken (D-Minn.) to go after multiple women accused him of engaging in sexual misconduct. Franken announced his resignation the following day."
Upon quasi-announcing her presidential candidacy yesterday, Gillibrand was immediately greeted with criticism from fellow Democrats (of both the donor and anonymous commenter variety) for leading the charge for Franken to resign.
99% of the responses to @SenGillibrand announcing for president are Democrats mad at her over Al Franken. Seriously. Read for yourself. https://t.co/hLspWXfLK0

— Chris DeRose (@chrisderose) January 16, 2019
HuffPost suggests this isn't fair, since "Gillibrand wasn't the only senator to publicly call on Franken to step down" and was the first "only by minutes." Eventually, a "wave of female senators… were eventually joined by many of their male colleagues on the same day" and Senate Minority Leader Chuck Schumer (D-N.Y.) "reportedly told Franken in private that he needed to go beforehand."
Yes, but those senators aren't running for president (yet). And Gillibrand didn't just join in but was at the forefront of calls for Franken's resignation.
Regardless of whether this is based on sincere committments (some, like mega-donor George Soros, have suggested otherwise), Gillibrand has long used sexual harassment and assault issues as a personal publicity platform and to push the Democratic Party's policy agenda. It's not irrelevant to bring up these things when considering how she would govern as a potential president.
FREE MINDS
A bad spot for liberalism, but not the end. Robert Kagan's The Jungle Grows Back "ends up in much the same place as every other liberal world order sermon," writes Damir Marusic in a review at The American Interest. That is:
The ideological struggle of our time is between the forces of light (the liberal followers of Enlightenment principles) and the forces of darkness (the obscurantist reactionaries to that tradition). Americans, the purest children of the Enlightenment, may think the struggle has long ago been won, but they are wrong—as wrong as the naifs who refused to confront illiberalism in the 1930s.

But Kagan's tone is ultimately very different. He counsels steely resolve rather than moral panic: "To know that the jungle will always be there is not to despair of keeping it at bay, as we have done for decades."
Read the whole thing here.
FREE MARKETS
Uh-oh. Republican Sen. Marco Rubio (Fla.) is introducing a bill today "tasking the Federal Trade Commission with recommending, and Congress with finalizing, national rules for companies like Google and Facebook," reports Axios.
"It is critical that we do not create a regulatory environment that entrenches big tech corporations," said Rubio in a statement. "Congress must act, but it is even more important that Congress act responsibly to create a transparent, digital environment that maximizes consumer welfare over corporate welfare."
The bill has yet to find any co-sponsors. It faces a competing bill, introduced in December, from Democrats.
QUICK HITS
A big new Caravan is heading up to our Southern Border from Honduras. Tell Nancy and Chuck that a drone flying around will not stop them. Only a Wall will work. Only a Wall, or Steel Barrier, will keep our Country safe! Stop playing political games and end the Shutdown!

— Donald J. Trump (@realDonaldTrump) January 15, 2019
Everyone should check out the latest issue of @PowerProblems: an awesome discussion with @AlexNowrasteh about the government shutdown, the wall, and whether immigrants pose a national security threat.https://t.co/hIgIP3PgzF

— Emma Ashford (@EmmaMAshford) January 15, 2019