How Scientology Recruits Inside Florida Prisons
Criminon says it's a secular program to rehabilitate inmates, but critics say it's a recruiting pitch for Scientology.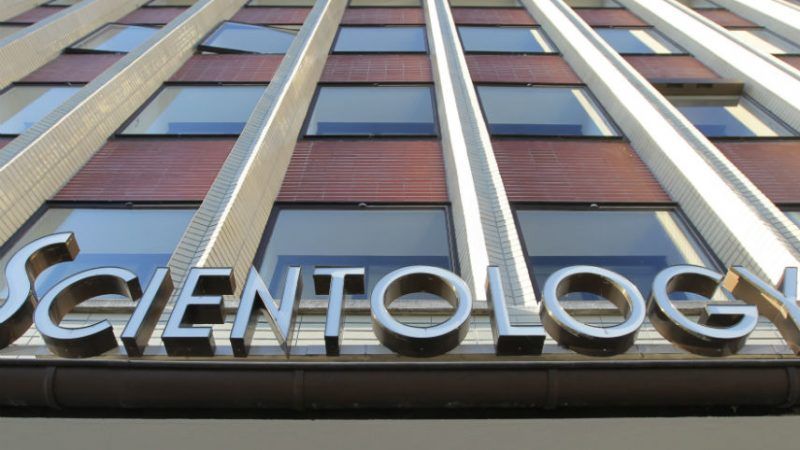 (Caro / Robert Seeberg/Newscom)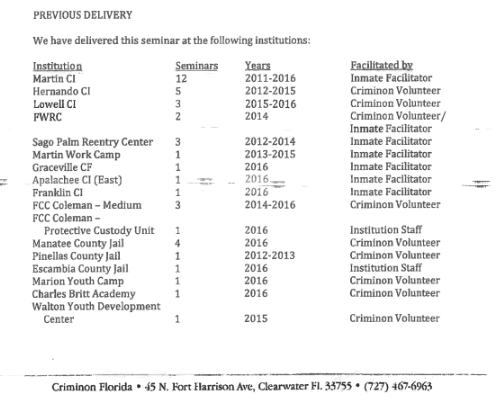 An organization connected to the Church of Scientology has run seminars in more than a dozen Florida correctional facilities over the past several years, public records obtained by Reason show.
The Florida Times-Union first reported in December that officials at Florida's Everglades Correctional Institution had greenlit a course offered by Criminon, a group that offers "betterment" courses to inmates based on the teachings of sci-fi author and Scientology founder L. Ron Hubbard.
In December, Criminon put out a press release celebrating the graduation of two groups of inmates in Everglades Correctional Institution and Manatee County Correctional Institution from its course.
Criminon submitted an application to the Florida Department of Corrections (DOC), obtained by Reason through a public records request, in March of 2017 to continue running seminars in Florida correctional facilities. In its application, Criminon says it has run 42 seminars in 16 different Florida prisons, jails, halfway houses, and juvenile detention centers since 2011.
"We are dedicated to criminal rehabilitation and reintegration through our education curricula for offenders," Criminon president Brian Fowler wrote to the Florida DOC. "To accomplish our aims, we use the secular works of author and humanitarian, L. Ron Hubbard."
The main text of the Criminon seminars is Hubbard's book, The Way to Happiness, which outlines 21 principles or precepts. According to the application, the courses in its program cover "such subjects as how to study, how to effectively communicate, and how to identify antisocial people."
"The Criminon program is based on the fundamental assumption that the root causes of criminal behavior are lack of self-respect and self-esteem," the application reads.
While improving inmates' study habits and raising their self-esteem are rather unobjectionable goals, Criminon programming has been criticized and removed from other state prison systems because of its link to the Church of Scientology.
Numerous media investigations, ex-Scientologists-turned-whistleblowers, and documentaries have described Scientology as abusive, cult-like, and less a church than a business, and accused it of soaking its members for money and ruthlessly suppressing dissent within its ranks.
Scientology also rejects modern psychiatry, a theme which has also appeared in Criminon materials, a 2005 Los Angeles Times story found.
"If [inmates] are on psychiatric drugs, encourage them to get off. Psychiatrists are heavily into the prison system," Criminon training materials from a California prison obtained by the L.A. Times read. "Most jails and prisons have a staff psychiatrist that goes in daily and gives dosages of various and sundry mind-altering drugs to the inmates. Most of the time this is a ploy to keep the inmates sedated so that they don't cause trouble."
According to the Florida Times-Union and the Miami New-Times, Criminon has been active in Florida prisons since at least 2005, when the Florida legislature appropriated $500,000 for a "Criminon offender program." (The funding was vetoed by then-Gov. Jeb Bush.)
The Florida Department of Corrections approved Criminon's application to continue running Way to Happiness seminars. However, it determined it would be an elective course.
"Based on a review of your application submission, we have determined your program would be categorized as an elective program," Kerensa Lockwood, assistant chief at the Florida DOC's Bureau of Applied Science, Research, and Policy wrote in March of 2017. "A review of The Way to Happiness program concluded that there is not sufficient evidence that the program meets a criminogenic need."
The Church of Scientology has been an advocate for criminal justice reforms. It endorsed the recently passed FIRST STEP Act. It has also lobbied Congress on criminal justice issues in the past. A lobbyist for the Church of Scientology, who in addition works on criminal justice reform, told The Daily Beast that he also informally lobbied for Criminon.
However, former high-ranking Scientologists say the group's main interest in criminal justice reform is using expanded rehabilitative programming as a recruiting tool.
"Criminon is just another front group for Scientology," actress Leah Remini, a former Scientologist who is now an outspoken critic of the organization, told The Daily Beast. "This is just a play for Scientology to get the government to pay for its Scientology technology with its Criminon program."
Criminon International and the Church of Scientology did not immediately respond to requests for comment.