Importing Prescription Drugs From Canada Could Save Vermonters $5 Million a Year—Or Nothing At All
Either way, it won't address the factors driving up prescription drug costs for American consumers.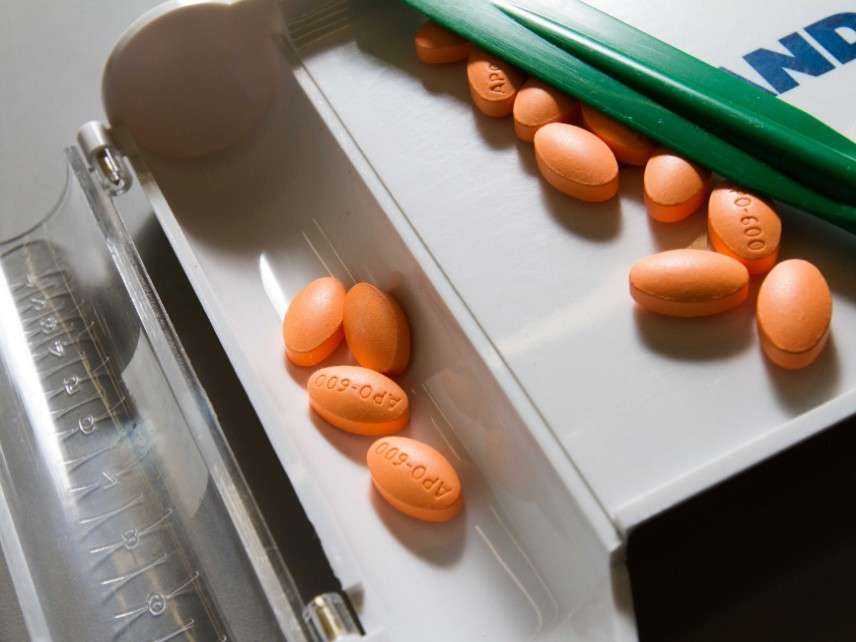 Vermont's commercial health insurers could save anywhere from $1 million to $5 million a year by importing prescription drugs wholesale from Canada, according to a new report from the state's Agency of Human Services (AHS). Yet the report also says insurers—and thus patients—could save no money at all, despite the fact that name-brand prescription drugs cost less in Canada than they do in the United States.
Somewhere between $5 million and zero is quite a range. What explains the big spread? The short answer is federal regulation.
For Vermont, or any other state, to legally import prescription drugs from Canada, it must devise an importation system that the federal Department of Health and Human Services (HHS) will certify. To get that approval, said system must do two things:
"pose no additional risk to the public's health and safety," and
"result in a significant reduction in the cost of covered products to the American consumer."
"A program that costs more to operate than produces in savings," the AHS noted in its Dec. 31 report to the Vermont legislature, "is highly unlikely to meet the Secretary's criteria for certification."
No state has received HHS certification under Section 804 of the Federal Food Drug and Cosmetic Act to import prescription drugs wholesale from Canada. No state has even attempted to use Section 804. The AHS report shows a few reasons why.
The certification process would require Vermont to devise a system of state regulations that federal drug regulators, who have vastly more experience and money, will sign off on. Vermont would need to hire and train staff who can license and monitor importers in the U.S., exporters in Canada, and any third-party contractors participating at any point in the supply chain. The state would have to physically inspect, either directly or using a third party, Canadian manufacturers, both to grant them export licenses and periodically afterward. Importers would also need to be inspected, drug batches would need to be tested, databases would need to be managed, and all parties would need to be audited regularly. Number crunchers would need to keep track of the savings (or lack thereof).
As of right now, the Vermont Board of Pharmacy is the state's supervising body for the pharmacy industry, and "no sitting member has any experience to speak of in respect to drug manufacturing, the wholesale distribution of legend drugs, or supply-chain security."
If Vermont can do all of that regulating for $800,000 a year, and importation saves the state's commercial insurers exactly $1 million per year, would HHS deem $200,000 a "significant reduction in cost"? What about savings of $500,000? If Vermont feels the savings are significant, and HHS doesn't, who wins? The Federal Food Drug and Cosmetic Act is silent on these questions.
The AHS prepared its report at the request of the Vermont legislature, which voted in May to begin the Section 804 certification process. The AHS surveyed commercial insurers, who forecast savings of "$2.61–$2.82 per member per month," even with a markup as high as 45 percent (that's where the $1 million to $5 million number comes from). The report also tells us that the agency understands broadly what it needs to do to regulate an importation system, but not how much regulating will actually cost, or whether licensing fees will pay for the additional regulation. The agency says it now needs to determine whether "the absolute cost of operating such a program and whether that cost eclipses the savings for participating commercial payers."
Meanwhile, the pharmaceutical industry is vehemently opposed to letting Americans buy prescription drugs from countries with nationalized health care systems, and that industry has a lot of influence with HHS and the Food and Drug Administration (FDA). When Vermont voted to begin the Section 804 process in May, a pharmaceutical lobbyist called the legislature "highly irresponsible." I bet pharmaceutical lobbyists have read the AHS report and are devising their own regulatory suggestions that can be submitted to HHS. While I'm speculating, I'd guess those regulations will be very difficult to comply with (this is assuming the industry doesn't simply argue that no amount of regulation will make importation "safe").
FDA Commissioner Scott Gottlieb is also not a fan of large-scale importation from Canada (or anywhere else). He said last year that no "well-intentioned legislation" at the state level could create "a safe way to check the drugs coming in through these different importation schemes."
This opposition is not surprising. U.S. consumers subsidize prescription drug costs for Canada and nearly all of Europe. Pharmaceutical companies look to the U.S. market, with its highly distorted payment systems, as a way to preserve their profit margins and pay for the cost of getting approval from the FDA and other medicines regulators. It's much easier to block reforms to the U.S. system (and preserve U.S. profits) than it is to roll back nationalization in Canada and the European Union.
The FDA, meanwhile, is a deeply conservative agency when it comes to drug safety, and it generally opposes systems that it cannot supervise and control. While the AHS report suggests that regulatory compliance would be solely Vermont's responsibility, I imagine the FDA would want to play a role as well (beyond certification) and that another layer of fees might be necessary to fund the FDA's new oversight responsibilities. Such fees could further reduce the cost savings of importation. Again, this is mostly speculation, because there's no precedent.
Even with what appears to be excellent model legislation and consultation from the National Academy for State Health Policy and the company FDAImports, I suspect that the odds here favor the status quo. Even if Vermont prevails, Section 804 certification for a population of 600,000 wouldn't address the larger problems of a broken payer system and our obscenely generous drug patent laws.