Supreme Court Will Hear Two New Gerrymandering Challenges
A Republican gerrymander in North Carolina and a Democratic gerrymander in Maryland give the court another chance to set some rules for redistricting.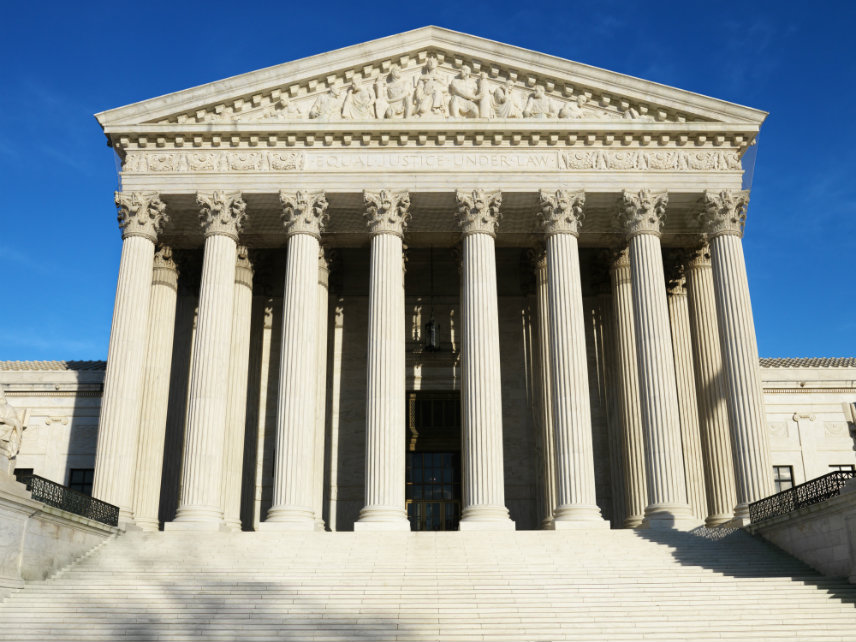 The U.S. Supreme Court will once again tackle the question of political gerrymandering—and whether there should be any limitations on the practice—later this year.
The justices announced Friday that they would hear a pair of cases appealing lower court ruling that struck down congressional districts for being unfairly crafted to benefit one party. In a case coming out of North Carolina, Republicans are appealing a district court ruling that struck down the state's latest congressional map (drawn in 2016 after a previous map was also struck down by the courts) for being a partisan gerrymander. In the other case, Maryland's Democratic attorney general is appealing a district court ruling that found the state's congressional map, drawn in 2011, unfairly turned a Republican-leaning district into a Democratic one.
Together, the two cases present a new opportunity for the high court to provide further legal guidance regarding partisan map-making before all 50 states are scheduled to redraw their congressional and state legislative district maps following the 2020 census.
But reformers probably should not get their hopes up just yet, in part because of what happened just a few months ago at the Supreme Court. In June, the court issued rulings in a pair of challenges to congressional district maps from Maryland and Wisconsin, but ultimately declined to place any limitations on partisan map-making. A case from North Carolina was also heard by the Supreme Court in 2018, but was remanded to a lower court without a ruling.
In the Wisconsin case, Chief Justice John Roberts authored a unanimous opinion outlining where the court stands on the question of gerrymandering. Roberts' opinion made it clear that a successful challenge to partisan redistricting must rest on the disenfranchisement of individual voters, rather than on the claim that one political party has been harmed. "This Court is not responsible for vindicating generalized partisan preferences," he wrote. In other words, specific cases of disenfranchisement are fair game—and, indeed, courts at all levels have for decades acted to strike down political maps that seem gerrymandered to limit the political influence of racial minorities, for example—but Roberts does not want to step into the middle of what is ultimately a political fight between Democrats and Republicans.
Paul Smith, a vice president with the Campaign Legal Center, which is working on the North Carolina case this year, said Friday he believed the new challenge was "following the road map" outlined by Roberts last year.
The other major reason why the Supreme Court has never ruled conclusively on gerrymandering has to do with the lack of an objective standard for identifying just how badly gerrymandered a district is. Without that, the court must deal with "a quantifying judgment that is unguided and ill-suited to the development of judicial standards," is how the late Justice Antonin Scalia put it in a 2004 Supreme Court ruling that also declined to set substantial limits on gerrymandering.
Reformers thought they had cracked that problem last year. The Wisconsin case rested on a mathematical formula known as the "Efficiency Gap" that promised a quantifiable standard for gerrymandering. But, as I wrote in a Reason feature last year, the Efficiency Gap had its own flaws, and the court was not convinced.
The two cases before the court this year are more narrow than the statewide challenges from 2018, and thus seem to reflect Roberts' guidance that the Supreme Court would only consider cases where specific voter disenfranchisement has occurred. The Maryland case, for example, deals exclusively with the state's 6th district. Prior to 2011, that district occupied the relatively rural northwestern corner of the state and was decidedly Republican, but the current district includes a long tendril that stretches into the Washington, D.C., suburbs, where high concentrations of Democratic voters helped flip the district from red to blue.
There's one other wrinkle as the court revisits the gerrymandering question: where does newly minted Justice Brett Kavanaugh stand on the issue?
He replaced Justice Anthony Kennedy, who was the court's swing-vote on redistricting issues. In that 2004 redistricting case, for example, he sided with the conservatives in refusing to scrap Pennsylvania's congressional map, but he wrote a concurring opinion that seemingly opened the door to future judicial intervention if a workable, objective standard could be found. In 2015, however, Kennedy sided with the four liberal justices in a case that upheld states' authority to transfer redistricting powers to special commissions.
Last year, Kennedy declined to join the four liberal justices who signed a concurring opinion in the Wisconsin case. In that opinion, Justice Elena Kagan outlined a potential legal path forward for the broader, statewide approach to evaluating redistricting that Roberts eschewed. Once there is sufficient standing established, Kagan argued, then statewide evidence (such as the Efficiency Gap metric) and a statewide remedy could be on the table.
Kavanugh's appointment is widely assumed to shift the court to the right, but there's practically nothing in Kavanaugh's judicial record to indicate how he would approach the thorny legal questions surrounding redistricting (something that Congress maybe could have asked about during his confirmation hearings, instead of focusing almost exclusively on his drinking habits during high school).
This year's redistricting cases, then, present not another another opportunity for the Supreme Court to clarify it's stance on how much gerrymandering is too much gerrymandering. It will also give states an idea of how the new majority on the court will view future redistricting cases. If Kavanaugh sides firmly with Roberts and the rest of the conservative wing, it will indicate that reformers must look elsewhere to put an end to state legislatures abusing their redistricting powers.